When the word Thanksgiving is uttered, some sort of food will no doubt float to your mind. The turkey prepared so tenderly, or the pumpkin pie that was whipped together by grandma. Maybe you think of foods you can no longer eat, like my aunt's perfect white rolls. Our Thanksgiving has past. That day was spent wandering around San Francisco, watching the airshow. But, we were together, we were grateful to be there and to enjoy the alive city. A week later, we had our quiet Thanksgiving. So simple, but filled with the echos of laughter over a beautiful meal.
I know that many of you in the States are just about to celebrate your Thanksgiving. Maybe it'll be a grand affair, maybe it'll be a simple one. This might be your first time hosting, or your twenty-fifth. It could be a gluten-free feast, or one covered in flour. If you're gluten-free or cooking for someone who is, today is a happy day. You see, Shauna, the lovely Gluten-Free Girl (who just put out a brand new cookbook!) is getting a whole bunch of us to post gluten-free recipes in honour of American Thanksgiving. Some of us are always gluten-free, others eat wheat all the time. On both sides of the table, it's about sharing and making sure that everyone at your table this holiday season can enjoy the food. If, like me, your Thanksgiving has past, stash your favourites for Christmas or New Year's or any other time when you're surrounded by those you love to share a good meal. Dinner tonight? That works too.
Now, I wish I could say I had a new recipe to share; something that I'd been working on in the past few weeks. I wish I could say I've been in the kitchen, baking. I wish I could say I've been feeling so much better than my last post. I almost was. I had a good week, catching up. But then I caught something. Maybe I never fully recovered or maybe it's something that caused everything else. Maybe it's the flu, maybe it's not. Either way, I'm sick. I'm fighting for it though. We're seeing the doctors, getting the tests.
So, why are you here? Well, I want you to have a whole bunch of options. I want you to have beautiful, delicious meals, and to avoid flops.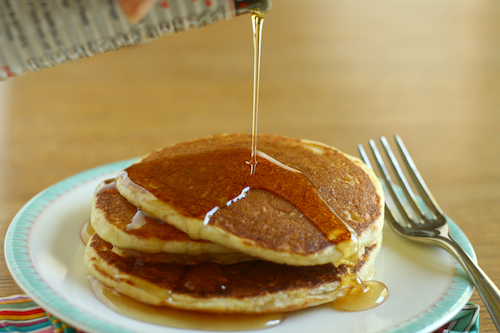 To start off the day, you probably want something that's light. Something that's comforting and easy to throw together. What about pancakes? Fluffy ones, that are so simple if you have a scale.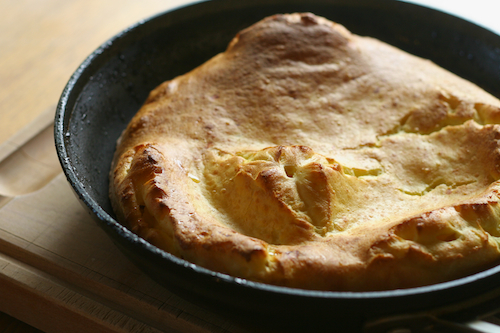 If you don't have a scale, I have lots of other pancake recipes. This one? It's pretty fun. You get one giant puffed pancake to share, complete with sauteed apples. Oh yes. What a beautiful start to the day!
Now once your day gets going, you might want to get started on a few pie crusts. Maybe you'll even make them the day before. Either way, this is my favourite pie crust recipe. It makes two crusts (two single-crust pies or one double-crust pie), and it's really simple. You can make it in the food processor if you want. If the dough gets too malleable, you just stick it in the freezer until it firms up a bit, then continue on your way! Easy as pie.

If you fill one crust with pumpkin, you could fill the other with this lime chiffon pie. It's different, light and out of the ordinary. It'll also bring a smile to your face. Plus, it's also not a heavy dessert, so you'll have just enough space for it in your tummy.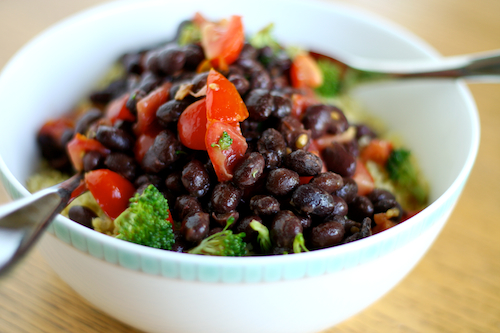 If you've been hanging around here long, you probably know that I'm more of a baker than a cook. I love to cook, but baking and playing with flour is more where my heart lies. Though, when you're finished the big meal and looking for something to do with the leftovers? I suggest you play with your food. No, really! It can be so much fun. Hey, you don't even have to wait until the meal is over – start playing now!

So, you've had breakfast, a few pies are on their way, and you've had an inspired lunch. What's next? Biscuits. These millet biscuits are easily the recipe we make the most out of all that I've ever posted. In fact, mom made them to top our chicken pot pie last night (another great option for leftover turkey!). They're lovely fresh out of the oven, and their flavour develops when they've cooled completely. I love them.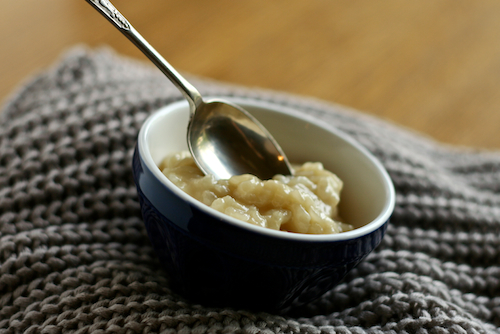 Maybe there will be a time where you're standing at the stove tending to something, and don't mind watching an extra pot. Maybe someone is asking if they can help or you're looking for a sweet treat. Rice pudding is perfect for that. This one is made with almond milk and maple syrup, which gives a lovely flavour. It's also an awesome comfort food. Everyone can grab a spoon and enjoy it warm from the pot, for a nice pit-stop in the day.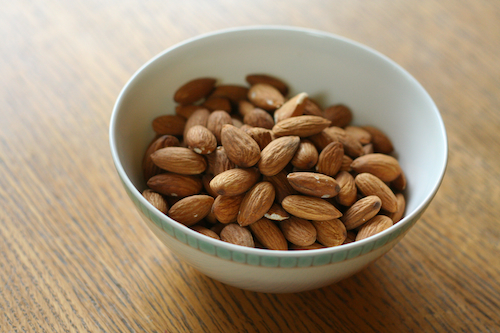 Then, you can't forget the simple things. A bowl of nuts are guaranteed to disappear at my house. Whether I keep them all to myself, or we all gather around. If you're looking for something to do with them, you could make a nut butter to two, presuming no one at your table is allergic.
I wish I could sit and write some more, but this exhaustion is getting to me. I'll finish on a simple note.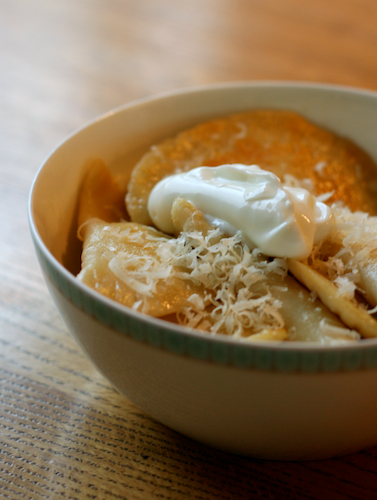 Pierogi. A beautiful way to use up your leftovers. Filled with mashed potatoes or a special blend of favourite foods, it's a lovely thing to do the day after. It's also lots of fun to fold them together.
What food are you most excited about this holiday season? (I'd have to go with Christmas Eve Fondue, or maybe Christmas morning cornbread!).
xoxo
Lauren