When conjuring up images of playing with my food, I inevitably think of someone aimlessly twirling their fork or a toddler sitting in a high chair with strands of spaghetti worming out of his clutched hands as he eats it for the first time. The sauce that ends up all over, on his face, forehead, hair and in various parts of the room. But that's not the sort of playing I'm referring to. I'm talking about the cooking part. Where you play with flavours (just like flours). Where you explore the flavours by mixing what's here. Maybe it's fruit, maybe it's dairy, maybe it's an idea, maybe it's a craving, maybe it's nothing special, maybe it's a secret code that you cracked.
This week in Summer Fest 2010, it was all about Beans and Greens and Herbs. We had beans. We often forget about them (at least in my house), so I wanted to make something, to play. The following two recipes (if you can call 'em that) are an idea, a jumping off point, a beginning of possibility. Most of all, they're a challenge. Go, play with your food.
The first one, was my lunch on Monday. I had whole grains on the brain, and millet happened to be lurking in our pantry. Then came the choice, which bean to use? We didn't have dried or fresh, but a great assortment of canned beans. I went with black beans. I used them both days, wishing to not waste and have the added nutrition of their loveliness. I cooked the millet by toasting it for a few minutes beforehand, placing double the amount of boiling water (2:1 water:millet ratio), then returning to a boil, then cooking it covered on low heat for 20 to 25 minutes. Then I took it off the heat and let steam for another 5. Fluff with a fork or two and you're good to go.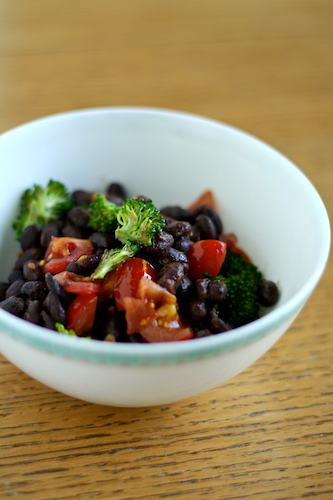 Meanwhile, I put a touch of olive oil in a pot over not very high heat. Once it had heated up, I tossed in some beans. As I tossed the beans through the oil, I realized I wanted more colours than just black and gold. I wanted veggies. Searching in the fridge, I found some precious little cherry (or maybe they were grape?) tomatoes. Cut up into small bits, I tossed them in with the beans and let them cook. Looking around, I knew that I wanted something more out of them, so I pulled open the spice drawer and chose one (or two). As the mixture cooked more, I realized that I needed more veggies. Carrots? Not today. Red bell pepper? Takes too long to cook. Broccoli? Perfect. I cut them into mini-florets and tossed them with the beans. I wanted them to carefully steam. If they still had a bit of crunch, I would welcome it. As they cooked, a fiercely green blush spread across each cell in that all-too-familiar fashion.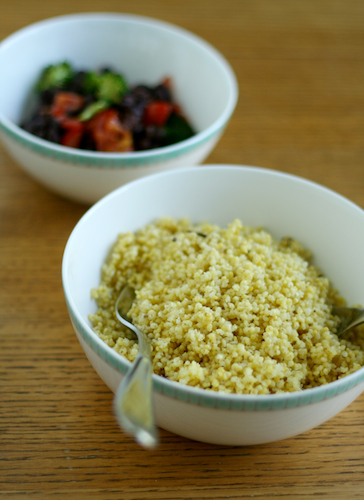 When everything was done, I put each part in a bowl. I tossed it all together and enjoyed.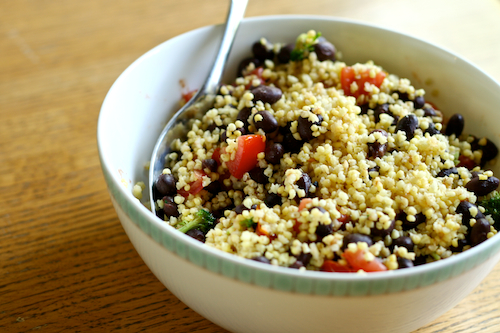 I gave my brother a bite and he said it was ricey and fruity and weird. I found it simple and lovely and likely to always have a slightly different incarnation. But I didn't stop there. I played.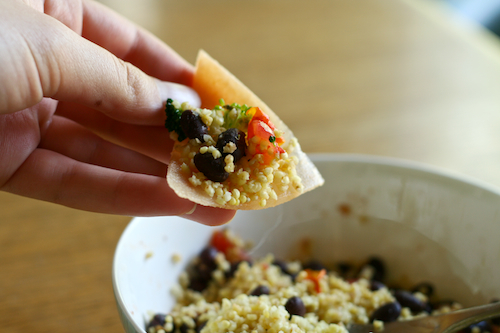 I'd been snacking on cantaloupe that morning, so I sliced off a little bit and scooped up some of the salad, as if it were a chip picking up dip. I don't know if it was perfect, but I tried, and that's half the fun!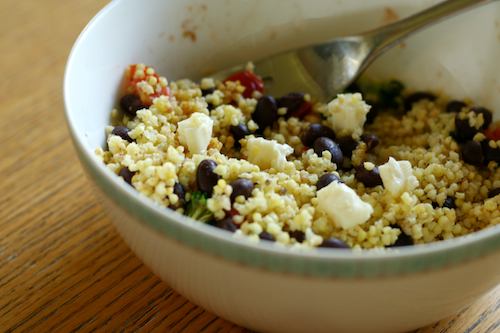 Looking for a little dairy, I decided to throw in a bit of cheese – whatever was in the fridge. I think it was Brie. Because, why not?
For Tuesday's lunch, I wanted to be lazy. Well – sort of lazy. I had considered playing with a pasta recipe I've been experimenting with, but opted for regular old pasta from a bag. Well, it was gluten-free pasta, so I suppose that makes it new in one way :).
As the pasta boiled away, I found an idea. Black bean sauce. I started to make the basic white sauce that my mom taught me to make when I was really small. Then I threw in some mustard powder, as that's the way mom always taught me. I added some curry powder for fun.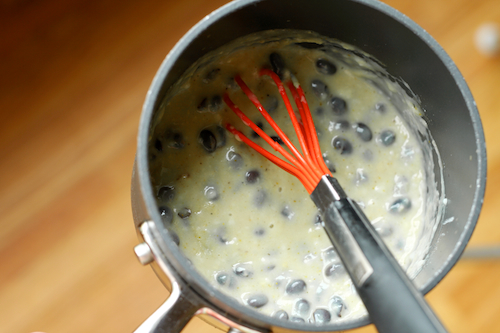 Once it had come to the consistency I wanted, I threw in the black beans. I wanted them warmed through. I debated two fates: whole beans or a sauce where the beans had been pulverized. Always looking (not on purpose though) to use as many dishes as humanly possible, I went for the pulverized option. One of those hand-mixer-processor-type-things did the trick. Then I drained the pasta and put the sauce back on the heat. Taste it. You always have to taste. Otherwise, how do you know if it's how you like it or not? I added more spices, because the beans had diluted them. When the sauce was ready, I tossed the pasta in, and put it over the heat for a minute or two, to make sure everything was warm.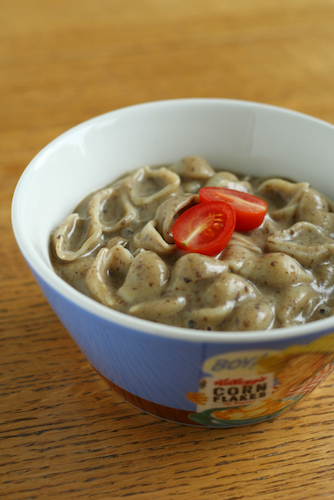 Put in a bowl, add some veggies (you always need veggies) and I was good to go. For now at least – I still wanted to play.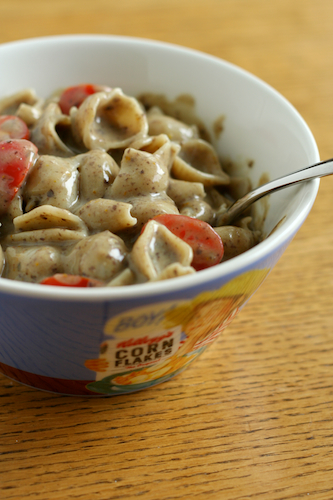 I tossed some more halved baby (cherry or grape, I'm never sure which is in our fridge!) tomatoes in.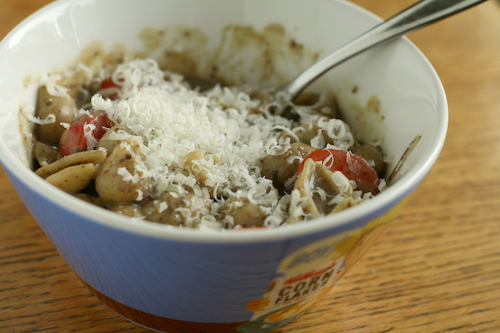 Just like the day before, I wanted a hint of cheese. This was that place. Some parmigiano reggiano (not too much though) was the perfect thing for me.
Two days, two lunches, endlessly simple. All about playing. All about discovery. Maybe tomorrow's lunch could be a revolution or a great discovery. Maybe it's mine, maybe it's yours, maybe it's waiting for another tomorrow. So, go. Play with your food. I dare you.
xoxo
Lauren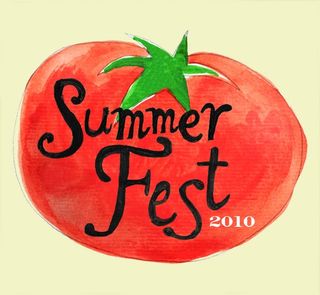 This is my first time with Summer Fest 2010 – a community blogging event.  The gorgeous illustration is by Matt of Mattbites :).