We've all been there. A cake that didn't set. A bread that masqueraded brilliantly well as a rock. A sweet that was missing sugar. Maybe it was our mistake, maybe it was the recipe's fault, but either way, they happen. They mark our memories, rearing their heads to teach us lessons and give us more places to go. Unfortunately, they scare people off of cooking and baking. That doesn't have to be the case. After all, everyone who has ever baked or cooked a lot has had something go wrong. It's part of the fun, part of the process. So, here are a few stories of the flops and disasters in my house. I hope to hear all about yours, either on your own site or in the comments!
The day was simple. I was using an old, delicious, comforting recipe with a new twist. It was a day's worth of watching and babysitting it, but the last two versions had been oh-so worth it. But, something happened. These fruits had different properties from the blueberries. When I pulled the pie out of the fridge the next morning, something wasn't right. I ever-so-gently touched the outside, as I had with the others, but this time my finger picked up the filling rather than leaving a fingerprint. Hmm… I took my photos anyways and hoped for the best. Maybe the bottom was set. Maybe when I sliced a piece, it could work.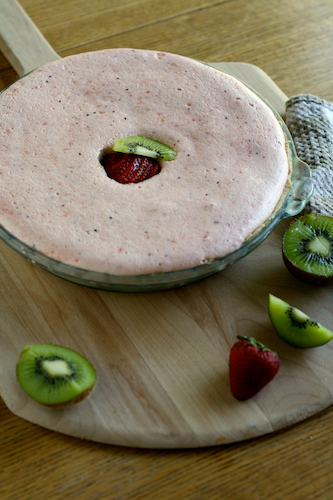 I put the garnish on top and the pie nearly absorbed it. Oh gosh! I "cut" a piece. Well, I cut a piece of pie crust and some of the filling was lifted. The filling hadn't set up. Strawberry kiwi chiffon pie? No. Hilarious foam? Oh yes. After my heart sunk for a moment, I laughed. Was it molecular gastronomy? Maybe, but it was an accident. I got a foam pie. Fluid, moving, not-so-bad-tasting-if-you-can-get-past-what-it-is foam. Now, writing this, I'm shaking my head with a smile on my face as I chuckle. Seriously, how many people have made a strawberry kiwi foam pie? I'm willing to bet that that number is slim to one (not none, because I've done it, obviously

). After sitting for maybe 20 seconds, the piece I took out was refilled-in, like magic. All that was missing was a piece of crust. I ate it. It wasn't so bad, but I couldn't convince anyone else to have a "piece". It was weird. It was most definitely a flop.
After that one, I got to thinking. How many have gone wrong? An good amount. How many have gone right? Many many more. I'm lucky and always learning from those mistakes. Really looking back though, they all had a story. One too many adaptations. One thing that slipped my mind. One product to laugh about for years.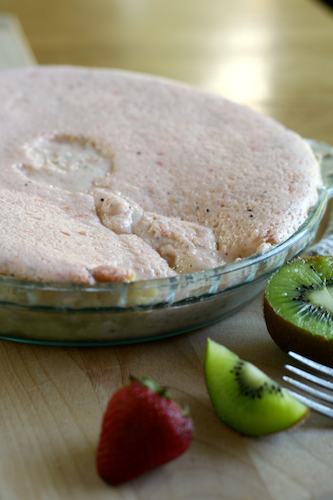 The first thing that always comes up, when we speak of flops in my family are the buckwheat pancakes. I do believe I've mentioned them before. They're hard not to. It was one of the first gluten-free recipes I made and each of us cringes thinking back. Dry in a way a fresh pancake should never be. Strong, abrasive flavour that just wasn't right. I followed that recipe to a T, but it just wasn't good. They made it into the trash after only a bite or two. Sometimes it happens; don't worry. Pick up the next cookbook or recipe and you might find something that makes all your dreams come true.
One day, my friend came over, and we made puff pastry and some muffins. I had seen a recipe for these really healthy lovely muffins in a health food magazine. It used oats and protein powder and bran cereal. When switching those to a gluten-free equivalent (and using hemp protein powder), we had green eggy muffins. They were incredibly odd. Displayed within this twisted muddy green was flecks of cereal. The taste was okay, but looking at those green muffins was simply off-putting. They didn't pass the test.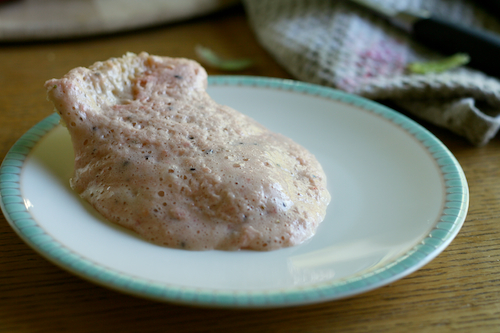 Another day, I wanted to make some chocolate cupcakes. Chocolate cupcakes with a special flavour. Nothing to do with the flavour, I missed something. They over-flowed, then what was left inside folded into itself and hid beneath the outer exterior, slumping in. I may have missed something else as well, but that one didn't get any xanthan gum or binder. It had nothing to hold it together, so when you picked anything up, it was instantly crumbs. Moist cakey crumbs but crumbs nonetheless. They just didn't hold together, not at all. It tasted wonderful but you can't have cupcakes when lifting them out of the pan in one piece is an impossible task.
Way back when I joined twitter, I found myself reading about all sorts of foods that friends were making – as they made it. I knew that I wanted to whip something up, so I blended a few recipes and made a cheese bread. That loaf was okay warm. The moment it cooled, the touch of garlic jumped out at you with a depressing force, altering the flavours of the cheese and flours to create this dry block of ugh. It sat for a day or two, then I made it into bread crumbs. Even that couldn't save this loaf. The bread crumbs sat in the cupboard until I grabbed them one day to throw them out. Some recipes just don't make it.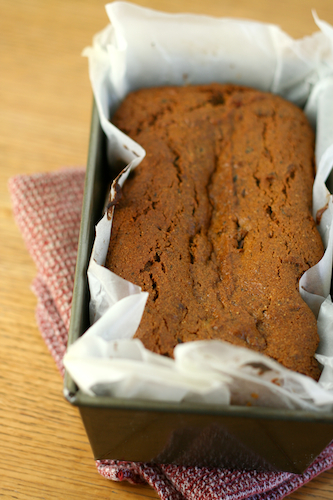 On the opposite side of the spectrum, over the holidays, I made a date bread. I played with various variables, weighing everything in my head (from the flours to the starches). It looked wonderful when it came out. It even tasted brilliantly. When that guy cooled though, it was moist. Moist to a fault. So moist that is was no longer a bread. It was heading towards mush, at least in the middle.
There were the macarons. When I made those, I didn't think they came out so bad. Sickly sweet, yes. Horrid? No… or at least I thought so until we went to Paris this summer. Having flawless macarons from world-famous (as well as far-from-famous) shops, I found a bite of heaven and I didn't want to let it go. Those perfect shells and dreamy interiors are what people dream of, not the wreckage I made. I'm grateful though – having a reference point like that is something that is invaluable. One day I'll get up the courage and try to make them again. There is a reason the blogging world went crazy for them. When done right, they can be pure heaven. When done wrong, no. (PS – when I switched to wordpress, some comments got lost. I still need to retrieve many of the thousands that disappeared, so don't worry if I haven't gotten to that post yet.)
Even before going gluten-free, I remember baking a cake with a close friend. On the few times a year we saw each other, whatever we did would always be around food. That time, we were making a layered cake, from yellow and chocolate cake mixes. When we pulled out the yellow cake, it was really oily. It didn't make any sense. We followed the box (oh gosh. I think that was the only day in the many many times we baked that it was ever from a box), but both of us had added the oil. Luckily, those mixes are made to be somewhat indestructible, so it was only incredibly oily. Nothing fell or lost shape. So, we made our layer cake, covered with a little bit of icing and the 5 cent candy we had bought at the store.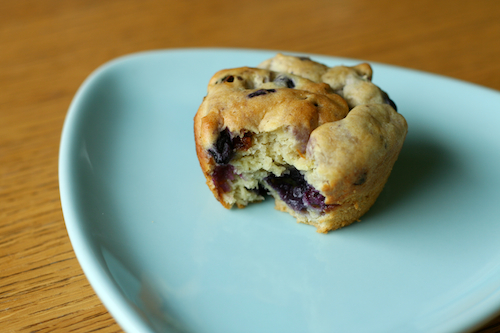 Some flops, they're just that. A little bit floppy. A little bit off target. Such as muffins which tasted more like pancakes. It was the oddest thing. We enjoyed them, but they weren't awesome. They were off-kilter just enough. Others, are so far gone by the time they're ready to eat that there is nothing we can do but laugh. So, enjoy your flops. They stop by for a reason. Don't run away, just keep on going. It can only get better from there.
Tell me about your flops and disasters. Maybe they're small, maybe they're tall, maybe they're everything in between. Laugh through the comments, smile through your post. These are all part of it. If I hadn't baked and tried as many things as I have, I wouldn't have so many of them, but I also wouldn't have as many recipes. I wouldn't have as many that my family raves about. I wouldn't have as many that are better than I could have ever dreamed of. The flops make the good ones just that much more fantastic. They make me want to do it more and more and more. I hope you feel the same.
If you post about it, I'll include the link here! We all have stories – I can't wait to hear yours. Go check out theirs as well! (Some of these are older posts, which are fun to read to! Thanks for leaving them

).
Thinkin' Outside the Cookie: Behind the Cookie Curtain
Daily Bites: Kitchen Disasters
Willow Bird Baking: Flops Happen: A Chronicle of my Kitchen Failures
Eat the Love: A Gluten-Free White Cake with Italian Meringue Buttercream Frosting: how mistakes can lead to wonderful things…
Jenn Cuisine: Flops
I Made Toast: Strawberry Shortcake
Baking in Oregon: Chocolate Disaster Cake
The Picky Gourmet: Food Fail
The Daily Dietribe: Hint O'Chocolate Banana Muffins
Without Adornment: My Kitchen Flops
The Honey Bakes: Failure is a memory
xoxo
Lauren