When pancakes come up, especially in July, there is only one thing that comes to mind.  Pancake breakfasts.  That all-important element of the Calgary Stampede.  But what if you're out of town (raises hand), or want those memories to be evoked another time of year?  These ones did it.  They were fluffy and comforting and made me think of those Stampede days.
Those days that would start off with an abundance of pancakes, all around the city (in the gluten days, at least). With some friends, I would head down to the midway. We would spend the whole day on those rides. Climbing onto every ride we could possibly stomach, dreaming of the day when we were able (and willing!) to go on the big rides. You know the ones – only two people can go on at a time and they either whirl you up into the air or do the same, but on a bar type thing. Regardless of what they do, we quietly know that it won't happen – at least not this year. It's all part of the fun. During those 10 days that define our city in so many ways, everyone comes out and the atmosphere changes. Everyone is excited and donning jeans and cowboy boots, not just for the fun but to be a part of it. Each day starts with a pancake breakfast at home or surrounded by friends and family. If you're lucky, maybe it's both :).
Now, these pancakes aren't measured in cups. I have no idea how much flour you would need in cups, actually. You may have noticed that I've started to include the weight of the flour alongside a cup measurement. Why? Ratio by Michael Ruhlman (and for full disclosure, I wasn't paid to write this. I did get my copy of the book for free, just because I happened to win a giveaway from Ricki). It has honestly changed the way I write and think about recipes. Seeing how certain ratios – in weight – of the same ingredients come together to create all of our favourite foods. This one is based off of his pancake recipe in the book, with my twist to make it gluten-free and evoke the memories I was looking for. It's filled with whole grains, but not at all in a bad way. I love to make them. Using a scale without worrying about cups is always very therapeutic. Just pour or scoop some flour onto the scale until you have the amount you need, tare it and repeat. Simple, no frills. If you don't like scales, or don't want to get one, I have plenty of other pancake recipes (I love pancakes, in case you were wondering

).
Fluffy Gluten-Free Pancakes
Ingredients
2 ounces cornmeal
2 ounces millet flour
1 ounce quinoa flour
1.5 ounces sweet rice flour
1.5 ounces tapioca starch/flour
1/2 tsp xanthan gum
1 tbsp sugar
2 tsp baking powder
1 tsp salt
1 cup milk (plus extra, if needed)
2 eggs
1/2 stick butter, melted and cooled slightly
Steps
Whisk together dry ingredients in a bowl. Whisk together wet ingredients in a separate bowl until very well combined.
Combine wet and dry ingredients and whisk until no lumps remain. If the batter is still quite thick (you have to sculpt the pancakes in the pan), add a tablespoon or two of milk at a time, until it is smoother. Cook over medium heat, on a lightly oiled surface until done.
—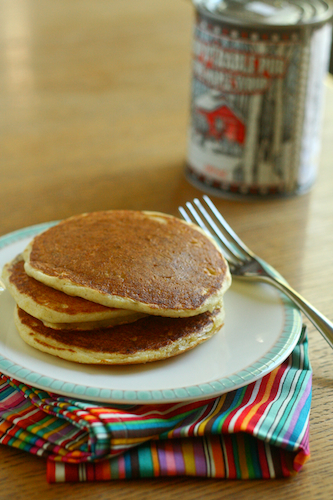 Simple, straightforward and satisfying.  If your fat to cook them in is butter, you won't need any extra on top.  Just some heavenly pure maple syrup.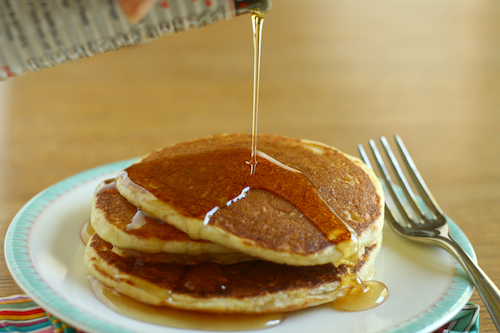 How can you say no to maple syrup?  I know I can't.  Especially this stuff.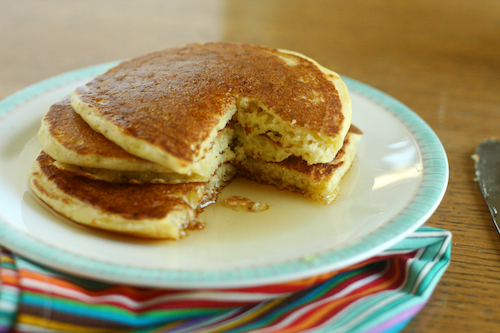 Would you like some?
What have you been eating this summer? Possibly some food that brings up all the emotions of an event in your town? I would love to hear.
xoxo
Lauren