With school starting, each day is both filled with the rush of memories and extremely new and unknown. Arriving at school, we all leisurely came in to get our timetables. They were filled with familiar (and not-so familiar) names, and were quickly compared to anyone near. Do you have Math first? No I have English. What about second, third, fourth? Squeals of joy, sighs of sadness. The next day, we came to see our classes. See the teachers, get an introduction, and scout out who is truly in our classes. This year, there are both friends and acquaintances in each class. Half-smiles travel across the room in acknowledgement. Waves, nods or hugs greet the closest of friends. Everyone settles to listen to the teacher. Some classes are filled past their brim, others could manage ten more. There is a change in everyone this year. It's the last one. A requirement to give it just that little bit more. Some of us have our hearts set on good marks for university. Others have different plans. Some have already dropped out. Faces are missing from moves and illness and vacations that pushed as long as they could. Mostly though? It's a grand mix of excitement and comfort.
That was the exact same thing with this pudding. For some reason, I had never made rice pudding. Now, I'm kicking myself for that. It's comfort at its best. This one, made with almond milk, is a beautiful swirl of almond, vanilla and maple. The flavours are understated and casual, with a seductive blend that kept me coming back for more. It barely made it into the fridge. I was thisclose to eating it all, right out of the pot. In fact, next time I might do just that.
Before I go on too much more about that, I should mention the milk I used. Almond Fresh sent me a few vouchers for their almond milk (as well as a blender; for smoothies I presume). I've always loved almond milk; every now and then I'll get a carton just for me, as a treat, so this made sense for me. However, since there are currently 5 types of milk in my house (6 if you include the buttermilk), I only had space in my fridge to get one carton. We got vanilla and I found it really quite lovely. The flavour was subtle and filled my whole mouth. It was creamy and sweet, which made it perfectly suited to a rice pudding. They also have a video contest going on, which looks quite nice (it ends tomorrow at midnight).
Almond-Maple Rice Pudding
Ingredients
3 1/2 cups vanilla almond milk
1/2 cup arborio rice
5 tbsp maple syrup
pinch of salt
Steps
Combine all ingredients in a large saucepan and bring to a boil.
Once boiling, reduce heat to medium and keep at a controlled simmer. Not furiously, just gently. You may need to increase or decrease the heat as time goes on. Make sure to stir it quite often to ensure that it doesn't stick to the bottom. Slowly, it will reduce in about 35 to 40 minutes into the simmer, when the rice has plumped and the texture is to your liking. Remove from heat and let cool somewhat.
Either serve immediately or refrigerate and serve later.
Enjoy!
This post is linked to
Slightly Indulgent Tuesdays
and
Gluten-Free Wednesdays
.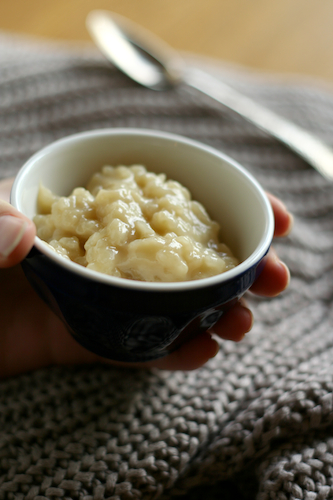 Holding the warm cup, you can feel the heat flowing out, begging to be savoured. Not that it would have to ask though.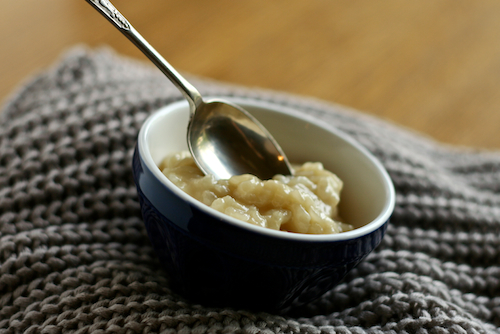 Dive in? Don't mind if I do.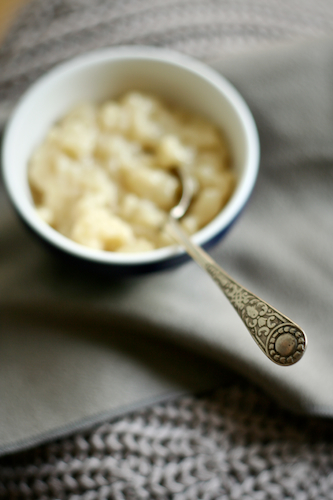 This is best enjoyed with a vintage spoon. Isn't that always the most fun way to enjoy a simple dish? I think so.

This was the chilled one. I preferred it warm, but this definitely wasn't bad! The warmth simply added to the comfort factor.
Now, on a more serious note, I have a request. Or at least something to ponder. Last week, a fellow food blogger, Erika of Ivory Hut lost her home and absolutely everything in it in a house fire. One moment she was debating attending a food blogging conference, and not an hour later, they were escaping the flames. Erika was the only one who escaped with shoes. Her husband's prosthetic leg was lost to the fire. So was her brand new MacBook Pro, her Canon 5D, her unfinished songs and baby photos. Even her wedding ring and heirlooms. Nearly every material thing, gone in an instant. Luckily, everyone got out safely. Erika said this the morning after: "Our house burned down last night. Barely made it out alive. Homeless, possession-less. But we're all safe & together. Still richly blessed."
She also wrote this post and yesterday she wrote a second (I especially needed a tissue for the second one. Read them both though). Sitting on my couch, with a blanket wrapped around me, surrounded by so many material things as well as my family throughout the house, I can't imagine. So many of us can't. In response to this, Alice and Maggy started Friends of Ivory Hut. There, you can go and donate. The money goes directly to Erika and her family. Their goal is to raise $10K by Wednesday. Anything you can give will help. Skip your fancy coffee this week. Dig into your pockets. Hold a lemonade stand. Even $5 will help.
xoxo
Lauren