Have you ever wondered about the mysteries of your jar of peanut butter? What about the more exciting nut butters – almond, cashew, walnut? The truth is that they're all made in the same way, often on a mass scale with additions that I shy away from. Nuts are sweet on their own, so I prefer to not add sugar. In fact, that's why I've grown more towards natural nut butters – homemade or not. The process of making them though, I've always wondered about. I wanted to try the fresh kind my dad talks wistfully about. So, this Daring Cooks challenge came right on time (and I made it then, but didn't have time to write it up before my trip – more on that later).
Actually making them is dead simple.  You don't need a big long explanation, crazy ingredients, or anything too out of the ordinary.  Just a food processor and nuts.  A little bit of patience will also get you a long way.
The July 2010 Daring Cooks' Challenge was hosted by Margie of More Please and Natashya of Living in the Kitchen with Puppies. They chose to challenge Daring Cooks to make their own nut butter from scratch, and use the nut butter in a recipe. Their sources include Better with Nut Butter by Cooking Light Magazine, Asian Noodles by Nina Simonds, and Food Network online.
For what to do with them, the possibilities are truly endless. You can use them in traditional Asian dishes, in sandwiches, or just throw them into things. That's how I found this dish (both of them actually). You can also use them simply with apples or on crackers, highlighting the richness and comforting flavours of the nuts you use.
Nut Butter
Ingredients
Nut (or Nuts) of your choice
Flavouring/Salt if you choose
Steps
Place nuts (and whatnot) in the food processor. Turn it on, and crush the nuts until a butter forms. They will first become a fine meal, then evolve into a thick butter. Continue to process for smoother, thinner butters. Depending on the type of nut, and (as our hosts explained) the fat content of the nut, the consistency and time required will vary. The resulting butter may not be as smooth as a purchased variety. The amount of nuts will decrease by approximately one half (1 cup nuts yields 1/2 cup butter).
Use as Desired.
Nut Butter Butter Sauce
(a sort of recipe)
Ingredients
Butter
Fresh nut butter
Herbs, salt, if you choose
Steps
Over medium-low heat, melt a tablespoon or two (eyeball it) of butter in a small pan. Once melted, add in a tablespoon or two of your nut butter, and whisk slowly as the nut butter begins to incorporate into the melted butter until it is uniform. Continue to add your nut butter (and butter, but I used more nut butter than butter) in the same fashion, until it has the desired balance (and amount!) for what you need. Add a crank of salt if you see fit.
I tossed an almond one with green beans, and a walnut-sage one covered my pasta.

This post is linked to Slightly Indulgent Tuesdays.
—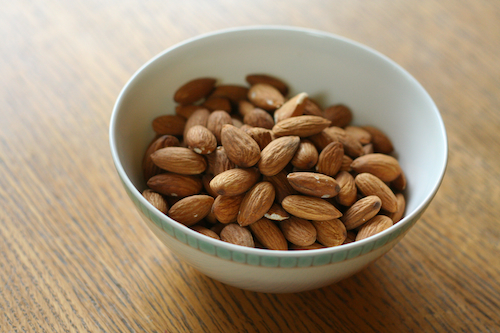 For the first one, I started with almonds. Delicious, simple, natural (ie – not roasted or salted) almonds. I could this whole bowl in an afternoon, as butter or whole.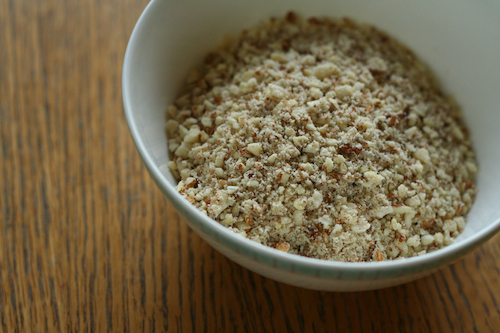 I didn't make very much – just enough to do what I needed, and this was it's start. Almost an almond meal, but a few minutes away from becoming butter.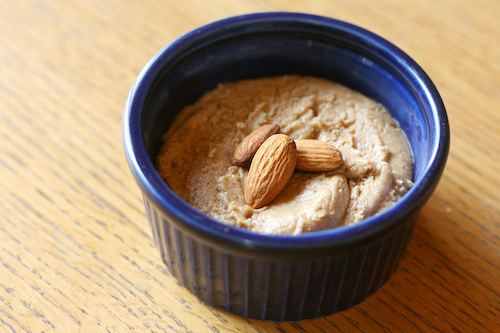 The butter. Wonderful, delicious, fresh almond butter. It's only a bit grainier than your store-bought counterpart.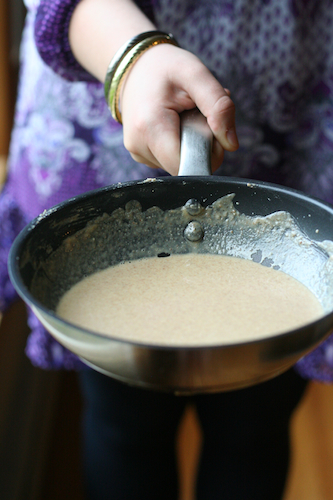 This on the other hand, is the sauce. That was the consistency I wanted, but just go with your gut. If you're not sure, stop when it's smooth and tastes good.
Also, say hello to my friend!  She is one of the sweetest, most genuinely themselves people I know.  (and she moved far far away the week after we made this dish – I hope you are soaking up the summer in your new home

).  She also modeled these dishes beautifully (thank you).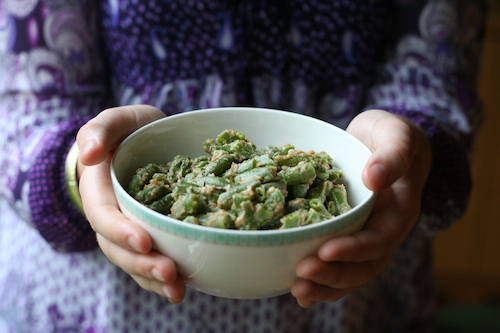 The almonds make a sweet and comforting green bean. I finished off the last of them after everyone else had had their fill. Second helpings like that are always the best.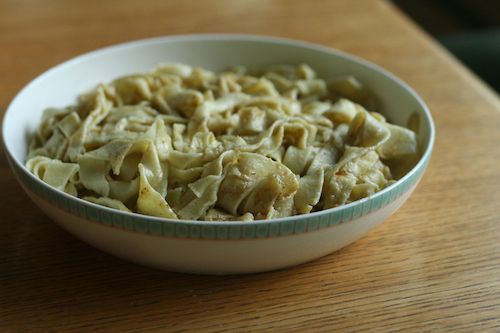 Aah! The walnut-sage butter in the same sauce over pasta. It clung to the pasta, coating each morsel in this honest beautiful flavour. (The original butter – walnut-sage, is pictured at the very top of the post and it's just as simple as it sounds. Walnuts and sage – a small amount of fresh sage for me, but cater to your palate. It is your meal after all

).
Now, if you were curious (or hadn't heard on twitter), where have I been these past 3 and a half weeks? Europe. Or at least Scotland, London and Paris. I loved every moment of it. We ate well, I didn't get sick, it was wonderful. Because I cannot possibly talk all about it (let alone the little bit of food I captured on film) in one post (or a side bit at the end of one), I'll start to go through the thousands of photos and show you what I saw and how it felt. I don't know how long it will be or what it will be exactly, but keeping in mind that this site is not just about the food (well, it's mostly about the food), but about life as a Celiac Teen. Life includes the stories I share here and there, the food I eat, and the moments I experience. It can't all be about the health issues and food. We have to live. So, I'll see you back here (soon!), and we can relive my first experience overseas together, and maybe I'll get the privilege of reading about yours.
xoxo
Lauren