French toast is the simplest thing.  Eggs, milk, maybe a spice or two, and bread.  But bread doesn't live in my house.  At least not bread that I can enjoy.  Sure, every now and then, I'll throw a loaf in the bread machine, but there is rarely any big commitment to it.  I'll enjoy it for a few days, then I'm done.  When in search of bread for french toast, there is only one thing I do – make a cinnamon quick bread.  It makes french toast a dinner, which takes just a little bit of planning.  It may not be just the throw-together breakfast, but it's far from difficult.  The truth is that I threw it together around 5, and by 6:30, there was french toast dancing across our tastebuds.
I don't know why (probably because I was a pancake girl), but I've always thought of french toast as fancy, as something that was difficult or at least should be reserved for special occasions. As if it was sweeter or more something than pancakes. I can't really describe why I felt that way, because they're a (relatively) healthy and dead simple meal. Milk, eggs and some fresh cinnamon quick bread. Why bother adding any outside spices, when they are infused from the inside out with cinnamon and vanilla? Of course, you're free to do so though!


Gluten-Free Cinnamon Quick Bread
by Lauren of Celiac Teen
Ingredients
1 cup milk
1 tbsp lemon juice
1/2 cup millet flour (2.80 oz)
1/3 cup sweet rice flour (1.80 oz)
1/3 cup tapioca starch/flour (1.55 oz)
6 tbsp brown rice flour (2.45 oz)
1 1/4 tsp xanthan gum
1/2 cup sugar
1 1/2 tsp cinnamon
1/2 salt
1 1/4 tsp baking soda
3 tbsp oil
1 egg
2 egg whites
1 tsp vanilla
Steps
Preheat oven to 350 degrees Fahrenheit and spray a 9 by 5 inch loaf pan with cooking spray.
Place the lemon juice in the milk and let sit for about ten minutes, while getting everything else ready.
Whisk together the dry ingredients in a large bowl. In a second bowl whisk together oil, eggs and vanilla. Whisk the liquids and lemon milk mixture into the dry ingredients.
Pour into prepared pan and bake for 45 to 50 minutes, until a toothpick inserted in the centre comes out clean.
To make french toast, whisk together 3 eggs and 3/4 cup of milk. Place a slice of cooled bread in the mixture, then flip it over, then place on a medium-low preheated pan which has just enough butter to coat the bottom. Let cook slowly, and once the bottom is your desired colour, flip and cook until the other side is your desired colour. Top with maple syrup and enjoy!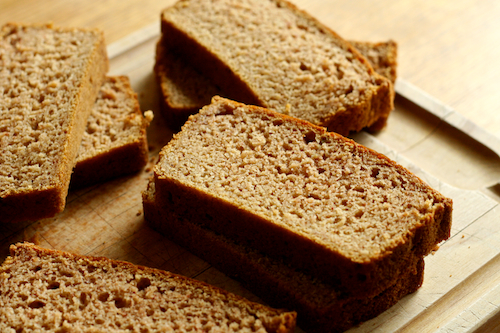 The bread has a bit of spring to it. Just a simple thing, which can is best suited for this purpose. We use it all up within about 3 hours of it being made, almost without exception. I like to cut it into thick slices, to evoke memories of a thick crusty bread being sliced up and fried in a pan by my dad. Either way, it's pretty dreamy.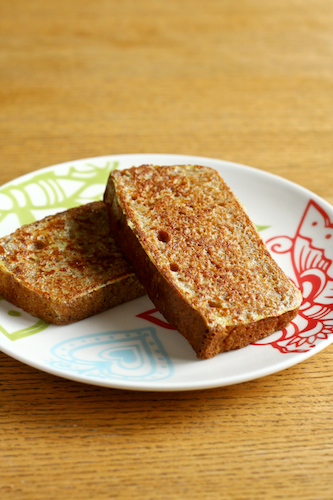 Well, the colour of the bread doesn't show it well here, but it has the most delightful french toast texture. They may be able to support themselves, but when cut the milk-egg wash type thing softens the bread just that bit more to allow your mind to be flooded with every good moment and memory that french toast has brought to you.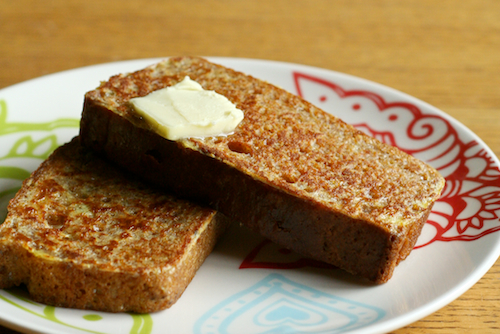 I love mine topped with maple syrup. The butter was take it or leave it (Gasp!! I know.) but they were fried in the perfect amount of butter. Just enough to infuse the flavour onto the outside without drenching them in it. The maple syrup adds depth and creates a symphony with the cinnamon and vanilla. Oh yum.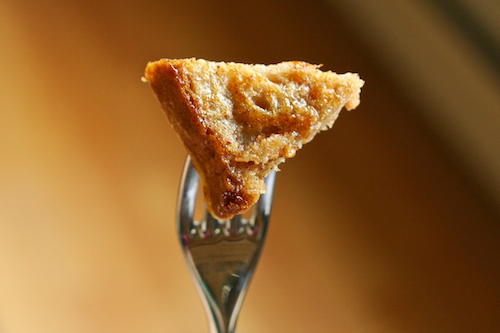 Goodness. I really should stop doing these bite shots. It just makes me hungry as I'm writing it, and wishing that I could have some more. There is only one real solution to that problem – to make another batch :).
With this bread, and the french toast that followed, my dad's only quibble was that it didn't make enough.  With our light snacking before making the toast, there was only enough for 2 pieces each!  Might have to make two next time.  I'm sure that no one would complain.
xoxo
Lauren
Twitter, Facebook, Foodbuzz and Flickr.