Whenever anyone asks me about my first memories in the kitchen, chocolate chip cookies are bound to come up. So, when
Shauna
of
Gluten-Free Girl and the Chef
asked people to post the first thing they ever made as a kid, there was no hesitation. Chocolate chip cookies – mom's chocolate chip cookies – were the only thing I would write about. I could write about the process of making them, the excitement of being able to stir in the chocolate chips for the first time, the smell that would emerge from the oven, surrounding us in the dream of cookies, all day. The hard part was figuring them out. You see, I've been trying to find the perfect blend of flours since day one of being gluten-free. Some were good, and some were awesome, but none were mom's cookies. Until these.
It was perfect timing. My friend and I had just finished our last day of school and had poured over our yearbooks. We had read through our notes trying to study and make sure that we would be prepared for our exams. But we needed some food. We needed to bake. After realizing that everything was not an option, cookies – mom's chocolate chip cookies – came to mind. So that's what we made. They turned out perfect. Just like mom's. Just the way I wanted them.
Now instead of rattling on about how this batch came to be, you must know all about why I wanted this batch to desperately. In fact, I wrote an entire essay based on this fact last year. It started like this…Walking into a room, smelling freshly baked cookies is the best. Although that essay was about something somewhat unrelated to this, the fact that it is something I can so readily write about shows it's importance to me.
To this day, there is not a smell that better brightens my day than a fresh batch of chocolate chip cookies. It was not an uncommon occurrence to arrive home to cookies that had just left the oven. Sometimes they would be whipped together as an interval to the street hockey out front, and other times they would be brought to potlucks or quietly eaten at home. The best memories though, those come from the process of making them.

At first I would just watch her create these amazing little bites of heaven with no apparent effort. However, as time went on, I gained the privilege to be able to help. It started out that I would stir – before the chocolate chips were added, as they were too tough for my tiny arms – but, as I grew I would be able to measure out ingredients like the flour or the sugar. I vividly remember one time that we made a double batch, with the enormous airy mound of flour which sat on top before we slowly stirred it in. First, huge streaks of white all-purpose would weave there way through the creamed margarine-sugar, until nothing but a memory of the flour remained.
Once I hit the big leagues, I got to crack the egg. Watching the semi-translucent slime that made up the white, and the slightly firmer bright yellow yolk slide into the bowl was always very satisfying. The only downside was sticking my fingers into the egg to retrieve any shell fragments that had made their way there. When I got really good at it, I was able to crack the egg straight into the bowl, and eventually I could stir in the chocolate chips all by myself. Then there was the big issue of putting the unbaked cookie dough blobs into the incredibly hot oven. That had always been Mom's job, but one day she let me grasp the homemade steel sheet and concentrating with every fibre of my being, slide it into the oven. It was awhile before I was able (or willing!) to take it out of the oven, but when that time came, I was very careful and well-supervised.
The absolute worst part of all this was waiting. Especially when my brother and I were really young, the "ping ping ping" of the timer seemed like it would never come. The moment the timer rang, an air of impatience took us over. We would jump up, badgering Mom to get the cookies out of the oven. Sometimes we would sit in front of the oven, watching it work it's magic as the dough flowed out, rose up and rumpled into the all-too-familiar shape. It always was a very big wait, made worse by the fact that we couldn't eat the cookies as soon as they got out of the oven. The smell alone of the baked goodness, especially the chocolate became an irresistible siren that worked by encapsulating us in the scent. Once we were finally allowed to eat the cookies, we would savour every bite, letting the melted chocolate dissolve into our mouths along with the rest of the cookie.

Mom's Chocolate Chip Cookies
adapted from Mom's recipe. Adaptation by Lauren of Celiac Teen.
Ingredients
1 (1/2 cup) stick butter, softened
1/2 cup packed brown sugar
1/4 cup granulated sugar
1 egg
3/4 to 1 tsp vanilla (she always eyeballs it)
1/3 cup millet flour (1.80 oz)
1/4 cup tapioca flour (1.15 oz)
2 tbsp sweet rice flour (0.65 oz)
2 tbsp quinoa flour (0.75 oz)
1/2 tsp xanthan gum
1/2 tsp baking soda
1/4 tsp salt
1 cup chocolate chips
Steps
Preheat oven to 375 degrees Fahrenheit.
Cream butter and sugars together until light and fluffy in a large bowl. Beat in egg and vanilla.
In a second bowl, whisk together dry ingredients (all but the chocolate chips). Dump dry ingredients into butter mixture, and stir slowly until incorporated. Stir in chocolate chips.
Drop tablespoonfuls of dough onto silpat-lined (this makes them just like I remember. An ungreased one will do as well though!) cookie sheet. Bake for 10 to 12 minutes, until browned and done.

This post is linked to Slightly Indulgent Tuesdays.
Okay, so honestly, mom made hers with margarine. But the butter made it more like my memories. Also, we never greased our cookie sheets, but doing so made it so much more true to my memories. In this case, for me, it's all about what I remember. These ones hit that mark, so I'm keeping them like this.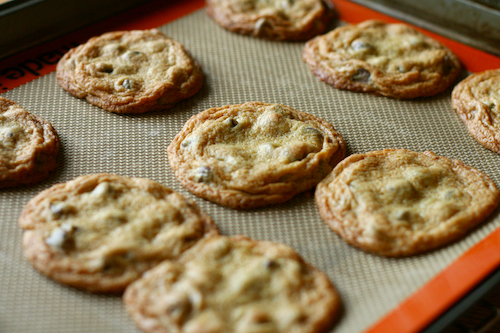 I remember standing on a chair, staring at trays of cookies like these, just waiting for the moment when they wouldn't burn my tongue. It felt like hours, and we inevitably ate them a few minutes too early, covering our hands in the most messy, most satisfying way possible.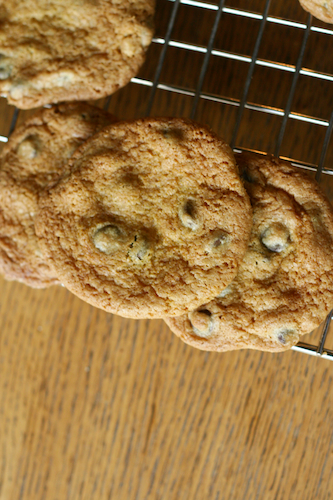 See? These aren't bad, but just not the same. Although, I wouldn't turn my nose up at them if I was offered. I'd dig in, in fact.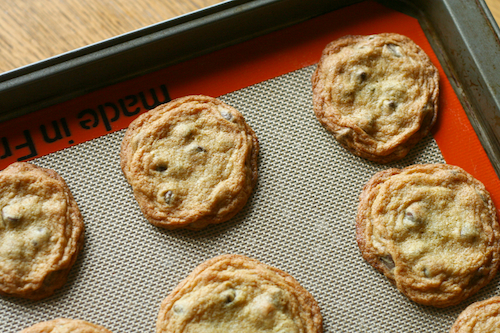 Perfect.  I'm sure your memories are different from mine.  Unless you grew up around the corner.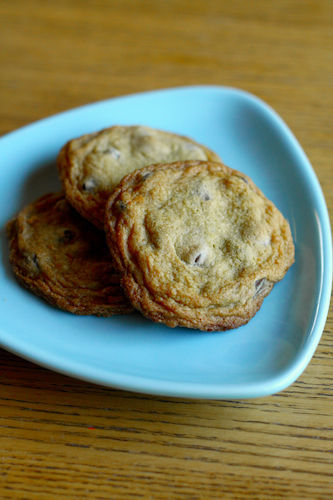 Now I'm seriously wondering why I didn't make a second batch.  It's an unanswerable question.  I need another one of these.  Please.  Pretty please.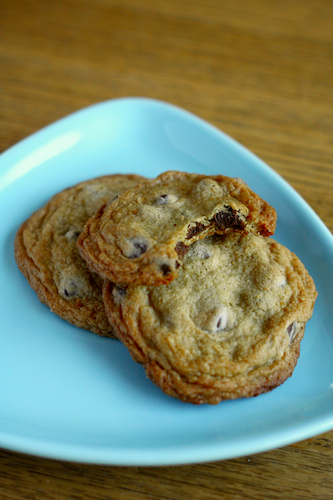 Okay, that's it.  This week.  Another batch.  (Not to interfere with exams though, obviously.)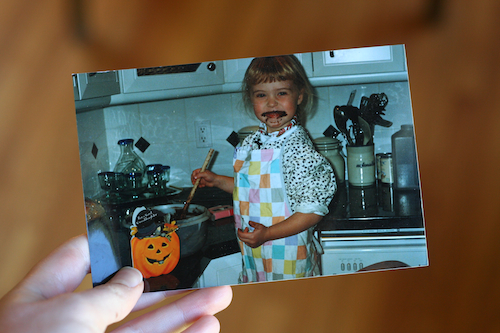 We don't have any photos of mom and I making cookies, but we do have this one.  I was three and we were making a "kitty cat cake" for Halloween.  Chocolate, from a mix (I loved those mixes!).  But that's a whole other post.  Oh, and don't even get me started on Easy Bake Ovens.  Those will have to wait for another day :).
So, if you haven't already – go write about your first thing you made in the kitchen – I can't wait to read them all!  Also, go check out Shauna's round-up!  I'm positive that these memories are some of the most powerful.  They set our foundations and love for food.
xoxo
Lauren
Twitter, Facebook, Foodbuzz and Flickr.