Falling back is one of those little gifts. We get one extra hour. I suppose it was loaned to us from the spring, but I'm taking it. I woke up before the sun today. My body said it was later than normal, but it was still earlier than I expected to wake. I didn't grab my phone the moment I got up. Instead, I went to the spot I left my book. I'm in a book phase. I'm in a driving phase. I'm in a dreaming phase. None of these are really phases- but when I've fallen really ill or allowed busyness to fill up every moment, I become short-sighted. I forget about the stacks of books I want to read. I don't write, bake, and only take the odd photo. I lose that part of myself that I need to live, not just survive. The part that makes me so quirkily me.
I finished that book, and have been keeping one in my bag, with me, wherever I go. Marveling at characters, at stories, at possibilities. I'm about to pick up a book my friend A's mom handed me, after I handed her these cookies. These incredibly simple, marvelous cookies. The cookies based off of A's grandmother's recipe- a recipe I found nestled in one of my family cookbooks, handwritten by A's mom, years and years ago. Searching for a good, old, family-tested oatmeal cookie recipe, I knew I had to adapt it. Nothing major, just to make it gluten-free.
They're good cookies. Time-tested. After making them, I came across another recipe for oatmeal cookies- almost identical to A's grandma's, using all the same principles. These are cookies you could double, and make a date spread to sandwich between two of them, as A's grandma's recipe suggested. This time, all I was searching for was a marvelous, simple oatmeal cookie recipe. An oatmeal cookie recipe to celebrate and savour gorgeous gluten-free rolled oats. That's exactly what it was: a celebration of oats and of oatmeal cookies. The best way I know (along with a few bowls of my favourite soup and a good book) to welcome winter.
Gluten-Free Oatmeal Cookies
Ingredients
1 stick (1/2 cup) unsalted butter, softened at room temperature
100 g (1/2 cup, packed) brown sugar
1/2 tsp vanilla
1/2 tsp baking soda
1/8 cup (2 tbsp) boiling water
120 g (1 cup) certified gluten-free rolled oats
45 g (1/4 cup) sweet rice flour
75 g (1/2 cup) brown rice flour
30 g (1/4 cup) tapioca starch/flour
1/4 tsp xanthan gum
1/4 tsp salt
Steps
Preheat your oven to 375 degrees Fahrenheit. Line a cookie sheet with a silpat, or parchment paper.
In a large bowl, cream together butter, brown sugar and vanilla until uniform, light and fluffy.
In a small bowl, mix baking soda and boiling water. Add to the butter mixture, and beat until incorporated.
Add all dry ingredients to the creamed mixture and mix well.
Roll into balls the size of walnuts, with lightly floured hands. Place on your prepared cookie sheet and press out with a floured fork. Bake for 7 minutes or until light brown. Cool for five minutes before removing from the cookie sheet, and allowing to cool completely on a rack. Makes 22 or so cookies.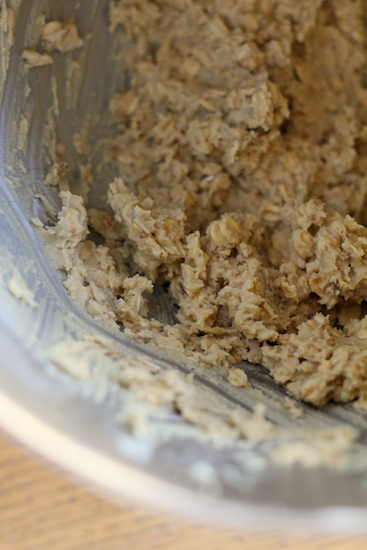 Oh, I love this dough. Especially since you can eat it, licking the bowl and all, without feeling the least bit guilty. Or at least not guilty about eating any raw eggs!
I love the "walnut-sized" description. It's exactly the size you want. A little bigger than a tablespoon, but not too much more. A walnut-sized ball.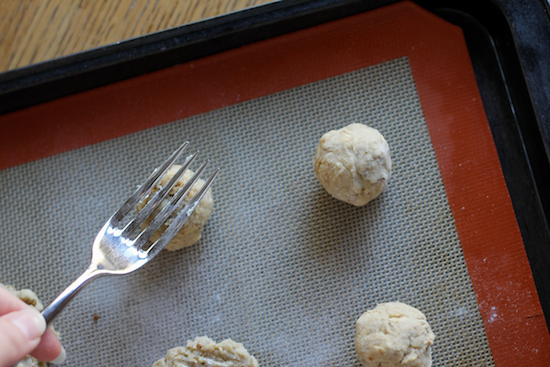 Then, simply squish the cookie dough balls down to make your cookies.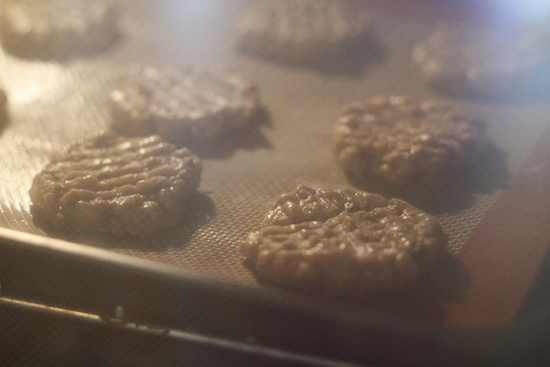 They don't spread much as they bake. But that doesn't mean they aren't fun to watch while baking. Especially as the scent of oatmeal cookies starts to spread through the house, it's hard not to be drawn to the kitchen.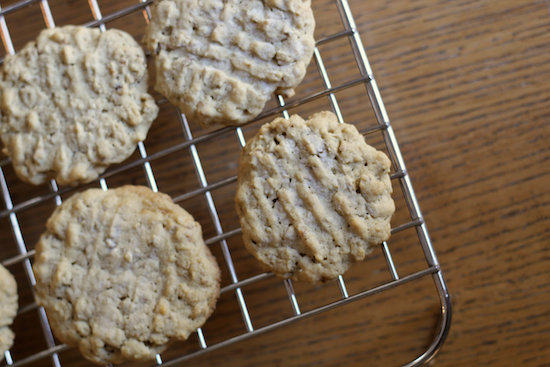 Et voila. Oatmeal cookies. Perfect alongside a cup of tea and a good book.
What are you reading these days? I'm always looking for good books, especially recommended reads!
xoxo
Lauren