There are two types of recipes that I absolutely love to make.  Recipes that take time to figure out the balance of flours to leaveners to everything else, and recipes from friends.  This is one of the latter ones.  The original recipe is from Hannah, who is not only one of the most talented photographers I know, but a dear friend.  I just made it gluten-free.  But you should really check out her site, Honey & Jam, as she's always got something to make you swoon.
With rhubarb either at or nearing it's peak all around, this is the perfect time of year to make this.  I was lucky enough to have some lovely neighbours with a great bounty of rhubarb that they weren't using, which just made making this all the more fun.  (and yes, I brought some of this cake over to them to say thank you :D)  They enjoyed the cake just as much as we did.  It's slightly tart, like rhubarb, with this lovely undertone of lemon to pull it all together.  It's a good cake.  A really good cake.
The moistness is divine, especially with a coat of lemon sweetness on top.  With either a subtle vanilla or push of lemon on the inside, it's a cake that just worked.  Those are my favourite.  This is one of my favourites.  Now, my cake is all gone, which means that it's your turn.  Go raid your rhubarb patch and enjoy the rewards.


Rhubarb Lemon Cake
Adapted from Rustic Fruit Desserts, via Honey & Jam. Adaptation by Lauren of Celiac Teen.
Ingredients
1/3 cup and 1/2 cup millet flour (4.55 oz)
1/2 cup tapioca starch/flour (2.40 oz)
1/2 cup sweet rice flour (2.55 oz)
1/3 cup minus 1 tbsp brown rice flour (1.50 oz)
1 1/4 tsp baking powder
1 tsp salt
1 tsp xanthan gum
1 cup (2 sticks) unsalted butter (softened)
1 3/4 cups sugar
zest of one lemon
3 eggs
1/2 tsp lemon extract (or vanilla if you don't have any lemon)
3/4 cup buttermilk
1 pound of rhubarb, trimmed and sliced thinly (about 3 cups)
1 tbsp brown rice flour
1 tbsp millet flour
2 cups icing sugar
Juice of 1 lemon
1 tbsp butter just about melted
milk or icing sugar, as needed
Steps
Spray or butter a 10 cup bundt pan and preheat your oven to 350 degrees Fahrenheit.
Whisk together the flours (everything besides those last two tablespoons), baking powder, salt and xanthan gum together.
In a large bowl, cream together the softened butter, sugar and lemon zest with an electric mixer, until light and fluffy. Add the eggs one at a time, making sure to scrape down the bowl between each addition. Stir in the lemon or vanilla extract. Alternating between flour and buttermilk, stir in a third of the flour, then half of the buttermilk and so on until everything is incorporated. You will start and finish with the flour additions. Scrape down the bowl as needed, the batter is quite thick.
Toss the sliced rhubarb in the tablespoons of brown rice and millet flours. Fold half of the rhubarb into the batter, and scrape it into your prepared bundt pan. Sprinkle the other half of rhubarb on top.
Bake for 30 minutes, rotate the pan, and continue to bake for 30 more minutes, or until the centre springs back when lightly touched. Let the cake cool, in its pan, on a wire rack for 30 minutes.
Make the lemon glaze by whisking the icing sugar, lemon juice and butter together. You want the glaze to be thick, but still pourable. Depending on its thickness, you may need to add a small splash of milk or a couple of tablespoons of icing sugar.
Invert cake, top with lemon glaze and enjoy!
—
This post is linked to Slightly Indulgent Tuesdays, Gluten-Free Wednesdays and Friday Foodie Fix.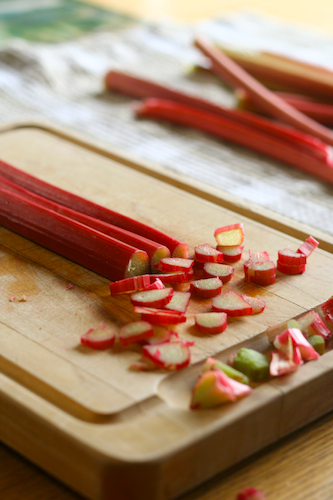 The colours.  The freshness.  You know it's going to be good.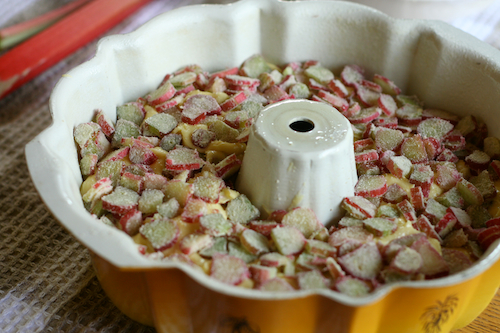 They're like little rhubarb jewels.  1 mm wide jewels of heavenly tartness, covering a pillow of lemony cake.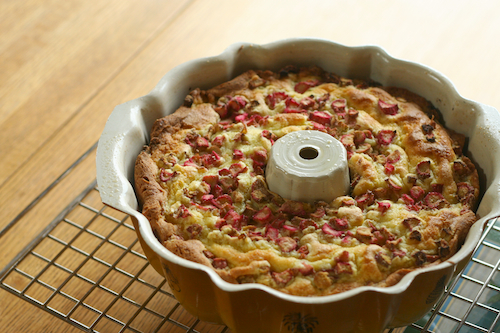 Watch the cake pull all of the rhubarb's moisture into itself.  Leaving you with ruby rhubarb.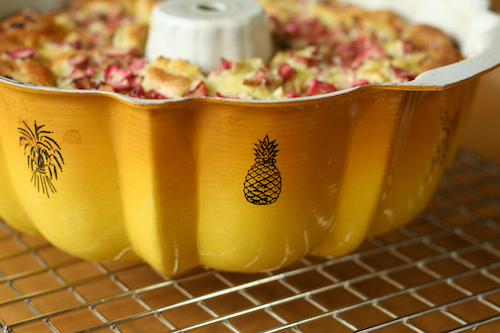 And there is the pan.  It has a story all to itself.  A story that I don't even know. It was my Nana's before she passed.  Aren't the colour and the designs just precious?  Words cannot describe how much I adore baking with equipment that has been in the family for decades.  Tell me about your family's pieces.  I'd love to hear :).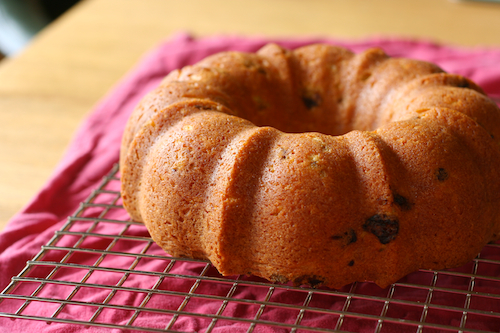 Gasp!  Not a crumb out of place.  Well, there were about two that stuck to the pan, but they were in the middle, so you would never know, especially with the glaze!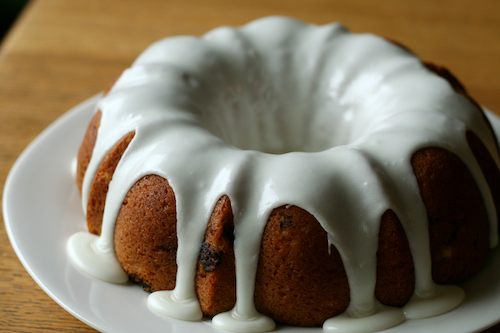 Et voila!  Fantastic.  Delicious.  Go get some.
xoxo
Lauren
Twitter, Facebook, Foodbuzz and Flickr.