That's a pretty bold statement. I realize that. However, they've got the perfect mix – almost cakey, just fudgy enough, and impossible to resist. At least for the members of my household. Oh, and the recipe I adapted it from was called the
Better than Ultimate Brownies
, courtesy of my lovely friends at
Gourmeted
:). But before I tell you all about those, there is a very important – and pressing – matter.
You see, I, along with a ton of other local Calgary food bloggers will be baking and selling our goods at Market Collective, in the Calgary Food Blogger Bake Sale, where all proceeds go to Calgary Meals on Wheels! It's happening this weekend, at the Old Ant Hill Fabrics Building (at 148 10 St NW). It will take place on Saturday (June 19th) from 10 to 6, and Sunday (June 20th) from 11 to 5! I will be there on Saturday from 4 to 6.  Admission to Market Collective is $2 or a donation to the Calgary Food Bank.
The lovely Vincci, of Ceci n'est pas un food blog got all of us together to create this event (can you tell I'm excited?). Friends Julie of Dinner With Julie, Cheryl of Backseat Gourmet, Pierre of Kitchen Scraps and Chelsey of The Crazy Kitchen will be there (and supplying treats), as well as new–to–me awesome people, which I can't wait to meet (or at least their food!)! You can see the full list of bloggers on Vincci's site :).  Only a handful of us will be there (in shifts), but there will be so many treats from all of them.
I will be bringing a couple of Rhubarb Lemon Bundt Cakes, and maybe some of these brownies.  (Mom's done 90% of the convincing, but if you would like to convince me further, go for it!).  For gluten-free items, there will also be Bleeding Heart Tarts and Pumpkin Squares.  So, friends, whether you're gluten-free or not, there will be a lot of selection!
The brownies though, you want them. Well, I want them. I tried to only have a bite. Really, I did. Before I knew it though, I was on my second. (That's another issue when selling them – My inability to part with them. I think I can deal 😉 ). I even stuffed a few in the freezer to save for later. The freezer is also known as the place no one will think to look. Although, now they will. Shoot. I prefered them un-frozen, but they were still really lovely after having been frozen. Now excuse me – I'm off to bake another batch! Oh, you want the recipe? Here it is:

Ultimate Gluten-Free Brownies
Adapted from Gourmeted. Adaptation by Lauren of Celiac Teen.
Ingredients
2.5 ounces unsweetened chocolate
1.5 ounces bittersweet chocolate
1 (1/2 cup) stick butter
1/4 cup millet flour (1.35 ounces)
3 tbsp tapioca flour (0.85 ounces)
2 tbsp sweet rice flour (0.60 ounces
1 tbsp quinoa flour (0.40 ounces)
3/4 tsp xanthan gum
1/2 tsp salt
2 eggs
1 egg yolk
1 1/2 cups sugar
1/2 tbsp vanilla
Steps
Preheat oven to 375 degrees Fahrenheit and grease an 8 by 8 inch square pan.
Melt together chocolate and butter over low heat, or in 30 second intervals in the microwave, stirring between each. Set melted mixture aside.
In a small bowl, whisk together flours, xanthan gum and salt.
Beat together eggs, sugar and vanilla for 10 minutes at high speed. A stand or hand mixer is definitely the way to go here. Stir in the melted chocolate and flour mixtures until just combined. Let sit, as is (in the bowl), for 20 minutes. Pour into greased pan, tapping on the counter to release air bubbles. Bake for 30 minutes or until a toothpick comes out clean.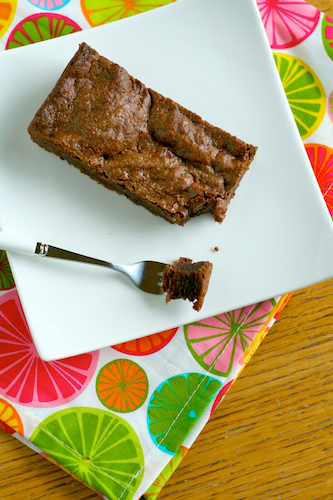 Ooh Look: Brownies!
Somedays I think you don't need to say much more than that.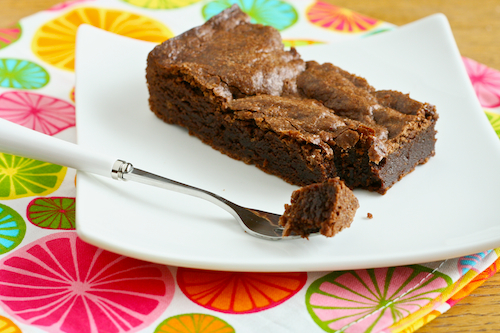 Then inspect it a little more.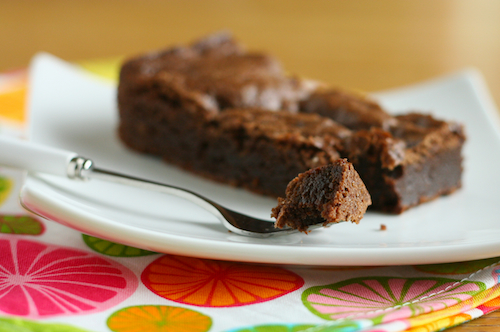 Don't forget to dig right on in! (How could you?)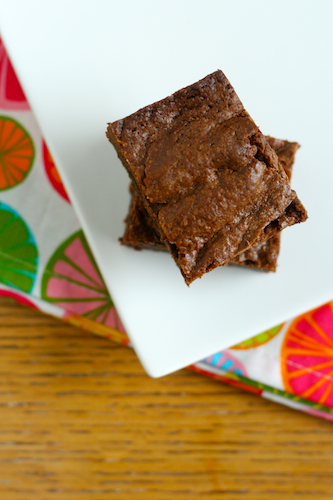 You can also cut smaller pieces. They're just as lovely.
So, if you're looking for something to do this weekend, and happen to be in the Calgary area, definitely stop by!  There will be so much great food for a great cause.
xoxo
Lauren
Twitter, Facebook, Foodbuzz and Flickr.