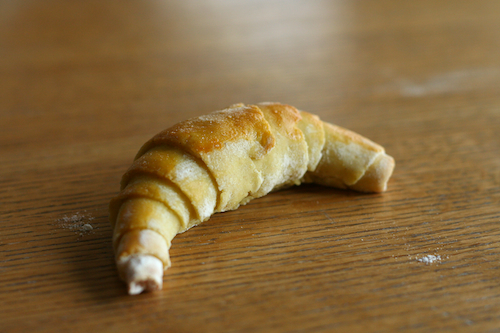 Croissants. Without gluten. One of the most gluten-dependent things out there. Without gluten. I am still flabbergasted that I figured this out. It took a lot of time, but it worked. When you make it, it will take a lot of time too, but it's worth it. Yeast is involved, so hours are bound to be involved. It's not all working time though (far from), so give it a go. You can do it. We can all make croissants. Even without gluten.
I've made these quite a few times. But each time, they tasted like croissants, even if they didn't always look like it. No, they aren't perfect. But they have layers. They taste good. They conjure up the memory and child-like emotions that I have associated with croissants. I ate them the same way I did when I was seven and they had French Week at school, which meant that we got not just any croissants, but chocolate ones. I pulled them apart, layer by layer and let the buttery beauty of them carry me away in a wave of nostalgia. So here they are, for you to ride that wave too.
I decided to make these when a reader emailed in, asking if I could do it.  They had been in the back of my mind for ages, and with a little bit of inspiration from my friend Shauna's puff pastry, I did it.  They aren't entirely traditional French croissants, but they evoked the memory of them, at least for me.
These made me giddy.  Between watching it's evolution (trust me – you do not want to see the very first version), and letting memories flood over me, and sharing them at school, it was fun.  It was exciting.  I hope that you like them.  I know that this is just the beginning.  In fact, I've already got a few more ideas of what I can do with them!

Gluten-Free Croissants
An original recipe by Lauren of Celiac Teen.
Ingredients
1 package active dry yeast
1/3 cup warm water
1/4 cup sugar
1/2 cup sweet rice flour
1/2 cup cornstarch
2/3 cup and 1/2 cup millet flour
1/3 cup and 1/2 cup tapioca flour
1/4 cup sorghum flour
1 tsp xanthan gum
1/4 tsp gelatin
1 tsp salt
1/2 cup (1 stick) unsalted butter, cubed and cold
1 cup warm milk
2 egg yolks
1/4 cup millet flour, reserved for later
1 egg, for egg wash
Steps
Sprinkle yeast over warm water. Let activate for about 10 minutes. It will be ready when you've completed mixing the flours and butter in the next step.
Place sugar, flours (everything except the last 1/4 cup of millet), xanthan gum, gelatin and salt into your food processor. Pulse a couple of times until blended and basically uniform in colour. Place the cold cubes of butter into the food processor, and pulse until no big chunks are left. You can turn it off and move the flour around with your hands to make sure no chunks are there. The largest (absolute, biggest one) would be a small pea.
Lightly whisk or mix with a fork together the egg yolks and milk. Combine this mixture with the activated yeast.
Stir everything together in a big bowl, until uniform. It will be fairly sticky. Cover and place in the fridge for at least 4 hours.
When you're ready to roll it out, test with a small amount of dough, about a palmful (see pictures below for step-by-step). Roll it out on a very very well floured surface, floured with sweet rice flour. You want it to be very long in length, maybe 1/3 as wide, and really quite thin. This first bit may be too moist. It was much too moist for me, but if you feel comfortable with it, use it like that. If not, very gently mix in that remaining 1/4 cup millet flour to the remaining dough, trying not to deflate the yeast too much.
So, with your either newly floured or already good dough, one palmful at a time (the pictures really help at this point*), roll out the dough on your extremely well sweet rice floured surface, very long, but still with some width. Depending on how wide your dough is, you may either cut in half and then twice diagonally like this> |\|\|. Or just diagonally, as pictured.
Roll your dough beginning at the big end, all the way to the small end. Place rolled croissant on parchment paper lined (this just makes it a lot easier :D) cookie sheets.
Roll out, cut, roll up and place the rest of your croissants on cookie sheets. Let rise for 1 to 2 hours, covered if you wish.  They will not double in size, but should puff up a little.
Preheat oven to 350 degrees Fahrenheit. Lightly whisk an egg with a fork, then brush egg wash onto croissants.
Bake for 16 to 18 minutes, until golden brown.
—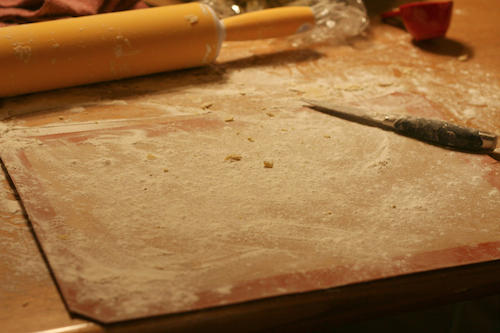 Everything you'll need to roll them out.  A well floured rolling pin, a well floured surface, a knife, and lots of sweet rice flour, to do all of that flouring!  I happened to do this particular batch at night (sorry about the photos).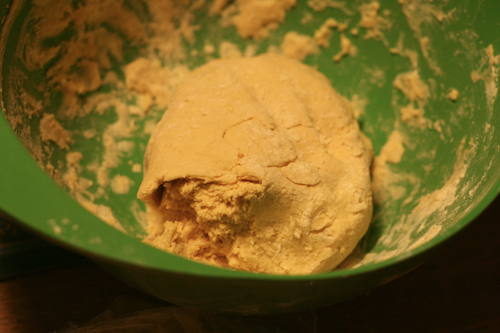 My extra-flour-has-been-added-after-the-fridge dough.  With a chunk missing.  It already ran into the next photo.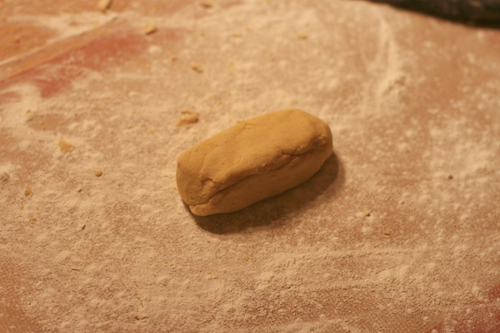 See?  It's small.  Really quite small.  Make it into this shape.  It does help.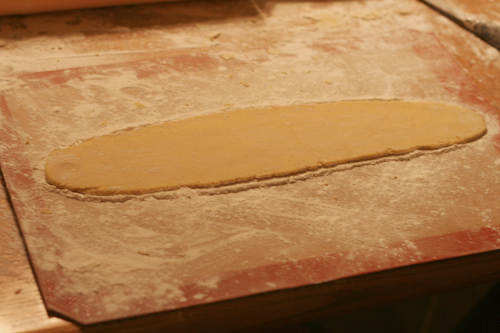 Then, you roll it out like this.  (See that it's still fairly thick-ish?)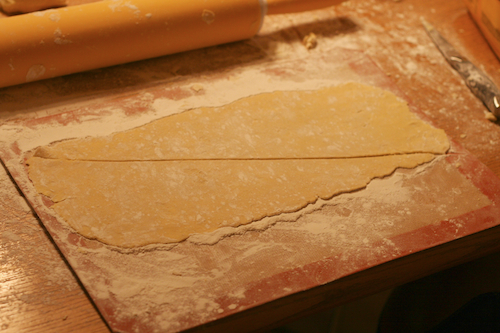 Then you roll it like this.  If it was a little bit wider, you would cut it in half lengthwise, and then do the awesome diagonal cuts.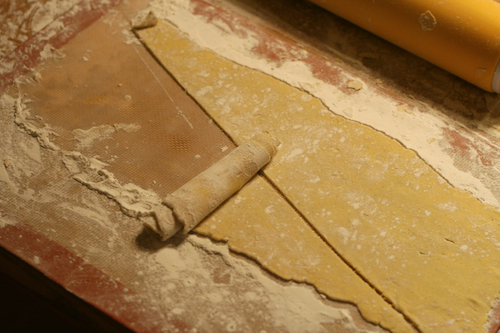 Start it rolling!  If it's having trouble getting it's first start, you can use the silpat, if you're using one.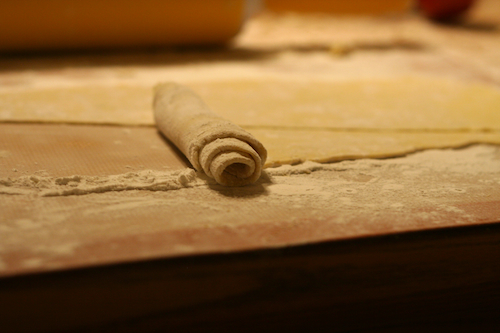 There is something really comforting in this.  Once it's all rolled up, you'll want to brush off that excess flour.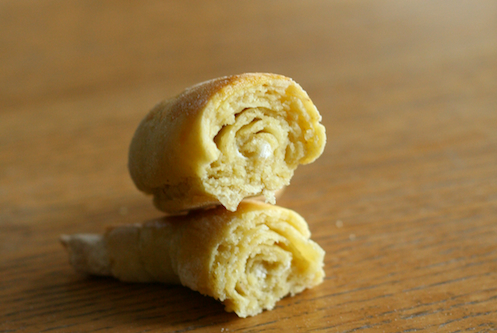 SEE?!  Sorry, I'm excited about those flaky layers.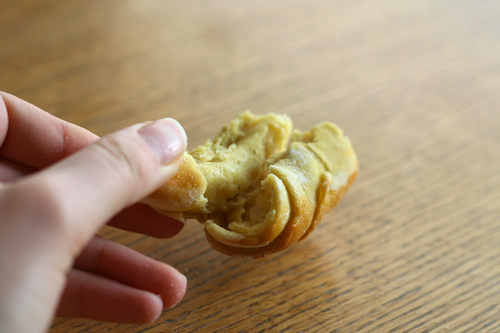 That's about it. Croissants. Gluten-free. Anything is possible. Don't doubt it. Go for it.
xoxo
Lauren
Twitter, Facebook, Foodbuzz and Flickr.