When things begin to happen, things happen fast. They snowball and explode into beautiful streaming colours. Sometimes, there is no better way to say what's going on than to just come out and say it. Last weekend was the Calgary Food Blogger Bake Sale, and on Friday, an article by the fantastic Catherine Caldwell came out in the Calgary Herald's Swerve magazine. I wanted you to know. You are what make this happen, and you are what make this all make sense. So thank you. For everything you've done and everything you're doing. It's impossible to explain what you mean to me.
Also, if that article sent you here, Welcome. Grab a chair, make your self at home and enjoy. Maybe you'll find something you like!
The bake sale though, I wanted you to see it, to have as much fun as I did. Vincci did an absolutely amazing job. There was an abundant amount of food, from fantastic food bloggers throughout the Calgary area. I had a great time.
Now, before I go on and on about that (this might be a long post. Just warning you now.), there are these pavlovas. They're for this month's Daring Baker's challenge, and also my entry into this month's Go Ahead Honey, It's Gluten-Free, because these are Dairy-Free too (this month's theme!). I don't tend to use one challenge for another, but this is a busy month, and in 3 days, I'll be gone for just over 3 weeks. I did adapt the recipe though, to be dairy-free as well (or rather, use a different take on the toppings – I hope that's okay), so I think it counts :).
The June 2010 Daring Bakers' challenge was hosted by Dawn of Doable and Delicious. Dawn challenged the Daring Bakers' to make Chocolate Pavlovas and Chocolate Mascarpone Mousse. The challenge recipe is based on a recipe from the book Chocolate Epiphany by Francois Payard.
I don't know where to start with this post – the article, the bake sale, or the pavlovas. All were wonderful. All were delicious (no, I didn't eat the article, but there was food when I talked with Catherine and there was food when I had my picture taken). You can see the article in Swerve. (One down, two to go 😉 ).
The bake sale was simply awesome. In need of proof? I have that. Lots of that, actually. I brought my camera, took some photos. Not as many as I thought I would, but enough to show you its magic. Most of my photos are from the bake sale's dawn – in the moments before the doors were opened and people were let into Market Collective (to see everything, not just the bake sale).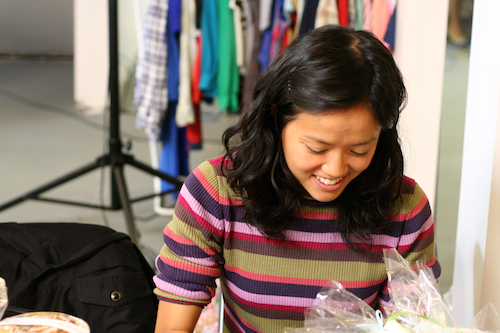 This is our fearless leader Vincci. Thank you Vincci for getting all of us together and always being at the bake sale, knowing how much each item cost – and being great company!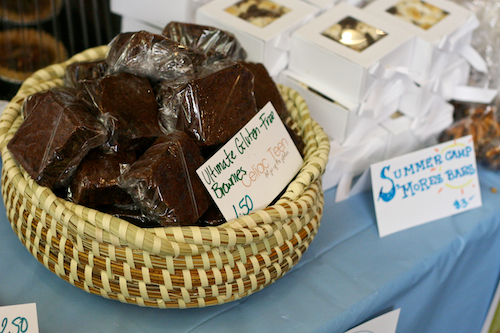 These were my brownies. Want some?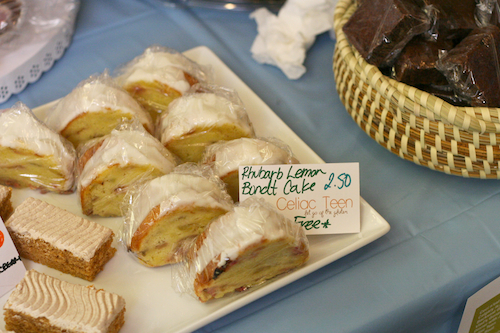 Or maybe the rhubarb lemon bundt cake? Yes, I know my packaging wasn't the prettiest, but it did the job. It also kept any possible gluten out. That's the most important part.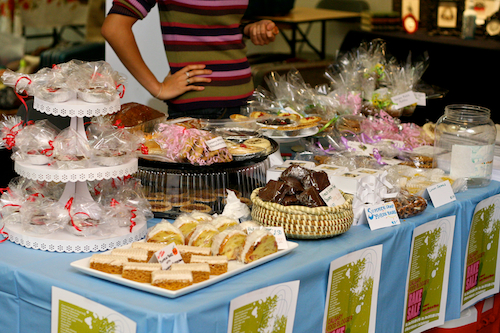 The whole table. At least it's appearance at the beginning of Saturday. As things sold out, it all moved around into a lovely evolving pattern. The end closest to you in the photo was all gluten-free. Tarts, Cake, Brownies and more Cake :).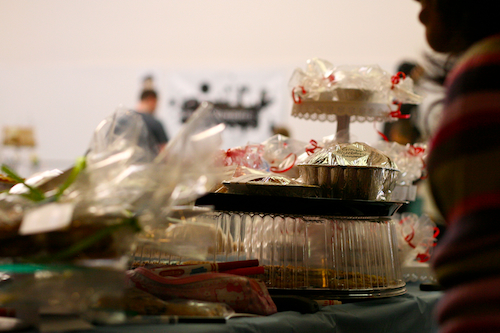 The view from behind the table. There was SO much food. Stacks and stacks of it were behind the table. But, since there were almost 20 of us, that's what happens!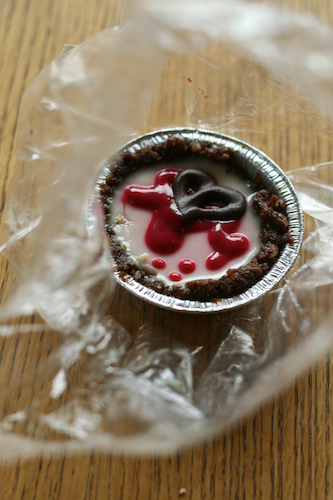 My purchase. The last (!) of Chelsey's Bleeding Heart Tarts. It was absolutely heavenly. Chelsey, you rock. Everyone should make these now. They're really good.
And now, I want to tell you about the Pavlovas. They were quite lovely. The texture was a cross between a meringue and a brownie and the flavour screamed of hot chocolate. I liked it. I topped them with this coconut cream that I whipped up. It's not quite a recipe and it's not a stiff cream, but it's exactly what I was looking for. Then, on top of all of that, I put a cranberry juice reduction. I might have reduced it just a touch too long, but it added a little bit of tartness and colour to the dish.
Chocolate Pavlovas
from the June 2010 Daring Baker's Challenge.
Ingredients
3 large egg whites
110 grams sugar
30 grams icing sugar
30 grams cocoa
Steps
Preheat the oven to 200 degrees Fahrenheit. Line a cookie sheet with a silpat.
Whip the egg whites in a large bowl until soft peaks form. While continuing to whip and turn up the speed, add in the sugar, 1 tbsp at a time.
Sift the icing sugar and cocoa over the egg whites. Fold this into the egg whites until there are no streaks of white. Make sure to keep folding, as at one point it may appear that it will not come together, but it will.
Spoon or pipe the meringue onto your silpat.
Bake for 2 to 3 hours until the pavlova is dry and crisp.
Coconut Cream
Ingredients
1 can (400 mL) full-fat coconut milk
icing sugar
Steps
Scrape all of the coconut milk (including the coconut water, if you would like this consistency. If you exclude the coconut water, you will have a thicker cream.) into your bowl. Beat until uniform and bubbles have formed throughout the mixture. Add some icing sugar to taste, and a thickener if you please. Continue to beat until a bit stiffer (with the coconut water, it will not become stiff).
Place in the freezer for 15 minutes. Beat a little bit more to thicken up (again, this won't be drastic. Just keep going until it's the consistency you desire. Alternately, place in the freezer once more to become even thicker, then beat after that.
Use this cream to top the Pavlova meringues.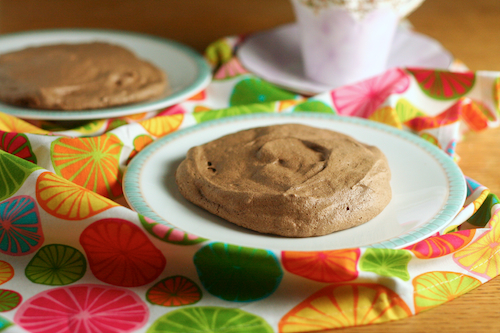 It all started with these guys. They were so excited to get some coconut cream that they rumpled the cloth.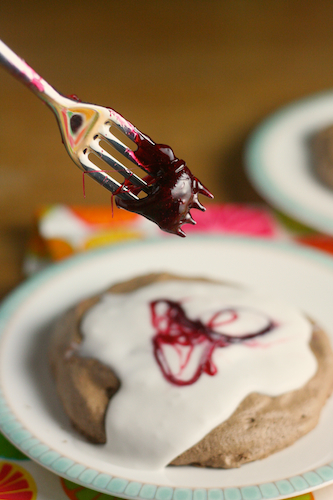 They got some coconut cream, then the cranberry juice reduction. It was almost a caramel, a tart cranberryish caramel. It sure tasted lovely though.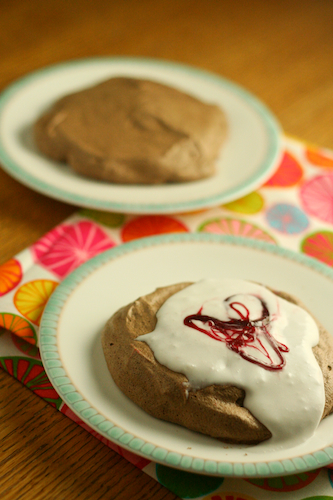 The topped Pavlova, in all it's loveliness. I must have had Chelsey's Bleeding Heart Tart in mind, as the reduction came out as a heart!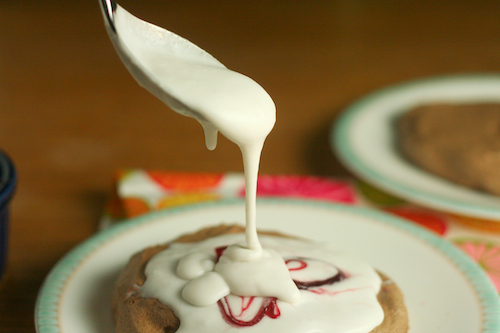 Then, just because I felt like it, I put more coconut cream on top. It made the reduction more of a surprise. Absolutely lovely.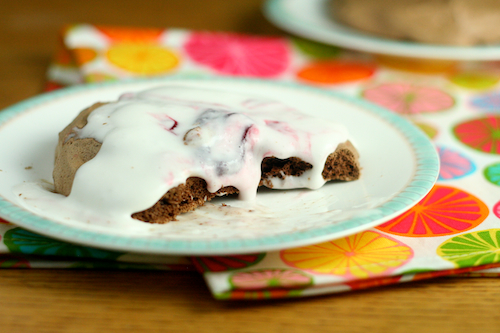 Ahh. Beautiful. Just what you need. Simplicity and flavour at it's best.
Just like gluten-free, dairy-free doesn't have to be flavourless or boring. This was absolutely delightful. Thank you so much to Zoe, of Z's Cup of Tea for getting me to try this way of baking. I didn't miss the dairy (although, I'm not quite looking to give it up in the near future). Also, Thank you to Dawn for this Daring Baker's challenge. I will definitely be making Pavlovas again!
I should also mention that since I'm going away in a few days (for a few weeks), I will likely be behind on emails and whatnot, so don't worry if I don't reply right away – things are really busy right now and in the near future :).  I hope that you have a great summer though!
xoxo
Lauren