Croquembouche or Piece Montée sounds so fancy and delicious. Not to mention deliciously French (just like the
croissants
that I made earlier this month!). In my (albeit limited) experience in baking, I have learned that French baked goods are very often dependent on butter, eggs and gluten.
Sans gluten
, they can lack something. But that doesn't always have to be the case. In fact, with these, we couldn't get enough. My cream puffs didn't puff as much as some, but the flavour was all there. They almost didn't make it into the croquembouche.
Almost.
The May 2010 Daring Bakers' challenge was hosted by Cat of Little Miss Cupcake. Cat challenged everyone to make a piece montée, or croquembouche, based on recipes from Peter Kump's Baking School in Manhattan and Nick Malgieri. Thank you to Cat for this delightful challenge. It was comforting, rich, and made my tummy happy. Especially with the pastry cream and the chocolate and the cream puffs and well, the whole thing. I only didn't make caramel (an optional aspect) as I need a whole afternoon – a whole day – free of anything else to do other than focus on the caramel. Then, I'll get it right. I just didn't have that time this month. Ah, C'est la vie! I'm okay with that. And so is my belly (and those of my family :D).
After taking a few shots of this baby, I carried it around with me, offering some to my family, when I got to my brother, he did a double take. His eyes filled with excitement as he mentally ate the chocolate explosion in front of him, and when he did actually eat it, you could just tell it was good. Not that I needed to ask anyone. It was clear from the moment I took a bite. Or five. In fact, I had to make sure that no one ate all of the cream puffs beforehand, as everyone but the dog had a taste (or four!) before I formed them into this belle piece montée.

Gluten-Free Cream Puffs
by Lauren of Celiac Teen
Ingredients
1/2 cup millet flour (2.80 oz)
1/4 cup cornstarch (1.50 oz)
1 tbsp sweet rice flour (0.30 oz)
3/4 tsp xanthan gum
1/4 tsp salt
1 tbsp sugar
1 cup water
1 stick unsalted butter
4 eggs
Steps
Preheat oven to 400 degrees Fahrenheit. Line two cookie sheets with parchment paper or a silpat.
Whisk together flours, xanthan gum, salt and sugar in a small bowl.
Over medium-high heat in a medium-sized saucepan, bring the water up to a boil. When it's almost boiling, add the butter. Once the butter has melted and the liquid is boiling, add in the entire flour mixture and stir quickly and constantly until it begins to pull away from the edges, in a fairly uniform ball.
Take off the heat and let cool for a minute or two, then beat in one egg until the mixture comes together into a uniform mixture again. Beat in each additional egg, one at a time, ensuring that they are fully incorporated into a smooth dough each time.
Place the dough into a pastry bag, then pipe out circles or strips, an inch apart. Bake for 23 to 26 minutes, until golden brown.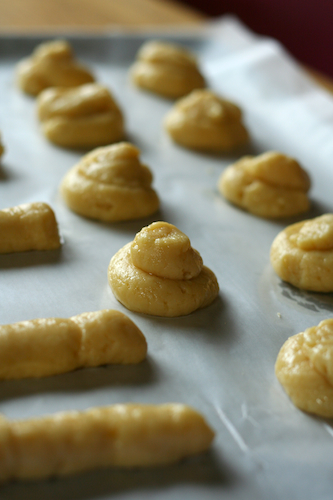 Piped, precious and all ready to go.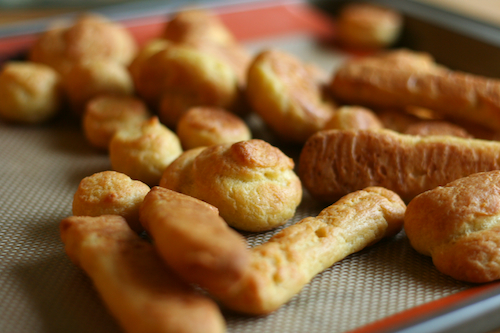 I made small ones, medium sized ones, and almost éclair-ish ones.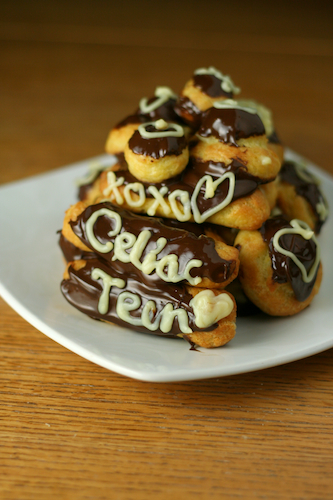 Then I had fun dipping in chocolate (LOTS of chocolate) and piping with pastry cream (which also filled all of my cream puffs).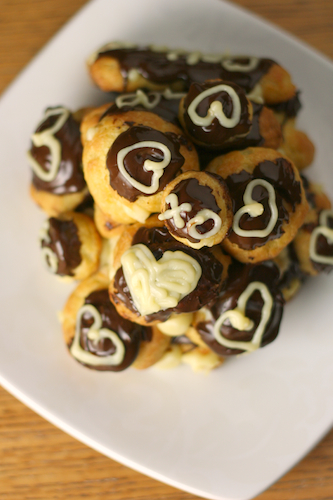 Yes, I sure did have fun. Hearts and things to make not only your tummy smile, but your face too!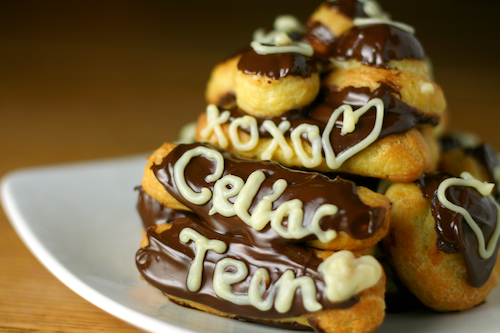 In case you didn't notice before, I also piped the name of some webamablogishicalthingamajig. And yes, I'm talking about my blog, where you are right now!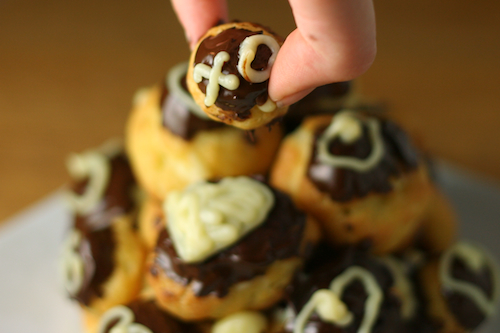 Have a bite. You only need one! (Although I would dare you not to eat any more. I'm not sure it can be done. Or at least not by me 😉 ).
In case you haven't noticed, this has been a really busy month. (And I missed Daring Cooks. I really hope to make it sometime soon. If I can find the time, I will!).  Summer, you like to tease us, and I can't wait for you to come in full force.  I have a feeling that this is going to be a summer to remember :).
xoxo
Lauren
Twitter, Facebook, Foodbuzz and Flickr.