When a whole bunch of people join together to spread their combined passion, it's infectious. Ideas bubble and concepts grow. Friendships bloom and possibilities morph into realities. It's true with The Kitchen Generation, and it's true with this. Today, a whole bunch of innovative gluten-free bloggers and I are introducing something new. The Gluten-Free Ratio Rally.
We're rallying together to discover wonderful ratios for the baked goods that you love. Ratios of flours to fats to liquid. Ratios that determine bread from muffins, and pasta from pâte à choux. We're here to give you a huge bunch of options, so you can decide which you would enjoy the most. We're also here to show you that you can do it too. When we work with ratios, it's easy to make substitutions, as everything is done by weight. (If that scares you away – please don't go! I've included the volume measurements as well in my recipe. However, you may just find as I have that baking by weight can be so much easier. Fewer cups to wash, too!)
In the interest of having fun and providing you with a boatload of options, we each have a different flavour, and a different aim. I was looking for something that a certain person could enjoy. Something whole-grain, and fairly fluffy. Not a thin pancake, but one where you can taste the complexities of the whole grains. Something that no one would ask warily "Just what was in that?!" These did just what I was looking for. They made a lovely breakfast, with a quality that I remember from the wheat-laden pancakes I used to make weekly.
One of my mom's friends cannot tolerate gluten, eggs, dairy or certain oils. All she wanted was pancakes, so Diane, these are for you. Fluffy, multi-grain, vegan (well, I used cow buttermilk, but the switch is one of the easiest substitutions I know), lovely. They disappeared in a hurry in my house. I hope you like them too.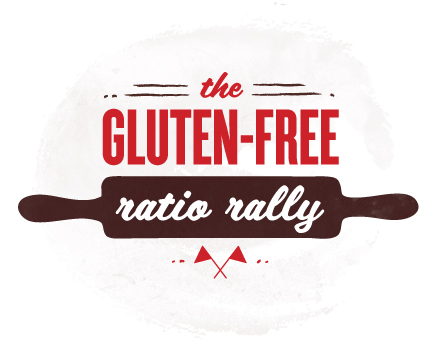 Now, this isn't a solo effort. Shauna, the darling Gluten-Free Girl organized all of this – bringing us together and even getting a logo created by lovely Anile. (I love that it looks like floured hands were rolling it. Beautiful). We have many pancakes for you. In fact, if I didn't have school, I'd be making one of these each meal until I had tried them all. They look so good, and knowing their creators, they are.
Multi-Grain Egg-Free Gluten-Free Pancakes with Vegan Option
Ingredients
35 grams / 1.25 oz tapioca starch/flour (1/4 cup)
30 grams / 1.05 oz sweet rice flour (1/4 cup)
45 grams / 1.60 oz millet flour (1/3 cup)
40 grams / 1.40 oz sorghum flour (1/3 cup)
35 grams / 1.25 oz teff flour (1/4 cup)
50 grams / 1.75 oz brown rice flour (1/3 cup)
1/2 tsp xanthan gum
30 grams / 1.05 oz sugar (2 tbsp + 1/2 tsp)
1/2 tsp salt
2 tsp baking powder
1 tsp baking soda
2 tbsp ground flax mixed with 6 tbsp warm water (total, this equals about 100 grams or 3.5 ounces)
365 grams / 1 1/2 cups buttermilk (or this handy substitute with your favourite variety of milk!)*
45 grams / 1/4 cup grapeseed oil
(75 grams / 1/3 cup milk, if needed)
Steps
Heat your skillet or surface where you will be cooking the pancakes. They'll cook over medium-low heat.
Whisk together all of your flours, xanthan gum, sugar, salt, baking powder, and baking soda in a large bowl. Whisk until aerated, and uniform in colour.
In a separate bowl, whisk together your flax meal-water mixture, buttermilk and grapeseed oil, until uniform. Pour the liquids into the dry ingredients and whisk lightly until combined.
Lightly oil your skillet, and use about 1/4 cup of batter per pancake, depending on how big you're going for. I tend to scoop it up with a ladle or something similar. They do spread somewhat. Flip the pancakes once, when the bottoms are browned. Cook on the second side until cooked through and browned on the bottom.
If you find the batter to be too thick, or becoming thicker as you cook the pancakes up, add some milk and whisk until fully incorporated. I found that with added milk, they were better suited for making larger pancakes. Add more or less as you see fit.
Enjoy!
* Buttermilk made with dairy-free milk may weigh less than dairy buttermilk of the same volume, so it may require more that 1 1/2 cups to create the same mass.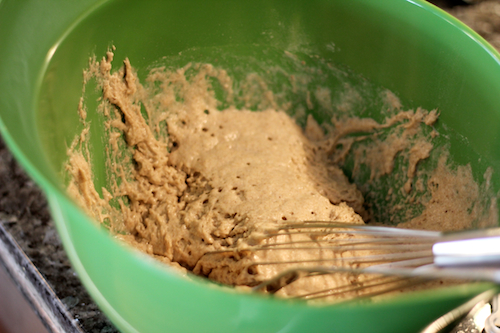 See? It's sort of an airy, thick batter. Not the most fluid, certainly not liquidy. If you add more liquid after though, it's okay to deflate some of the bubbles. There's double-acting baking powder in there, and the heat kicks that second part into gear!
My ratio ended up being 4 : 6 : 1.6 : 0.8 of flour:liquid:egg (replacer):fat, or 4 : 6.8 : 1.6 : 0.8 if you added extra liquid. We all played with somewhat different ratios, based on different original sources and whatnot. It all depends on what you're going for. With the bunch of leavener in these, this worked. Fluffy, but thick. Comfortable, yet new.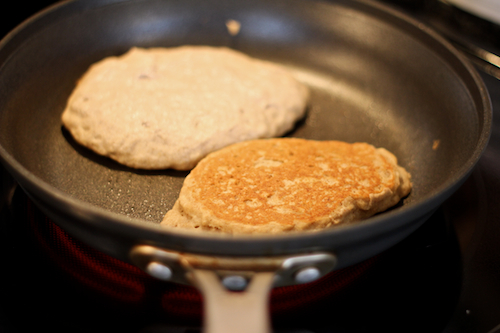 Thick, beautiful. When flipped, they become a fraction less tall. They certainly don't lose any flavour though!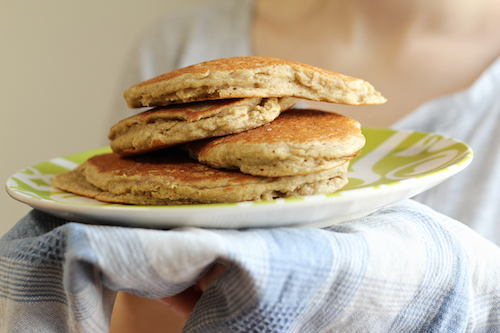 Pancakes. Served in Pajamas, always. At my house, the stack rarely makes it to this height. The moment the first one hits the pan, there's a line-up.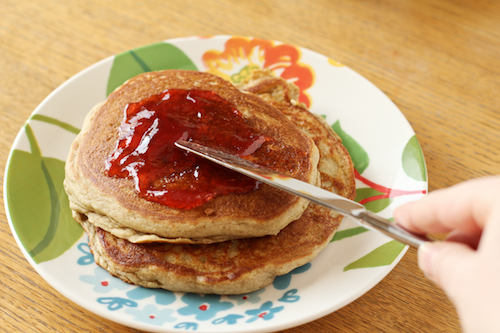 I spread some warm jam on these. Whatever your favourite is. I'm a particular fan of Apricot-Peach (note to self: learn how to make that come summertime). This was seedless strawberry. Now, I'm always a big fan of maple syrup too. You have lots of decisions to make.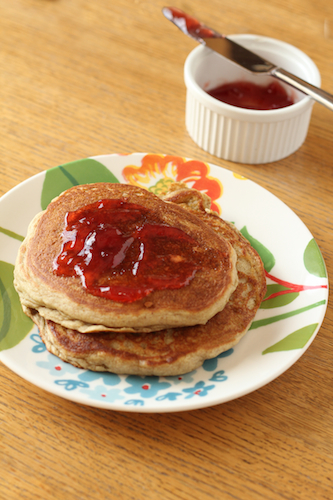 I told my dad and brother that they were egg-free (and almost vegan!) afterwards. They shrugged, it didn't matter what was in them – just that they tasted good. These are good pancakes. No pretenses, as it should be.
When I asked mom what I should call these (because the name I have is not the most eloquent, but c'est la vie!). She said "good" and "disappearing". The Good Disappearing Pancakes. That they are!
This one is for you.
While I certainly have a bunch of pancake recipes here – from a fluffy ratio-based one to pumpkin to quinoa flake, this is a community event. Go check out these lovely people, and their pancakes.
Tara from A Baking Life.
Karen from Cooking Gluten-Free.
Silvana from Dishtowel Diaries.
Irvin from Eat the Love.
Britt from GF in the City.
Lisa at Gluten-Free Canteen.
Shauna from Gluten-Free Girl.
Kate from Gluten-Free Gobsmacked.
Jenn from Jenn Cuisine.
Erin from The Sensitive Epicure.
Carol from Simply Gluten-Free.
Now, it's your turn. Go. Play with ratios. The possibilities are endless. From the ones you see above to a concoction of your own. You can do it. Just go for it. We're here to help.
Also, you can follow and tweet about this with the hashtag #gfreerally. We'll be doing it monthly, figuring out all sorts of goodness!
xoxo
Lauren