I hadn't baked in two and a half weeks. My mind was spinning off in circles, and my body was only starting to recover. I had a sinus infection. Saying it like that sounds so simple, so easy. This? Anything but. I'd missed too much school to know what was going on in any of my classes. I couldn't quite focus, falling just short enough that I couldn't really process what I was reading. I came away with a general gist, rather than my normal understanding. It was foreign, and a bit frustrating. My thoughts were scattered. The lightheaded episodes of my past came back. Over-the-top exhaustion came back. Crashing hard; that came back too. I'd get a moment of clarity, then everything else regained it's typical confusion. I'm not a fan of all of this, but I could manage it. What I couldn't handle? No baking.
We all have a refuge. Maybe you read a good book. Maybe you draw, paint or write. Maybe you dance. Maybe you quilt. Me? I bake. It's second nature. It's my comfort, my joy. It is the thing I do when I'm bored, when I'm happy and when I want to give. It's also what I do for me; not just for the result, but the process. The sound of the oven as I turn it on. The ease with which I pull open drawers and grab just what I need, without a single glance. That comfort which comes with measuring the flours, with beating the eggs. It's the satisfaction of licking the spoon after the muffins have been tucked into the oven. Biting into the still warm treats and tasting the love. Tasting the time, the joy, and the comfort that banded together to make them. It's my therapy.
These past few weeks, it's also been my benchmark. "I'll be okay if I can just bake" I thought as my mind began to emerge from the brain fog. In the past two or three days, where the brain fog has finally started to lift, my days have ended with collapsing into the couch, but I knew I had to try. I had the energy to stand, and frankly that was enough. The moment the flour touched my fingers, that all floated away. I was home. In no time, the muffins (or are they cupcakes?) were in the oven. The couch called my name as they baked, but this time my body breathed a relaxed sigh. The stress? It was gone.
Don't get me wrong – this is a busy time and I've got a lot to do – but finally being able to do this one little thing? It made all the big worries go away. I'm working through the homework. I'm working through the quizzes, the tests. I'm getting back on track. It was a long and nasty sinus infection, but it's just about gone and hasn't added anything else to my health resume. I'm incredibly grateful for that.
This recipe just needed that last final test before coming to see you.  It was inspired by Garrett McCord's recipe on Vanilla Garlic. It's lovely. They're muffins, which could sort of be cupcakes, depending on your definition. They're not as sweet as a normal cake, but a bit lighter than muffins. Warmth from cornmeal, a slight orange flavour and always disappear in a heartbeat. No matter what you call them, they're a winner in my house. My mom, dad and brother each came up to me separately to tell me how much they enjoyed them (and ask for another!). I even threw one in my bag this morning to make sure I didn't miss out on the last few. They're all gone now, but I have a feeling it won't be too long before they make their next appearance.
Orange Cornmeal Muffins
This recipe can either make 10 or 12 muffins, depending on what you're looking for. If you make 10 they come out with slightly more domed tops, but need to be baked for 22 to 25 minutes. If you make 12 they're slightly slumped in the middle and will take between 21 and 23 minutes to bake. It's not a huge difference – they both taste the same, but depending on what you're going for, you have both options!
Ingredients
1/2 cup cornmeal (2.95 oz / 84 g)
1/2 cup almond meal (1.85 oz / 53 g)
1/3 cup tapioca starch/flour (1.50 oz / 42 g)
1/4 cup brown rice flour (1.50 oz / 42 g)
1/4 cup sweet rice flour (1.25 oz / 35 g)
1 tsp xanthan gum
2 tsp baking powder
1/2 tsp salt
2 eggs, room temperature
1 cup sugar
1/2 cup olive oil or grapeseed oil
1/2 cup orange juice
zest of one orange (about 1 tbsp)
Steps
Preheat oven to 375 degrees Fahrenheit. Line a muffin tin with 10 to 12 cupcake liners (see headnote).
Whisk together cornmeal, almond meal, flours, xanthan gum, baking powder and salt in a medium-sized bowl.
In a large bowl, whisk eggs, sugar, oil and orange juice together until smooth. Add the prepared flours and orange zest. Whisk gently to bring it all together.
Fill your 10 to 12 cupcake liners with all of your batter. If you make 10, they will be closer to 4/5 full. If you make 12, each will be closer to 3/4 full. Bake muffins for 21 to 25 minutes, until a toothpick inserted into the centre of one of the cupcakes tests clean.
Let cool in pan for 5 minutes, then remove from muffin tin and allow the muffins to cool completely. Enjoy!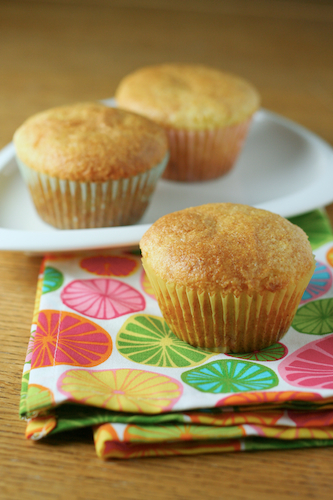 I made these lovelies over the summer. They're the 10 version. Sweet little domed tops! So simple, so easy. I love that they can be thrown together in minutes.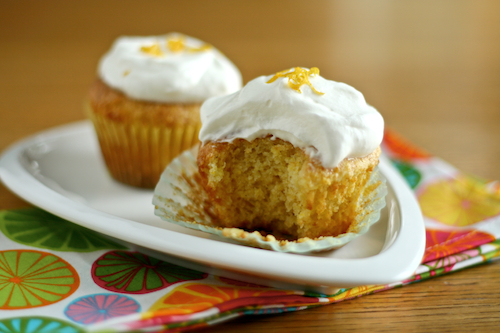 These ones decided to be cupcakes. Topped with whipped cream and a touch of zest? Oh yes. They left a smile on our faces :).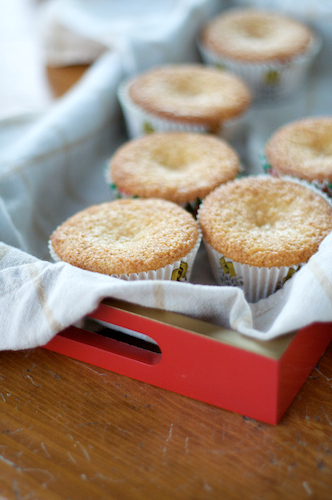 These were the 12 version. If you had to press me to choose, I'd go for these. They're not actually any different in flavour, but I'm always happy to have more! My family is too.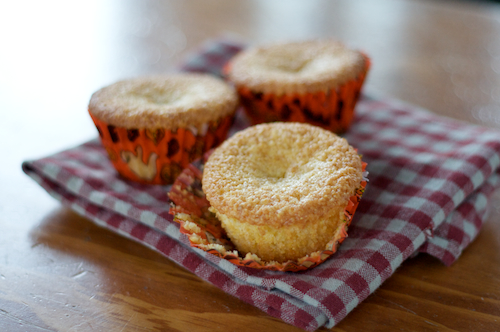 We had a wide range of liners, but I couldn't find any simple ones this time. Some were baked in Halloween ones, some in Christmas ones, and a couple more lived their short lives in a few we received at BlogHer Food.
I know I haven't been around these parts much lately, but I hope that now that I'm getting better, everything will be back on track! I hope you're all doing well, and that you're fighting off the autumn colds. I should also mention that I'll be writing a monthly column for Zenfully Delicious. My first article is on why being gluten-free isn't a burden to me, so check it out if you have a moment!
xoxo
Lauren