I… I wish I knew what I wanted to say here. It's been awhile, to say the least. I've been sick. We don't exactly know what this "sick" is at this point. The cold and sinus infection are out of my system. Now, I'm just doing my best. Each day is a little better, but I've missed more school than I can wrap my head around. I've dropped most of my classes, which has been a beautiful relief but also tinged with sadness and confusion which my straight-A student brain can't seem to fully comprehend. So… that's where I am right now. All of this has meant that baking hasn't been happening. At least not much, and very rarely by me.
A week ago, I baked for the first time in nearly a month; I sat down a lot, I struggled, I went slow, but I did it. It was perfect. These blondies were fantastically simple. They were exactly what I needed. Even though my appetite has been missing for the greater part of the last month, I wanted more of these. In fact, I still do.
It's funny how the world changes when you're sick. You see, I haven't been to school in quite some time, so that whole human interaction thing? It's most often limited to those that are in my house. Don't get me wrong, I love my family, but I miss my friends. I miss the laughs, the randomness and the simple friendship. Some have stopped by, and some will soon *hint, hint*. For the most part though? I've been floating through the days. Mostly fuzzy, often exhausted, but needing some connection. Something to keep me in the loop, of something. That's where twitter's magic lies.
You see, any time of day you can log on. I get to watch conversations about anything and everything that those I follow are chatting about. I know it's not the same thing, but the people on the other end of those computers are certainly real (well… in most circumstances!), and they've been a lifesaver these past few months. Hearing about the everyday beauty, heartbreak and food (it's always about the food 😉 ) that they're enjoying removes some of that disconnect. I get to share the little things that made my day beautiful. We get to feel the love, and make friends. I know that most people that aren't active on twitter don't really "get" it, but honestly? It's a way to connect, and these are real people, real friends. It's not just random, pointless things. Sure, it can be, but it's primarily community. This place to connect with people all over the world. From friends to acquaintances to random people to mixtures of all three. It's a beautiful thing. And sometimes? It's exactly what you need. In fact, these blondies were born on twitter, with a nudge from Gwendolyn Richards.
Gluten-Free Blondies
Ingredients
1 stick (1/2 cup) salted butter, melted
1 cup packed brown sugar (7.40 oz / 210 g)
1 egg, lightly beaten
1 tsp vanilla
1/4 cup tapioca starch/flour (1.10 oz / 32 g)
1/4 cup sweet rice flour (1.25 oz / 35 g)
1/4 cup millet flour (1.35 oz / 37 g)
2 tbsp brown rice flour (0.70 oz / 20 g)
3/4 tsp xanthan gum
1/4 slivered almonds
1/4 cup shredded coconut
1/4 cup chocolate chips
Steps
Preheat oven to 350 degrees Fahrenheit and grease an 8 by 8 inch pan.
Whisk together melted butter and brown sugar in a large bowl, until smooth. Add the egg and vanilla, and whisk until smooth.
In a medium-sized bowl, whisk together the flours and xanthan gum until uniform in colour. Stir the flours into the batter, a third at a time. Once combined, fold in the almonds, coconut and chocolate chips. Scrape into prepared pan and even the batter out through the pan.
Bake for 20 to 25 minutes, until a toothpick inserted in the centre comes out with a crumb or two sticking to it. Let cool, in the pan on a cooling rack. Cut into squares and enjoy!
Linked to Slightly Indulgent Tuesdays.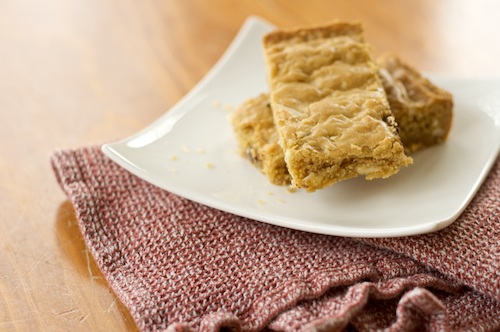 Enjoy these! And everything else you're doing. I hope you're smiling through your days. I am.
xoxo
Lauren