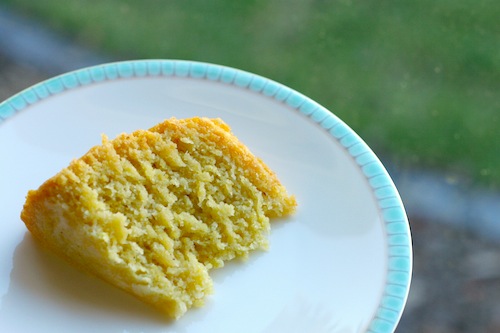 The scent of warm cornmeal wafts out of the pot. It's been steaming for 2 and a half hours, yet not quite ready. That's the beauty of it. Ten minutes of making, hours of steaming, time to relax, go play, do homework, make dinner, change the tires on your car – whatever suits your fancy. I was stuck with the homework, dinner making (yay!), and dad changed tires. But as long as someone is around the kitchen, or so, you should be good. It's so simple and delicious. I made it twice. In less than 26 hours (I think I might have had a touch of overlap!). One orange, one lemon. All topped with fresh whipped cream and warm and comfy. Maybe it sounds odd, but this was a very comfortable dish. It was warm and the cornmeal added such a lovely feel to it.
The April 2010 Daring Bakers' challenge was hosted by Esther of The Lilac Kitchen. She challenged everyone to make a traditional British pudding using, if possible, a very traditional British ingredient: suet.
I kept the feel of the sponge steamed pudding, with my own ingredients and ideas.  In keeping with the British theme (although, it is becoming increasingly popular all around the world as well), I made this by weighing the ingredients.  I don't have the other volume amounts, but I highly recommend trying steamed puddings.  This one was almost like a cake, but not quite.  Hard to explain, but definitely worth giving a try.  If nothing else, try the method.  Steaming requires so little prep and a fantastic result.

Citrus Cornmeal Steamed Pudding
Inspired by the April 2010 Daring Bakers Challenge Recipe.
Ingredients
1 ounce tapioca starch
1 ounce sweet rice flour
2 ounces millet
2 ounces cornmeal
2 ounces almond flour
1 tsp xanthan gum
1/4 tsp salt
2 tsp baking powder
3 ounces berry sugar
3 ounces cold unsalted butter, grated
zest of one orange or lemon
1 large egg, very lightly beaten
8 tbsp cold milk
Steps
Whisk together flours, xanthan gum,salt, baking powder and berry sugar.  Add zest and mix in.
Rub in butter until only small pea-sized bits of butter remain.  Stir in egg and slowly add milk until you have a soft batter.
Place batter in well greased 1 litre pudding bowl.  Wet your fingers and press batter down to be relatively even.  Cover with foil and secure (I used string to keep it tight).
Steam for 3 or so hours.
Turn out onto a plate and serve with whipped cream.
—
This post is linked to Slightly Indulgent Tuesdays and Gluten-Free Wednesdays.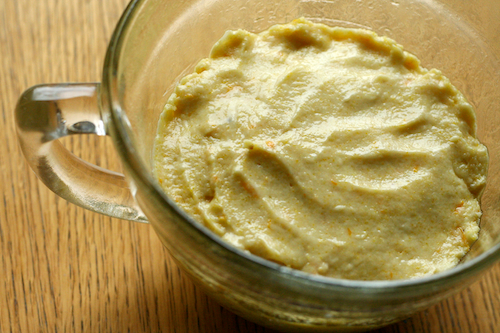 Do you see the orange flecks?  That's the zest.  It adds the most lovely flavour.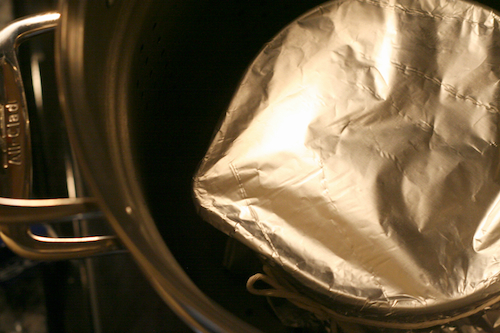 When buried within the pot (which I later covered), on top of the steamer, the pudding finds it's place.  It can only get better from here.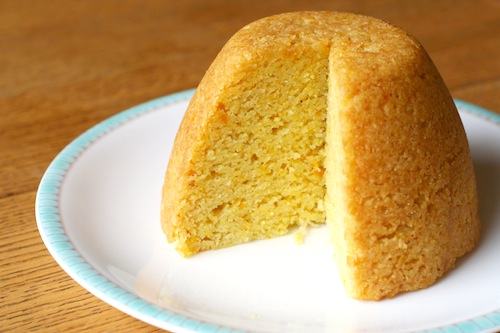 Yes, it has this perfect shape.  Which actually makes it better.  It's easy to cut.  Easy to eat.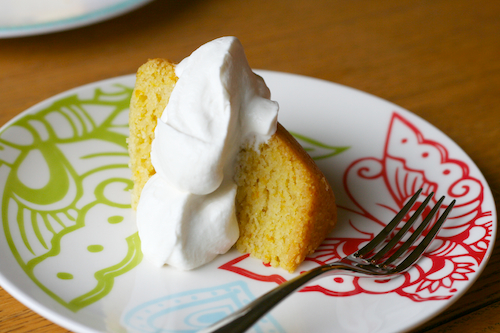 Especially when you put a couple of spoonfuls of freshly whipped cream on top.
—
What have you been baking lately?  I haven't been baking as much – it's getting down to crunch time at school, so everything is incredibly busy.  I've been on overdrive.  Hence this sort of late Daring Post.  Well, life happens.  I needed the extra day.  It's funny how a single day can give you so much time and piece of mind.
Have the most fantastic week my dear readers, you truly are amazing.  Don't ever forget that.
xoxo
Lauren
Twitter, Facebook, Foodbuzz and Flickr.