I don't know how to start this. I'm too excited to weave my words into any sort of mosaic, before jumping into the excitement. Today, I get to share a top-secret project with you.
We just launched The Kitchen Generation.
What is that? It's a new site. A group project created by myself and a few friends, who happen to also be young food bloggers. There's Elissa of 17 and Baking, Hannah of honey & jam, Kamran of the sophisticated gourmet and Tessa of Handle the Heat. You should check them out. Well, after you check out The Kitchen Generation.
This didn't happen overnight. Many, many nights, over many many months, actually. In April, we were introduced on twitter. By that night, the five of us were on Skype, talking late into the night. From the first moment we talked, a website was where we were headed. There was maybe a moment of consideration of other things, but the site was really what stole our hearts and poured electricity through our veins. We've still got that magic from the first night, now it's just much more refined and we're ready to share it with you.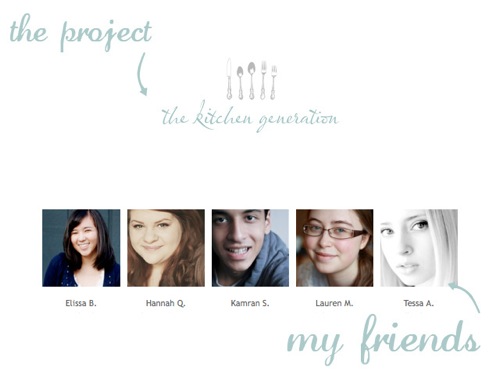 What I love the most about this whole thing, is those 4 people you see up there, beside me. I haven't had the chance to meet them in person yet, but they are without question good friends of mine. We're a surprisingly diverse yet incredibly in-sync group. We cover 5 corners of North America. We have different experiences, different influences, but most of all? We love food. And we love to share it with you.
To add to the fun, today I have my first essay on The Kitchen Generation. A Baker's Heart. I hope you enjoy it.
Now, there's also another thing. Something I figure you should know, since I wouldn't have even been nominated without one of you. Maybe a few of you. (Thank you, to those of you who did. I'm flabbergasted). So… I won Best Niche Blog in the Canadian Food Blog Awards. I'm at a loss for words, other than thank you. (Nominations were by the public, the winners were determined by judges, in case you were wondering!) I certainly don't do this for any sort of recognition, but it was immensely cool to get it. I still can't believe it.
Anyways, go check out The Kitchen Generation! We're insanely excited about it.
The Kitchen Generation
The Kitchen Generation on Facebook
@ktchngeneration on Twitter
xoxo
Lauren