Words have been failing me lately. I'm staring at this blank screen, with the cursor pulsing, taunting. With any luck, you're staring at a screen full of words. Perhaps they're lyrical and poignant, or comforting and simple. I can't be sure yet, but you will find out soon. My mind has been bouncing around quite a bit. From Japan to Libya, possible elections to upcoming birthdays, biology to social studies, tonight's homework to decisions about the future. I'm tired. Overwhelmed. Undoubtably ready for spring break.
With so much going on, the night before last was a great break. No homework, no stress. Perfect time to bake something sweet. Someone asked on twitter if the recipe for these cinnamon rolls, which my dear friend Tessa posted, could be made gluten-free. I jumped on it. They are simple. I know I use that word probably way way way too much, but it's true. No yeast to deal with, no rising time, none of that. Whisk dry, add liquids, stir. Press into a rectangle on a silpat and sprinkle the topping on top. Roll up. Cut. Bake.
Crank up some good music and take an hour to make these. It's a perfect escape, a perfect comfort. With so much going on in the world, and surely lots going on in your life too – it's so nice to make something like this and get back to the basics. They don't have to look like a million dollars. Maybe some of the filling will leak out, maybe you'll get a couple of cracks. It's about the process. Some easy stirring, rolling and cutting. Then, when they've been hanging out in the piping hot oven for awhile, the cinnamon sweetness seeps out of the oven auspiciously. Curling into each edge of the house, the scent brings everyone to the kitchen.
I didn't even bother to drizzle any icing on top (though you certainly could!), letting them simply be. We didn't mind, not even a tiny bit. They made me slow down and breathe. I'm sure they aren't perfect – little things I could surely tweak, but they were perfectly timed.
I asked my mom if they were ready to be posted (as I do with pretty much every post) and she firmly and quickly said yes. They're good. I hope you enjoy them too.
Quick Gluten-Free Cinnamon Rolls
Ingredients
1/2 cup brown sugar (3.15 oz / 90 g)
1/4 cup sugar (1.80 oz / 51 g)
2 tsp cinnamon
1/8 tsp salt
1/4 tsp cloves
1/2 cup sweet rice flour (2.00 oz / 57 g)
1/2 cup tapioca starch/flour (2.15 oz / 61 g)
2/3 cup millet flour (2.85 oz / 81 g)
2/3 cup brown rice flour (3.25 oz / 92 g)
1/4 cup quinoa flour (1.00 oz / 27 g)
2 tsp xanthan gum
2 tbsp sugar
1 1/4 tsp baking powder
1/2 tsp baking soda
1/2 tsp salt
1 1/4 cups buttermilk
4 tbsp butter, melted and cooled
1-2 tbsp butter, melted and cooled
Steps
Preheat oven to 425 degrees Fahrenheit. Take an 8 by 8 inch square pan, line with aluminum foil and grease. The foil should have an overhang on two opposite sides.
In a medium bowl, whisk together the filling ingredients; brown sugar, sugar, cinnamon, salt and cloves. Set aside.
Whisk together flours, xanthan gum, 2 tbsp sugar, baking powder, baking soda and salt in a large bowl. Once uniform, pour buttermilk and melted butter in. Stir together until incorporated.
Flour a silpat (or parchment/wax paper, but I think that a silpat is the way to go here) and your hands with sweet rice flour. Dump the dough out and pat into a 9 by 12 inch rectangle. You want the long side to be facing you, to make it easy to roll. Brush the remaining 1 to 2 tablespoons of butter over the surface of the dough. Sprinkle the filling on the dough, leaving a 1/2 inch border around the edge. It will be thick, you may wish to press it in a little. I even sprinkled a touch of butter over top, just to hold the powder in place a bit.
Using the silpat as an aide, roll the dough into a spiraled log. Roll it carefully and press to seal the edge when rolled up.
With a serrated knife, cut into nine pieces. Place the rounds into the prepared pan, lightly shaping as you place them. Some of the filling may fall out, but you can scoop that up and sprinkle it on top.
Cover with a piece of aluminum foil and bake for 12 minutes. Remove foil and bake for another 14 to 18 minutes, until golden and cooked through. Let cool in the pan for a few minutes, then lift the rolls in the foil out, onto a wire rack. Let cool for a few more minutes. If putting on a glaze, do so now. Enjoy!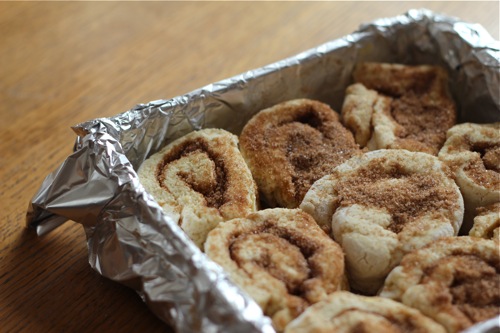 The unbaked rolls. Beautifully imperfect. Extra (spilled) filling powder sprinkled on top. A couple of cracks. Loads of flavour soon to be developed and fostered.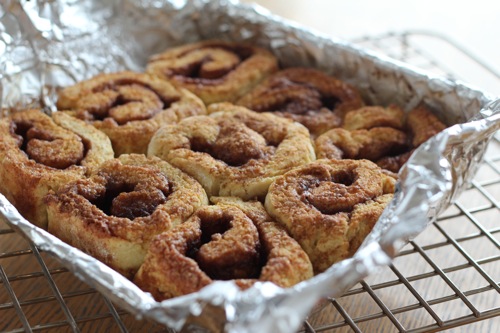 All baked, with the delightful daylight savings time light streaming through the window.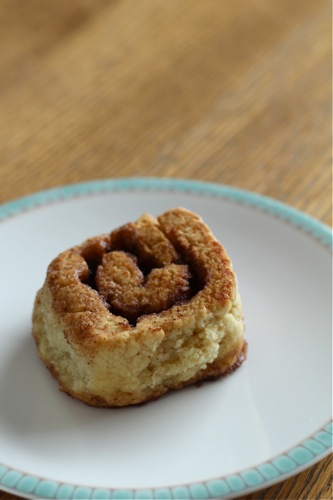 This one had a heart in the centre. It was a beautiful breakfast, reheated slightly.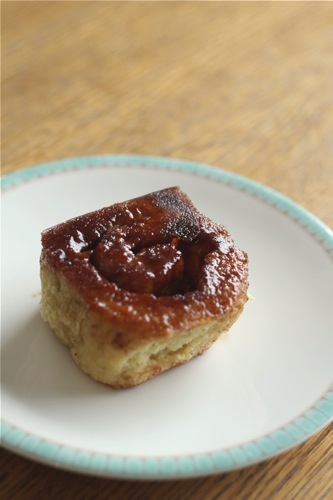 If you flipped it over, you see this. The filling becomes a sweet, sticky loveliness. It collects at the bottom, happy and welcoming.
So, yes. Take a bite of comfort. That's precisely what these were to me.
xoxo
Lauren