It's daring baker's time again.  Oh yes.  This month, my dear friend Elissa is hosting (double-hosting, actually!), so I knew that it would be good.  Although we weren't over the moon about the finished baked alaska, I fell in love with ice cream.  I may have only given my family a spoonful of the two batches I made.  Heaven?  Oh yes.  The brown butter cake?  Yeah.  Anything with brown butter steals my heart and this was no exception!  Moist, kept well, and my brother asked for many seconds.
The August 2010 Daring Bakers' challenge was hosted by Elissa of 17 and Baking. For the first time, The Daring Bakers partnered with Sugar High Fridays for a co-event and Elissa was the gracious hostess of both. Using the theme of beurre noisette, or browned butter, Elissa chose to challenge Daring Bakers to make a pound cake to be used in either a Baked Alaska or in Ice Cream Petit Fours. The sources for Elissa's challenge were Gourmet magazine and David Lebovitz's "The Perfect Scoop".
But really, that ice cream. I can't talk it up enough. David Lebovitz is a genius. It was heaven and (even though I don't have an ice cream maker) it came out beautifully each time. Will I be making it again? You bet. Actually, if my parents weren't on an elimination diet right now (I don't want to be mean), I would have made a handful more batches this month. When school is back in, I'll have that option, but there is still a few days left of the freedom of summer, so I'm going to soak it up :).

Vanilla Rooibos Ice Cream
Adapted from David Lebovitz.
Ingredients
1 cup whole milk
pinch of salt
3/4 cup sugar
3 vanilla rooibos teabags
2 cups heavy cream
5 large egg yolks
2-3 tsp vanilla extract
Steps
In a saucepan, heat the milk, salt, sugar and one teabag together. Once the liquid steams, add the rest of the tea bags, stir to moisten the tea bags, cover and remove from heat. Let sit, allowing to infuse for 1 hour.
Place a 2L bowl over a larger bowl partially filled with ice and water. Place a fine mesh strainer over top of the smallest bowl and pour in the cream.
Lightly beat the egg yolks together in a small bowl. Reheat the milk, then gradually pour a small portion of the milk over the egg yolks, whisking constantly as you pour. A 1/4 cup should do the trick. Once the yolks are warmed, scrape them into the saucepan of warmed milk.
Cook over low heat and stir constantly with a spatula. Keep cooking until the custard thickens enough to coat the back of the spatula.
Strain your custard into the heavy cream. Ensure to squeeze any liquid from the tea bags out, as they contain a lot of flavour. Stir the liquid until cooled. Add the vanilla extract (use the best quality you have, as it will enhance the flavour all the more), and stir. Refrigerate until thoroughly chilled, preferably overnight.
Freeze in your ice cream maker or without one, using these instructions.
Enjoy!
—
Brown Butter Cake
Adapted from the August 2010 Daring Bakers Challenge.
Ingredients
19 tbsp unsalted butter
1/4 cup + 1 tbsp millet flour (1.80 oz)
3 tbsp brown rice flour (1.30 oz)
1/3 cup + 1 tbsp tapioca starch/flour (1.80 oz)
1/3 cup + 1 tbsp sweet rice flour (2.10 oz)
1 tsp xanthan gum
1 1/4 tsp baking powder
1/2 tsp salt
1/2 cup packed brown sugar (3.90 oz)
1/3 cup sugar
4 eggs
1/2 tsp vanilla
Steps
Preheat oven to 325 degrees Fahrenheit and grease a 7 by 11 inch pan.
Place butter in a large (10 or more inches) skillet over medium heat and brown the butter until the milk solids have darkened (not burnt!) and it smells nutty. This is a great resource if you're having trouble. Be sure to keep your eyes on it the entire time. Pour browned butter into a shallow bowl and freeze until just congealed, which should take 15 to 30 minutes.
Whisk together flours, xanthan gum, baking powder and salt.
In a large bowl, beat the browned butter, brown sugar and sugar together with your hand or stand mixer. Beat until light and fluffy (about 2 minutes). Beat in the eggs one at a time, making sure to incorporate them fully and scrape down the bowl between each. Add vanilla until just incorporated.
Stir in the flour mixture until just combined.
Scrape batter into prepared pan, smooth the top and rap the pan on the counter. Bake for about 25 minutes, until the cake is golden brown and a toothpick inserted into the centre comes out clean.
Let cool in pan (on rack) for 10 to 15 minutes, before running your knife along the edge and turning onto a rack, allowing to cool completely.
—
For the rest of the recipes for this challenge, you can visit 17 and Baking or the Daring Kitchen.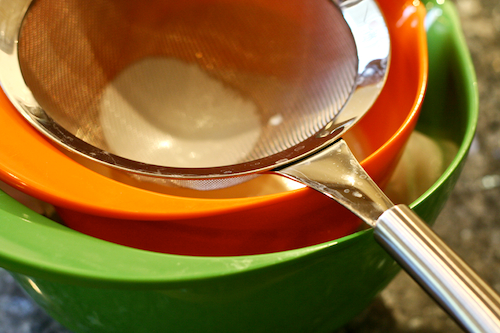 I adored making the ice cream. So simple, so soothing. Try it sometime.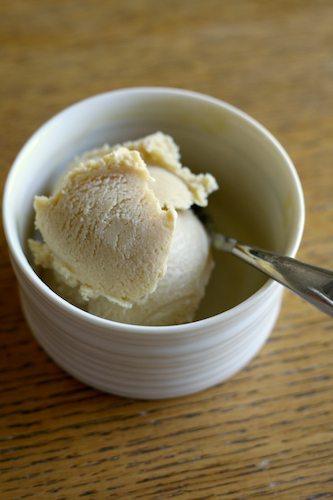 Not to mention, I could have lived off the stuff. I decided to hoard it instead. A small little bit each day, just enough to savour and cherish.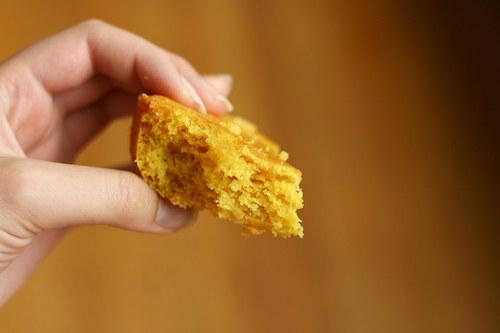 The brown butter cake? We could have eaten it all out of hand. Freezing it for the Baked Alaska ruined the texture (it's a soft cake, not robust enough to be frozen and thawed), but here? Wonderful.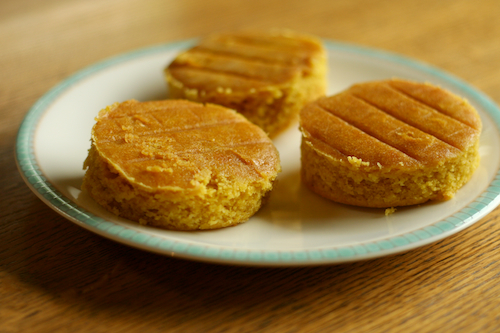 For the Baked Alaska, they got cut into rounds. Cute little patties, don't you think?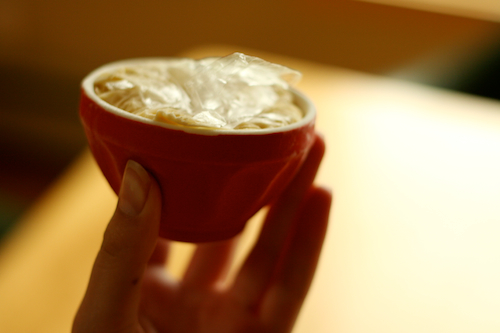 I also froze the ice cream extra to get it into this shape for the Baked Alaska.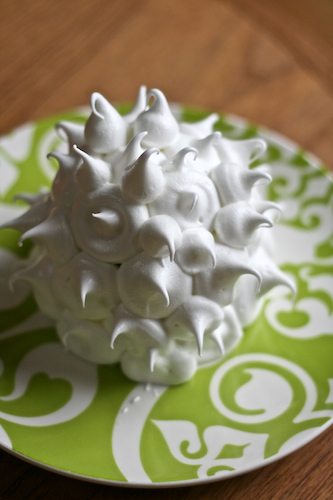 Topped with meringue, all ready to be frozen.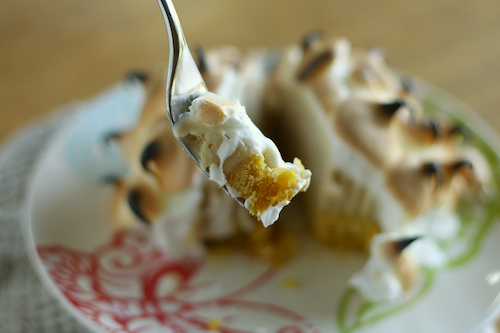 Bake and take your bite. I think one thing that my brother and I weren't expecting was the unsweetness of the meringue. My dad used to make a sort of faux baked alaska, with super-cold ice cream topped with mini marshmallows, then broiled just until the marshmallows browned. We would share the bowl and relish in the temperature contrasts as they passed our lips. I think I was expecting a more of a marshmallowy meringue, just because of memory's sake. Next time, I suppose that's what I'll have to do!
All in all though, this was a wonderful challenge. One recipe I'll never lose and a second which is a lovely cake that I would gladly make again. Thank you Elissa, this was lots of fun!
xoxo
Lauren