Did you have a very merry Christmas? Or perhaps just a fabulous weekend? No matter what you celebrate, I hope that this past weekend was filled with joy. The greatest joy for me was the easing back of my health. It's been slow, but a few weeks ago my thyroid dose was adjusted and it finally began to kick in this past week. It's been a good week. In fact, I even got to help with the christmas baking. In addition to heirloom family recipes, there were these.
They might just have stolen the show. When my dad arrived home after I baked these, he grabbed a piece and I watched as his face melted into pleasure and excitement. He hasn't stopped talking about them since! When my brother had a piece, his eyes rolled back in his head as a smile spread across his face. I'm positive that these will be made many more times. In fact, I think I'll make them again today. I know that they won't last long around here.
I love how many cookie recipes begin to appear around the holidays. They're such a great method of sharing joy and enjoying sweets :). The original recipe for these, I found at Serious Eats. They're my belated contribution to your Christmas platter. Perhaps you'll enjoy them for New Years? I think we'll be doing that. The bars have a cookie base which has the flavour of toffee without the hardness typically found with toffee. Topped with smooth chocolate and sliced almonds, they're sublime.
Toffee Bars
Ingredients
1/2 cup + 1 tbsp millet flour (2.55 oz / 73 g)
1/2 cup tapioca starch/flour (2.40 oz / 67 g)
1/3 cup + 2 tbsp sweet rice flour (1.90 oz / 56 g)
1/4 cup brown rice flour (1.30 oz / 35 g)
2 tsp xanthan gum
1 egg yolk
1 tsp vanilla
2 sticks (1 cup) salted butter, softened
1 cup brown sugar (7.40 oz / 210 g)
1 cup chocolate chips
1 cup sliced almonds (or chopped almonds)
Steps
Preheat the oven to 350 degrees Fahrenheit, and get out a 9 by 13 inch pan.
Whisk together all of the flours in a medium bowl, until aerated and uniform in colour.
In a large bowl, beat together the egg yolk, vanilla, butter and brown sugar. Add the flours, and mix until incorporated. Spread dough uniformly into your pan. It will be fairly thin.
Bake for 15 to 20 minutes until light golden brown. Remove from oven and sprinkle with chocolate chips. Return to the oven for a few minutes, then remove and spread the melted chocolate over the entire surface. Sprinkle with almonds and allow to cool.
Cut into squares and enjoy!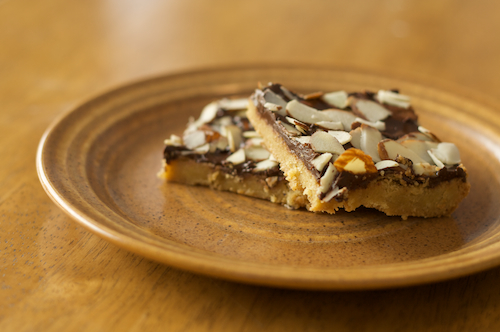 I had the last one. My dad gave me that look. You know the one, where that means that I've got to make more, asap.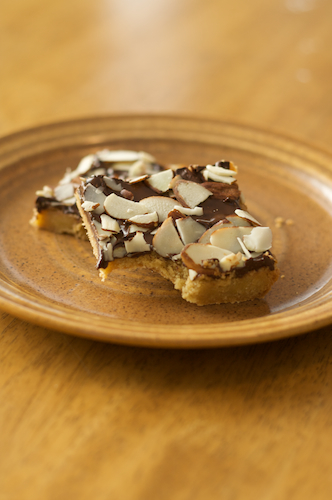 The bonus to making more, is that I get some too. Would you like a bite?
I hope you are enjoying the holidays. May your new year be filled with health and happiness.
xoxo
Lauren