Father's Day. Simple, lovely and all about family. I drove with my dad through town, not going anywhere in particular, just enjoying being in the car, together. With my hair whipping around my head in an inconsistent pattern, I watched the trees fly by. But to start off the day, when mom and dad were out with the dog, I decided to use up some of the rhubarb that I had stuffed in my freezer (most of which was picked the day before). I had finished off the eggs, but was also feeling like something really simple. Something so carefree yet delicious that no one would worry about whether it was warm, cold, or what they were eating it on, just that it was making its way into their tummy.
This did the trick. Even better, all but one piece (scoop?) was gone before dinner. That last bit was finished off quietly by my dear dad, standing over the countertop, eating it right out of the pan. I don't have many words to describe it. It disappeared. Crisps, cobblers and the like always disappear in an instant in my house. Since Dad also loves oats, this was the perfect accompaniment to the day. The best way for us to be together, contently enjoying our day-to-day routines alongside the extraordinary moments that make it a special day.
Thank you Dad. You are always there when I need you, always pushing me to find more possibilities. Happy Father's Day, to you and all of the fathers', those that want to be, and those that play the role, you are all amazing. I hope you had a beautiful day, spent with those you love. After all, that's what this is all about – showing our love for the people that are helping us figure out how we can do what we need to, what we want to, and everything in between.

Rhubarb Apple Crisp
Inspired by Amy I.'s Rhubarb Crisp. Recipe by Lauren of Celiac Teen.
Ingredients
1 pound rhubarb, thinly sliced (I used frozen)
2 apples, peeled, cored & sliced (I used Granny Smith)
2/3 cup sugar
zest of 1 lemon
2 tbsp millet flour
1 tbsp EACH of millet flour, tapioca flour, sweet rice flour, brown rice flour, sorghum flour, and quinoa flour (or, I suppose you could use your favourite combination to make 6 tbsp – I was just feeling very inclusive when I made this).
1/4 tsp cinnamon
6 tbsp cold butter, cubed
1/2 cup certified gluten-free oats
1/3 cup sugar
Steps
Preheat oven to 400 degrees Fahrenheit and get out an 8 by 8 inch glass pan.
Toss together the sliced rhubarb, sliced apples, sugar, lemon zest and 2 tbsp millet flour. Dump into pan, spread evenly.
In a medium-sized bowl, whisk together all of the 1 tbsp flours with the cinnamon. Add the butter and cut into the flour, usingeither a pastry blender or two knives, until the largest pieces of butter are the size of small peas. Add the sugar and oats. Sprinkle over the rhubarb and apples.
Bake for 35 to 40 minutes, until the rhubarb is cooked and the crisp is golden.
This post is linked to Slightly Indulgent Tuesdays.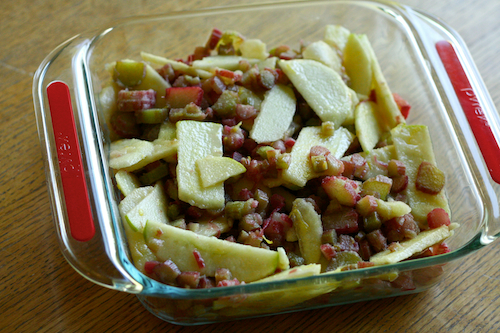 It doesn't need to be pretty when you dump them into the pan. It can be haphazardly done. Just don't lose any of those morsels of rhubarb or apple. They're precious after all!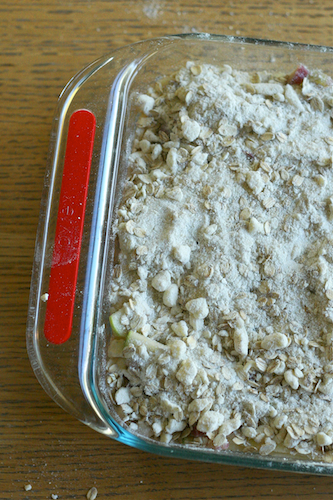 The heavenly topping. It may not look significant, but trust me. It is. It really is.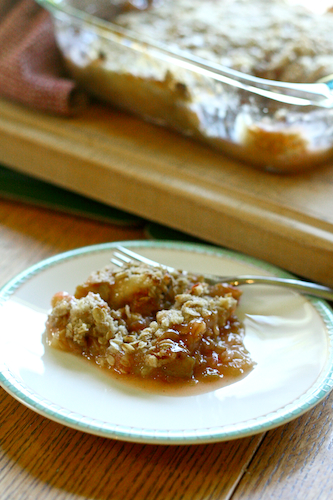 This is my piece. Would you like one?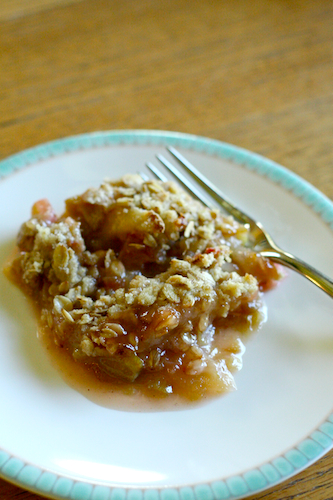 I scooped it out when it was a touch too warm, so the juices ran just a bit. Those juices though, they aren't watery.  Actually, they're packed with the flavour of the filling. Don't let it go to waste.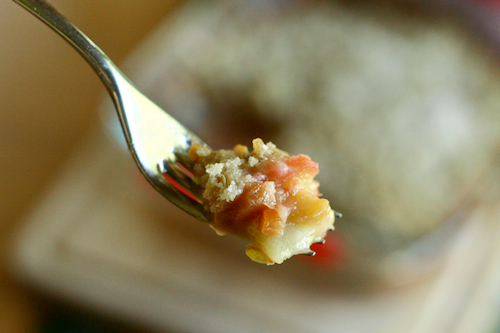 In each bite, you can get every part.  The tender rhubarb, the perfectly cooked apples, and of course the oaty and buttery topping.  It's pure comfort.
Things are crazy yet completely not around here, at this time of year. My exams are finished, but this week is filled with friends and excitement before my big trip. We're going away pretty soon (for a long time too!), but I'm going to get a few posts ready for you guys – just because! I just won't be around as much. Don't worry though, that's what summer is for

What are you doing this summer?
xoxo
Lauren