When my dad's birthday rolls around, there is only one flavour of cake that is requested. Chocolate, devil's food to be precise. The rich, moist, deeply chocolate cake that enriches not only the day, but catapults memories into your mind. It was one of the first things I baked (I'm fairly certain that chocolate chip cookies take that title). In fact, I have a photo of me standing on a kitchen chair at about 3, with cake batter all over my face, evidently just finishing licking the bowl when mom got me to turn and smile with a proud and satisfied look on my face. And the truth? This cake is almost as simple as the cakes we made way back when.
But once the cakes had cooled (they do sink a touch, but that won't matter, I promise!), I glanced in the fridge and into the cupboards to find a severe lack of icing sugar. Less than two cups. The cream cheese buttercream I was envisioning had 4 – at least. So I made a soft cream cheese filling and a sour cream ganache. It was perfectly balanced – the easy but not overpowering sweetness of the cream cheese filling, the moist rich chocolate-charged cake, and the ganache with the slightest tang from the sour cream.
My only complaint with this cake is that it didn't last long enough. Everyone that had some asked if it was already posted on here. Now it is :). I hope that you love it as much as we did.
Gluten-Free Devil's Food Cake
by Lauren of Celiac Teen
Ingredients
1/2 cup millet flour (2.80 oz)
1/3 cup tapioca starch/flour (1.50)
1/3 cup sweet rice flour (1.80 oz)
5 tsp brown rice flour (0.60 oz)
1 tsp xanthan gum
3/4 cup plus 2 tbsp cocoa
2 tsp baking soda
1 tsp baking powder
1/4 tsp salt
1 2/3 cup sugar
2 eggs, at room temperature
1 cup buttermilk
1/2 cup oil
1 tsp vanilla
3/4 cup very warm water
Steps
Preheat oven to 350 degrees Fahrenheit. Grease two 9 inch pans, then place a round of parchment or wax paper in the bottom and grease again.
In a large bowl, whisk together flours, xanthan gum, cocoa, baking soda, baking powder, salt and sugar.
In another bowl, whisk together eggs, buttermilk, oil and vanilla. Slowly whisk in the almost hot water. Slowly whisk the liquids into the dry ingredients, until incorporated. Pour batter into the two pans, equally.
Bake for 35 minutes, or until a toothpick inserted into the centre of the cake comes out clean. Allow to cool for half an hour, then turn out and remove the parchment or wax paper. Let cool completely.
Place the first cake on your serving plate, top with cream cheese filling and place the second cake on top. Trim top cake if needed and ice with the sour cream ganache.
Cream Cheese Filling
Ingredients
4 ounces (1/2 block) cream cheese, softened
1/4 cup butter, softened
1 1/2 to 2 cups icing sugar
1/2 tsp vanilla
Steps
Beat together cream cheese and butter until light and fluffy. Slowly add in sugar. Beat in vanilla. Use as desired.
Sour Cream Ganache
Ingredients
1 cup chocolate
3/4 cup sour cream
Steps
Melt chocolate. Beat in sour cream, until uniform. Use immediately.
This post is linked to Slightly Indulgent Tuesdays and Gluten Free Wednesdays Cake Challenge.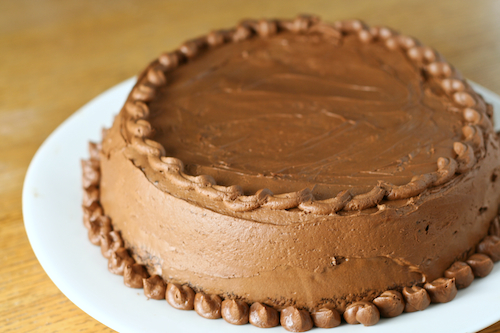 Piped and pretty.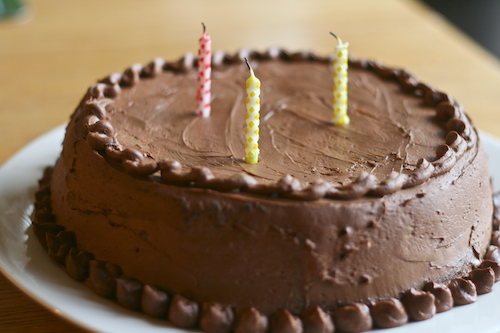 For birthdays, there must be candles. Even if there are only three to be found in the house. It makes it just that much more fun :).
Then, you can have a nice little piece. Freshly cut, beautifully moist, and perfectly delicious. That's all you need.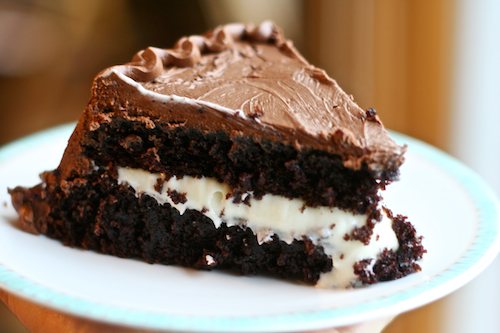 Or maybe, like my brother, you prefer a big piece. It's lovely either way!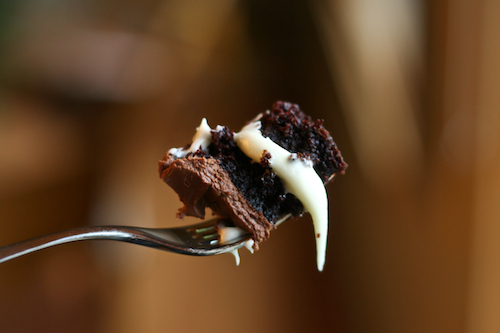 Have a bite! Oh goodness, now I wish I had another piece here. Even just a tiny sliver.
In other news, yesterday I was featured alongside some friends in an article about teen food bloggers! It was really cool to read more about both friends and new-to-me sites

I hope you enjoy it!
xoxo
Lauren
Twitter, Facebook, Foodbuzz and Flickr.