I'm not the same baker I was when I was when I started creating in this space. To start baking, I now pull out my scale. I don't think twice about using a handful of flours. Xanthan gum doesn't always make it in (and it doesn't always need it – like these). Sometimes I take photos all the way through the process. And sometimes you'll even find me in an apron.
I don't know which is the biggest change, because it's all flowed coming in stages. All of these changes feel natural. Well, maybe not the apron thing. I'm still getting used to that.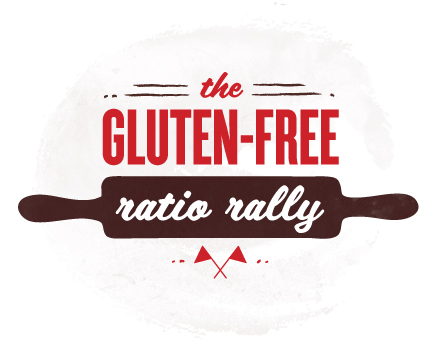 Now, this month I'm hosting the Gluten-Free Ratio Rally. I challenged us to make Scones. They're one of the quickest things to put together, yet are so varied with many schools of thought. Ruhlman doesn't have a ratio for them, which I think made this all the more fun. There's a huge range of ratios. Some scones are cream-based, some are butter-based, some are egg-based, and some are a combination of those. You'll want to check out everyone's, because there are so many beautiful, brilliant combinations.
I went for cream and butter drop scones. Using a ratio of 4:4:1 (flour to half and half to butter) and a shake of sugar, I found a lovely scone. (I found my inspiration in this Smitten Kitchen recipe, but kind of went off on a very different tangent).They have a bunch of whole grains, and although there is no corn in them, something is corny about them. But it's more complex than corn. It's millet, brown rice and sorghum with flax seed. You can taste those facets in a way that would never happen with a wheat-based good. That's another reason I adore gluten-free baking specifically. It's altogether much more interesting with so many more flavours available to be played with.
And with this recipe, I used half and half. Partially because I had some left over from this ice cream, and partially because I was interested to see what happened :).
Gluten-Free Multigrain Cream Scones
Ingredients
25 g ground flax
25 g sweet rice flour
25 g tapioca starch/flour
25 g sorghum flour
50 g millet flour
50 g brown rice flour
8 g baking powder (2 tsp)
25 g sugar (2 tbsp)
2 g salt (1/4 tsp)
50 g unsalted butter, cut into 1/4 inch cubes and cold (just under 4 tbsp)
200 g half and half (10%) (200 mL)
Steps
Preheat the oven to 425 degrees Fahrenheit. Move the oven rack up, to the top third of the oven (you still want some space above though). Grab a baking sheet and place your silpat on top.
Whisk together flours, baking powder, sugar, and salt. Add in your cubed and cold butter, cutting it into to flour with a pastry blender or two knives, until the mixture appears as coarse meal with the occasional larger pea of butter.
Pour in the half and half and stir until no flour remains. With a large spoon, take scoops of the batter and scoop ten or eleven scoops onto the baking sheet. You can be uneven. You can be messy. These don't have to be perfect (in fact, I prefer them imperfect).
Bake for 12 to 14 minutes until the top is lightly browned and they appear done.
—
Check out these scones too!
Amie of The Healthy Apple – http://thehealthyapple.com/2011/05/04/gluten-free-rice-crispy-scones/
Britt of GF in the City – http://www.gfinthecity.com/2011/05/gluten-free-ratio-rally-scones.html
Brooke of B & the Boy – http://bellwookie.blogspot.com/2011/05/coconut-scones.html
Caleigh of Gluten-Free[k] – http://gluten-freek.blogspot.com/2011/05/jam-on-top-or-cream-on-top.html
Caneel of Mama Me Gluten-Free – http://mamameglutenfree.blogspot.com/2011/05/savory-jalapeno-cheese-scones.html
Caroline of The G-Spot – http://thegspotrevolution.com/?p=3228
Charissa of Zest Bakery – http://www.zestbakery.com/ingredient/almond/amaretto-soaked-cherry-and-almond-scones/
Claire of Gluten Freedom – http://www.thisglutenfreelife.org/2011/05/ratio-rally-strawberry-banana-scones.html
Erin of the Sensitive Epicure – http://thesensitiveepicure.blogspot.com/2011/05/millet-scones-gfree-rally.html
Gretchen of Kumquat – http://kumquat-blog.blogspot.com/2011/05/gluten-free-ratio-rally-maple-oat-nut.html
Irvin of Eat the Love – http://www.eatthelove.com/2011/05/spotlight-on-savory-green-garlic-bacon-thyme-scones-with-white-pepper-maple-glaze-gluten-free-ratio-rally
Jeanette of Jeanette's Healthy Living – http://www.jeanetteshealthyliving.com/2011/05/glutendairyegg-free-coconut-pineapple.html
Jenn of Jenn Cuisine – http://jenncuisine.com/2011/05/banana-apple-and-currant-scones-gluten-free
Karen of Cooking Gluten-Free – http://cookingglutenfree.com/2011/05/gluten-free-ratio-rally-oat-scones-with-currants/
Kate of Katealice Cookbook – http://katealicecookbook.com/2011/05/04/cinnamon-fruit-scones/
Lisa of Gluten-Free Canteen – http://glutenfreecanteen.com/2011/05/03/gf-ratio-rally-bisconies-actually/
Lisa of With Style and Grace – http://withstyle.me/2011/05/04/gf-lavender-earl-grey-lemon-scones
Marla of Family Fresh Cooking – http://www.familyfreshcooking.com/2011/05/02/avocado-scones-vegan-and-gluten-free-recipe/
Meaghan of Wicked Good Vegan – http://www.thewickedgoodvegan.com/2011/05/04/gf-scones/
Melanie of Mindful Food – http://mindfulfood.blogspot.com/2011/05/hazelnut-cream-scones-with-blackberry.html
Meredith of Gluten Free Betty – http://glutenfreebetty.blogspot.com/2011/05/cinnamon-raisin-scones-for-gluten-free.html
Morri of Meals with Morri – http://mealswithmorri.blogspot.com/2011/05/yerba-mate-chai-scones.html
Mrs. R of Honey from Flinty Rocks – http://honeyfromflintyrocks.wordpress.com/2011/05/04/classic-cream-scones-gluten-amp-dairy-free/
Mrs. R of Honey from Flinty Rocks – http://honeyfromflintyrocks.wordpress.com/2011/05/04/almond-fig-scones-gluten-amp-dairy-free/
Peter and Kelli of No Gluten, No Problem – http://noglutennoproblem.blogspot.com/2011/05/gluten-free-ratio-rally-mesquite-scones.html
Sea of Book of Yum – http://www.bookofyum.com/blog/may-ratio-rally-gluten-free-classic-dairy-free-scone-recipe-6823.html
Shauna of Gluten-Free Girl and the Chef – http://glutenfreegirl.com/gluten-free-scones/
Silvana of Silvana's Kitchen – http://silvanaskitchen.com/2011/05/gluten-free-pecan-streusel-scones-with-cinnamon-drizzle
Tara of A Baking Life – http://abakinglife.blogspot.com/2011/05/gluten-free-ratio-rally-ginger-scones.html
TR of No One Likes Crumbley Cookies – http://tcrumbley.blogspot.com/2011/05/gluten-free-cinnamon-pecan-scones.html
Wendy of La Phemme Phoodie – http://laphemmephoodie.com/2011/05/red-velvet-scones-for-the-gluten-free-ratio-rally.html
Winnie of Healthy Green Kitchen – http://www.healthygreenkitchen.com/coconut-raisin-scones-gluten-free-and-vegan.html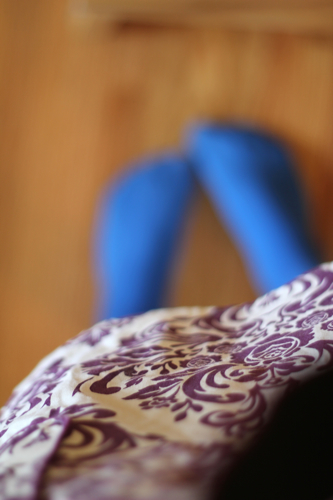 My apron, my brightly coloured tights. My camera strap hanging down. Fairly regular day at the office.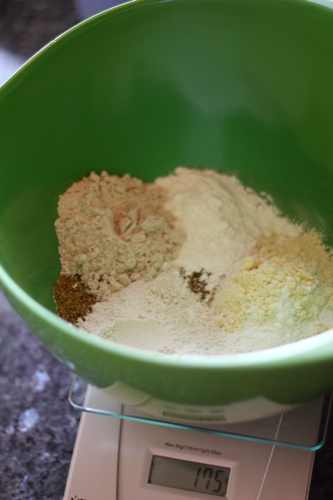 Flours, all ready to be whisked together upon the scale. (Note – 175 g is not the total amount of flours I used. It was 200 g. I still had to add that last 25 g in this photo).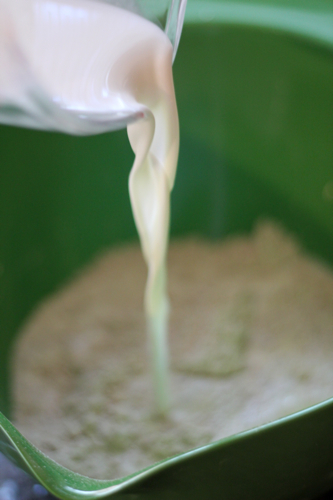 Isn't it beautiful to watch liquid pour? The half and half cascaded down in dreamy streaks.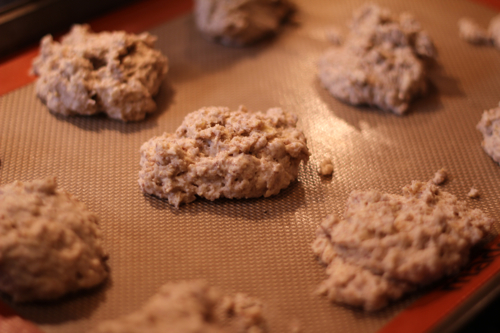 All dropped. They are drop scones after all! No special measuring or extra equipment. Just a simple spoon.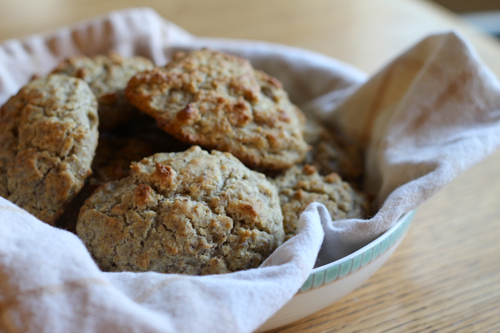 When they're done, they're gorgeous. At least that was what I thought. One of the batches I made came out more rounded (not so spiky). However, those were gone before I could take photos of them, so you'll have to make do with these images.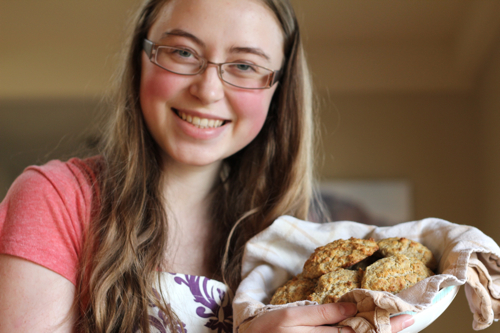 Oh hey! That's me! I just realized I'd never shared a photo of myself here. Sure, on a handful of other mediums, but not here. So, Hello! It's nice to see you. I find it fitting that I'm ever-so-slightly blurry, because the truth is that this place is all about the food. Well, with me interpreting, creating and sharing it. This place is home to me. Baking, writing and taking photos – it's all home.
Anyways, it's been an absolute honour to host – and I can't wait to see what Erin does next month! The gluten-free ratio rally is always lots of fun. Thank you to Shauna, who got us all together, and to all of you who help it grow and adapt each month.
xoxo
Lauren