I've written this post in my head about ten times. The type of post you think of repeatedly, somehow hoping that it materializes all typed up, with photos at opportune breaks. Every time, it hasn't happened. Some other pie has come into my life, or a loss for words has washed over me.
I haven't baked an outrageous amount this summer, but I have baked a lot of pie. I've shared a lot of pie. This summer has been about pie. Be it that gorgeous raspberry pie made with the perfectly ripe raspberries, or the peanut butter pie made to remember a man I never knew. The latter was the one that kicked me in the gut (not the pie itself, but the reason why thousands of us made it). I made it for family, using saved images on my phone to read the recipe, in my grandma's cottage. In the place which was the epitome of family to me. I guesstimated some parts, compensating with as much love as I had. It was a great pie. When it was gone, all I wanted was for it to still be here – for Mikey to still be here. I hugged everyone tighter, longer that day. And have done so every day since.
When I made my next pie, news came of another death. Another man taken too young. Another widow, shattered. More travel, more baking. Another man. This time, it was expected. That doesn't make it easy. All it does is provide the knowledge that he lived a long, full life. That he met all of his grandchildren, and many of his great-grandchildren.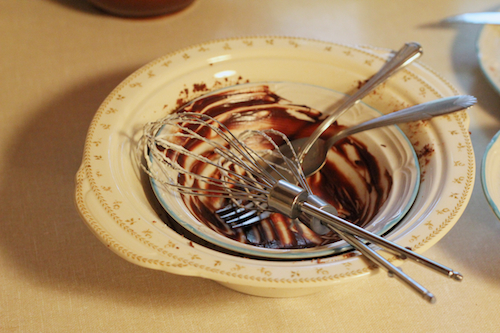 Pie has been my way to share memories. It's always been something filled with stories of family. When I think of pie, I think of love. I think of giving. It celebrates the seasons. It celebrates life, love and gathering. Like life, it's brilliant when messy. In fact, it's often better. When my sweet cousin asked me what I'd make if I could only bake one thing for the rest of my life? The answer was pie. The answer has always been pie. It's ingrained in me.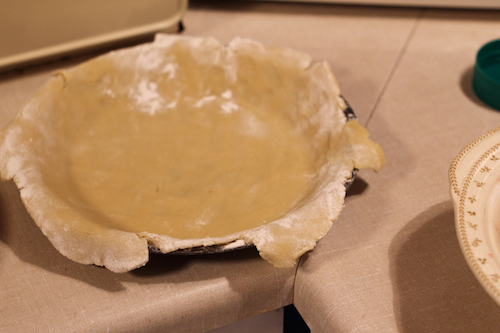 My great-grandmothers, the brilliant women I've never met, would throw pies together. A couple, every Sunday. No recipes, just a decided understanding of what to do and how to work a wood oven. I learned how to make pie crust beside my aunt and my cousin. This summer, I made two pies in the spot where I first learned. Standing at the crooked counter in grandma's cottage, emotions surged through me. The first pie was that one for Mikey, the second was one of this summer's great discoveries. Raspberry blueberry peach pie. The best pie I've ever made? I don't doubt it.
I also shared pie with friends. One of the best parts about Canada is the diversity of cultures. That meant that one of my friends, who has lived from here to Europe and the Middle East, had never made pie. In fact, she'd only tried two kinds before – one just a few weeks prior to baking with me. After only tasting apple and coconut cream pie, I knew that I had to share a summer celebration pie. If you've grown up with pie as I have, you likely know the type. The freshest produce, singing with its sweet summer flavour, thrown into a pie. We had raspberries, blueberries and peaches in my kitchen, so that was the pie we made. Perfection. Watching her enjoy it was almost as good as the pie itself. But that pie would be hard to beat. I'm excited to share more pies in the future, and enjoy more of her favourite treats as well.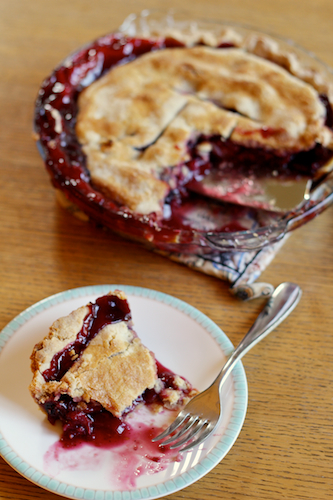 I don't know how to adequately convey the importance of pie in my life. It's shaped who I am. Not in terms of calories and pounds, but with memories and how I tackle the world. I'm quiet, honest. I'm simple and sometimes messy. I don't reveal all of my secrets at first glance, but the odd bits, like this space, are out there for anyone to see. I stay in my comfort zone a lot, between two carefully crafted crusts. But if the ball is dropped or you really get to know me, I lay it all out.
They sometimes say that people are like icebergs, with only ten percent of who we are able to be seen. The problem I have with that is that it portrays people as being cold, without compassion. Pie, on the other hand can be warm or cold and is always meant to share. Each pie we make teaches us something. Some decisions in life are big flops, just like the odd pie. Most though, are beautiful in their own way. Some drip with garnet juices, others are tinged with browns around the edges, but every pie is special in its own way. Even if just for the lesson it left, it shapes how you make the next one, as each memory and experience affects how we live.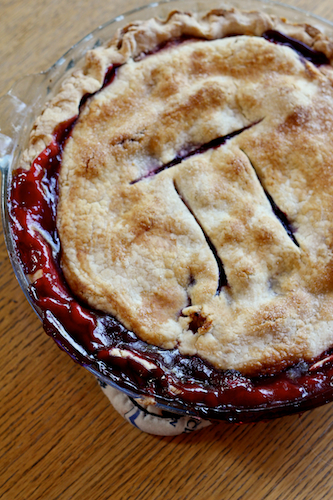 If I had a recipe for most of these pies, I'd share. The peanut butter pie is over at Jennie's site (I just made sure the chocolate cookies were gluten-free ones). While you're there, go leave her some love.
My go-to gluten-free pie crust is here. The crusts are a little bit more tricky than the below filling, but that's half the fun. Pie crust is one of my favourite things to make.
For the raspberry blueberry peach pie, I threw together a cup or so of raspberries, a cup or so of blueberries, a couple of sliced, skinned peaches, a cup of sugar, a tablespoon or two of cornstarch, some lemon juice and vanilla. All tossed together, allowed to sit for ten minutes. Dumped into a prepared pie crust, dotted with butter and then sealed with a top crust, which was scored to let the steam out. Brushed with a little milk and sprinkled with some sugar. With a baking sheet on the rack below the pie, I baked at 425 for 15 minutes, then turned down to 350 for 45 minutes or longer, until done.
I know, it's not a specific recipe. It's a pie recipe. Room to wiggle, room to play, and room to forge your own path and memories.
Now it's your turn. What does pie mean to you? And what is your favourite type of pie? I'd love to know.
xoxo
Lauren