It was a weekend of memories. Memories made, memories found. Thoughts erupted onto paper, using the pens that were all the rage in elementary school. Gel pens, with their shimmery swirl and flowing text. There were old rolls of film (and much more recent ones) discovered. Some were printed, others were simply pulled out of their hiding spaces. Smiles captured nearly a decade ago spread like wildfire across our faces as we reminisced and looked at how far we've came. Kittens and puppies, now cats and dogs. A wide-eyed girl in grade seven, now in my last year of high school. A boy just learning to play, now making it onto the big teams (congrats, "little" brother!).
That's where the memories being made part falls into play. I started to break in a new apron, from a dear friend. We found my first camera. Ever. I love that thing, and cherished it so much. Still do. Then, to cap the weekend off? I made these. Peanut Butter Brownies. After all, today is National Peanut Butter Day. Why not celebrate with something as fantastic as brownies, laced with swirls of peanut butter?
Even better? This month, I'm hosting Go Ahead Honey, It's Gluten-Free. The theme is "Follow the Calendar" where you celebrate food holidays – there are still a few days left to join in!  I would absolutely love to have you. Plus, maybe you'll create new memories that will shine through the years. I know we did.
This recipe is based off my favourite brownie recipe.  With that, it has little bits of peanut butter throughout.  I opted for a thin peanut butter swirl, rather than stiff chunks.  You get the lovely peanut butter flavour without forgetting that you are indeed having a brownie.  In my opinion, they are best when they've set up and are at room temperature, and aren't still warm.  That way, they're also much easier to slice!
Peanut Butter Brownies
Ingredients
2.5 ounces unsweetened chocolate
1.5 ounces bittersweet chocolate
1 (1/2 cup) stick butter
1/4 cup millet flour (1.35 oz / 38 g)
3 tbsp tapioca flour (0.85 oz / 24 g)
2 tbsp sweet rice flour (0.60 oz / 17 g)
1 tbsp quinoa flour (0.40 oz / 11 g)
3/4 tsp xanthan gum
1/2 tsp salt
2 eggs
1 egg yolk
1 1/2 cups sugar
1/2 tbsp vanilla
1/2 cup smooth peanut butter*
2 tbsp butter, melted
Steps
Preheat oven to 375 degrees Fahrenheit and grease an 8 by 8 inch square pan.
Melt together chocolate and butter over low heat, or in 30 second intervals in the microwave, stirring between each. Set melted mixture aside.
In a small bowl, whisk together flours, xanthan gum and salt.
Beat together eggs, sugar and vanilla for 10 minutes at high speed. A stand or hand mixer is definitely the way to go here. Stir in the melted chocolate and flour mixtures until just combined. Let sit, as is (in the bowl), for 20 minutes.
While the brownie batter is sitting, combine the peanut butter and butter in a small bowl, until uniform.
Pour half of the brownie batter into the greased pan. Top with dollops of peanut butter (I used about two-thirds), then top with the remaining brownie batter, so that all of the peanut butter is covered. With your remaining peanut butter, place dollops on the brownie. Using a butter knife, make swirls in the batter by dragging your knife through in straight lines.
Finally, tap the pan on the counter to release air bubbles. Bake for 30-35 minutes, until the top is browned and a toothpick comes out clean (without any brownie, but streaks of peanut butter are okay). Let cool completely, slice and enjoy!
*Note: I'm normally go for natural peanut butter, but in this case, I'd recommend not using it.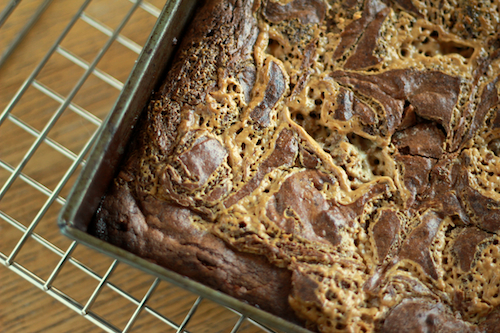 I love how rustic they are. Dips and valleys and memories of violently bubbling peanut butter, just beginning to settle into its brownie cave. Perfectly imperfect.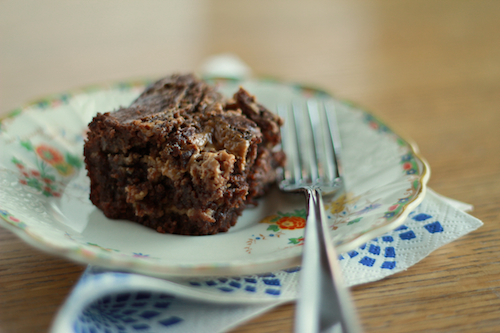 I cut them a hair before they were cooled.  I couldn't help myself.  The light was fading, and I really wanted to be able to celebrate peanut butter day with you on peanut butter day!  I love that you can clearly see the different layers all waiting to give you a lovely peanut butter twist when you bite in.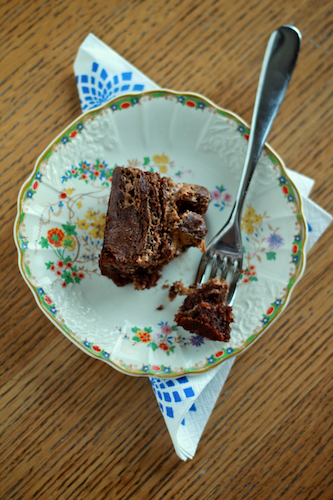 Ah… so lovely.  I think I need to go grab another one, right about now.  Yum.
With all that said, thank you to everyone who has joined in to Go Ahead Honey, It's Gluten-Free so far this month!  It's been a joy to see how you celebrate the food holidays of January!  If you haven't already, it's definitely not too late.  After all, there's still Chocolate Cake Day, among others :).  All the info you need is here. No matter what, I'll have the round-up up at the very end of January, so everyone can check out all of the lovely creations!
xoxo
Lauren