Three years. As of yesterday, I've been gluten-free for three years. Three whole years. Only three. It's big yet little all at once. Being diagnosed has been one of the best things that has ever happened to me. Going gluten-free allowed me to grow into a healthy body, fall in love with food and it also led me to you. To this crazy, beautiful, magnificent world where we can connect with people oceans away, share our knowledge and in turn, learn from so many.
Last year, I wrote about getting glutened; that terrible process when gluten mistakenly enters a celiac's body. Some of you shared what happens to you too. I cherish those comments. This year? I have recipes. Recipes from all over the web that celebrate food holidays, as well as being gluten-free. As you may know, I'm hosting Go Ahead Honey, It's Gluten-Free this month.
My theme was Follow the Calendar. So, without any further adieu shall we jump right on into the recipes?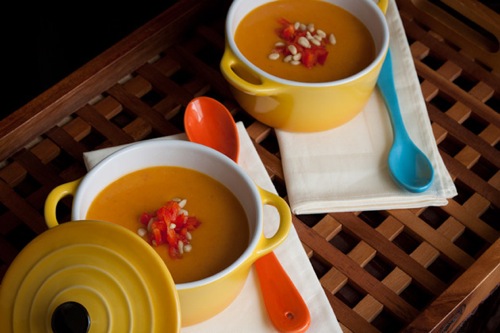 Leanne from Healthful Pursuit celebrated well this month. From her Daal Inspired Ginger Beer Soup seen above and her Vegan Creamy Carrot Fennel Soup for Soup Month, to her Power Vanilla Citrus Yerba Mate for Tea Month, my mouth is watering. Leanne is a Holistic Nutritionist, so all of these delectable dishes are also jam-packed with healthy goodness.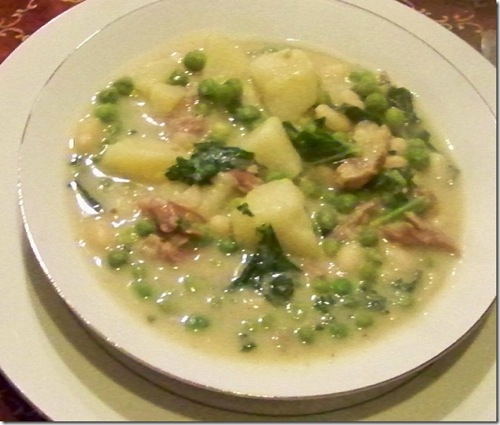 For National Soup Month, Sugar and Spice in the Land of Balls & Sticks made a soup to clean out her fridge. A lovely Ham and Pea Soup with Kale, Potatoes and Beans. Sounds like a wonderful cold-weather meal to me!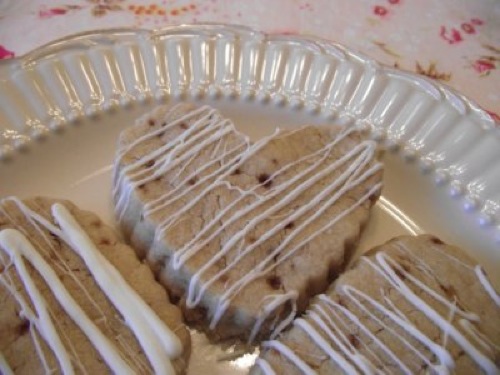 Over at One Geeky Girl, Jessy had fun celebrating Tea Month and Shortbread Day together in an unexpected way! White Chocolate There's Tea in There Shortbread. Such fun! Chocolate, tea and shortbread? I'm game!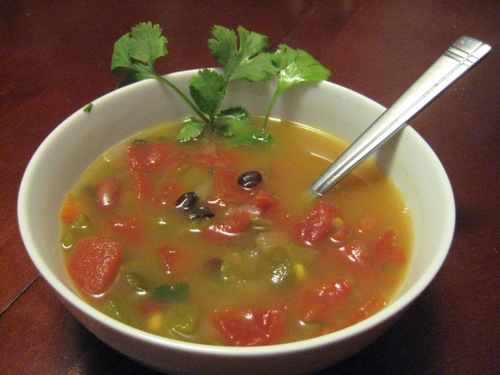 Georgianna from A Modern Guide to Staying Sane Without Grain celebrated not only National Soup Month, but Bean Day, with her Southwestern Bean Soup. I love the colours of this, and I can only imagine the way the flavours meld beautifully together!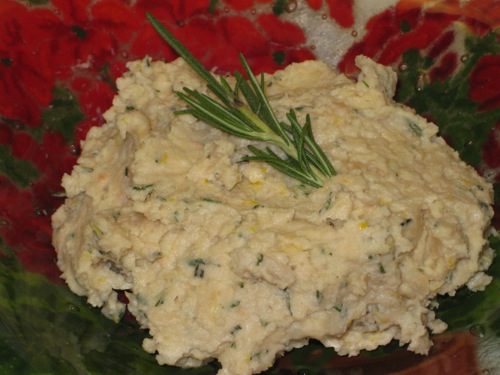 For Bean Day as well, Heather from Gluten-Free Cat made not one but two Bean Dips! An Herby White Bean Dip, as well as the Lemon Rosemary White Bean Dip pictured above. Packed with protein and flavour, they're great for an afternoon snack or to share at a party.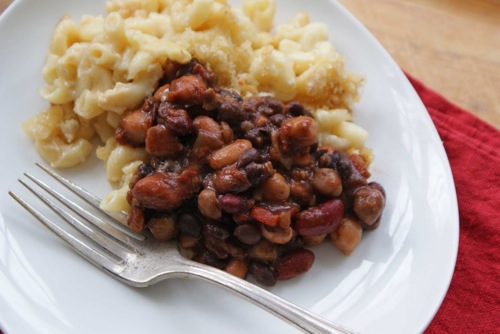 My friend Julie from Dinner with Julie combined two comfort foods with her take on Bean Day. Mac & Cheese with Vegetarian Black Bean Chili. I don't know about you, but I find that few things are better on a bone-chilling day than comfort foods.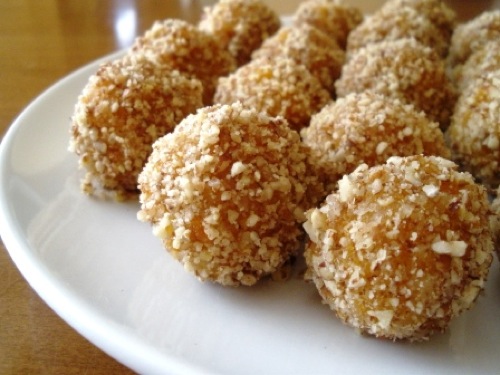 In celebration of Apricot Day, Linda, the wonderful Gluten-Free Homemaker made Apricot Balls. Packed with flavour, and only four ingredients, these look deliciously simple!
—
For Bittersweet Chocolate Day, Kathy of Chronic in the Kitchen reposted her Autumn Walnut Cake with Chocolate-Espresso Sauce. No photo, but with walnuts, your favourite chocolate and some espresso? You can let your mind create the image. I know I have :).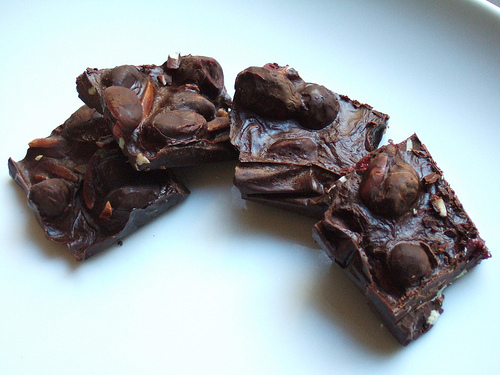 Have you ever wanted to make your own chocolate bar? For Bittersweet Chocolate Day, that's what Valerie of City | Life | Eats did. Cranberry Almond Bittersweet Chocolate, to be precise. I'm daydreaming at the possibilities.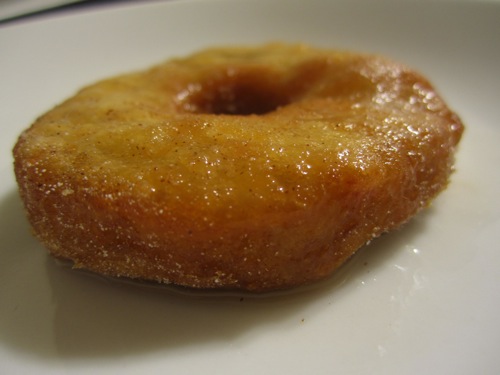 Doughnuts. Not just any doughnuts, but Gluten-Free and Vegan Sweet Potato Doughnuts for Glazed Doughnut Day. That's what Nannette from Nannette in the Raw made this month. I haven't had a real, good doughnut in the longest time. Between that and the fact that these have sweet potatoes? I totally want some of these.
The darling Hallie from Daily Bites revamped an old favourite. Celebrating Granola Bar Day, she made these gorgeous Grain-Free Granola Balls! So many lovely flavours wrapped up in these, from almonds and sunflower seeds to blueberries and honey.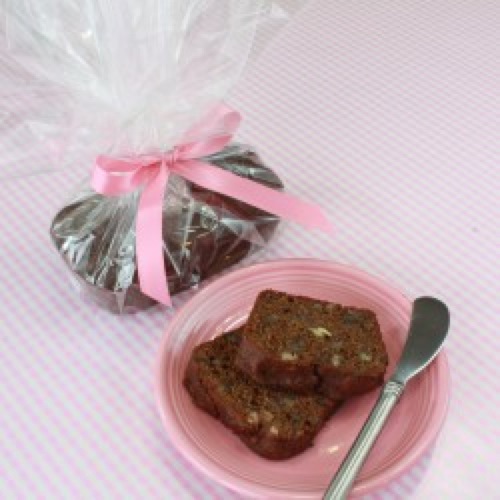 For National Baking Month and Coffee Break Day, Linda at Kitchen Therapy celebrated with bread. Not just any bread, but Teff Date Nut Coffee Quick Bread. The name says it all, really – the complex whole grain, dates, pecans and coffee wrapped up in a bread :).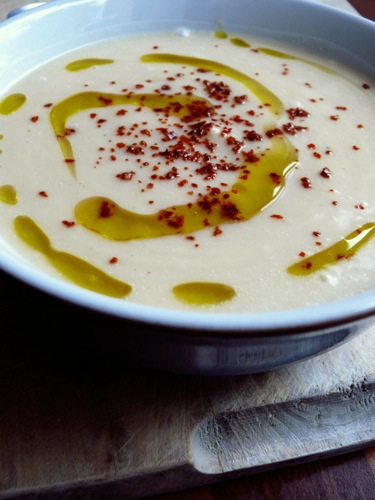 Naomi, the amazing creator of Go Ahead Honey, It's Gluten-Free, who graciously let me host this month celebrated Soup Month on her site Straight Into Bed Cakefree and Dried. With this beautiful Celeriac and Coconut Soup, you can continue to celebrate through February and beyond!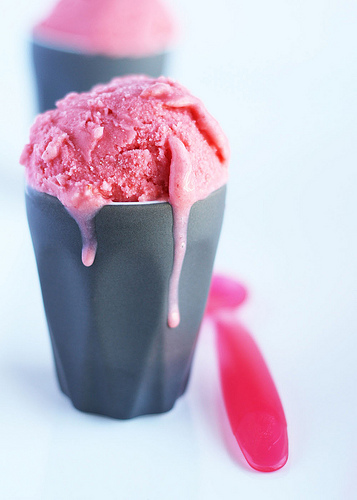 Strawberry Frozen Yoghurt. That's what Jas, of Gluten-Free Scallywag made for Strawberry Ice Cream Day! It may be -25 Celsius outside my door, but this beautiful frozen yoghurt has me longing for a scoop.
Maggie of She Let Them Eat Cake had loads of fun with Popcorn Day! From Homemade Popcornto Kettle Corn and Maple Sweetened Caramel Corn, everything looks wonderful. Popcorn is a staple in my household, so I love all of Maggie's versions – yum!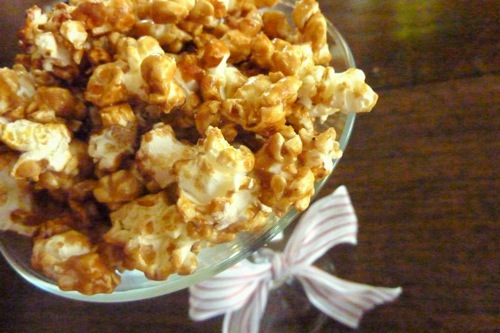 At Bakerita, Rachel celebrated Popcorn Day too. With this beautiful Caramel Corn, you don't talk, just grab a handful and enjoy before it's all gone!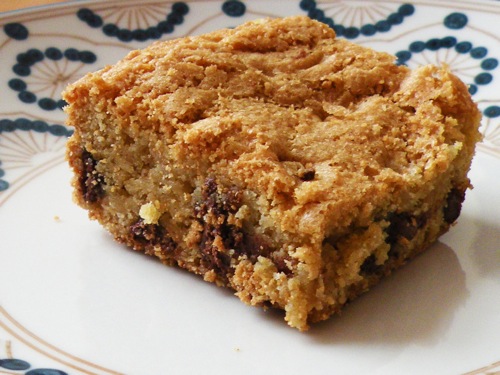 On Gluten-Freebies by Miel, sweet Miel celebrated the start of a new semester and Blonde Brownie Day. Blondies. Like Miel, they are one of my favourite treats. Definitely something that never lasts long!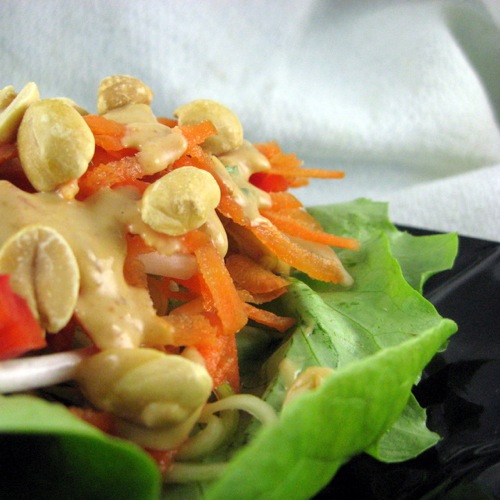 Deanna of The Mommy Bowl did a beautiful job celebrating one of her favourite things on Peanut Butter Day. With Thai Peanut Sauce and Lettuce Wraps, it's a perfect way to enjoy the savoury side of peanut butter :).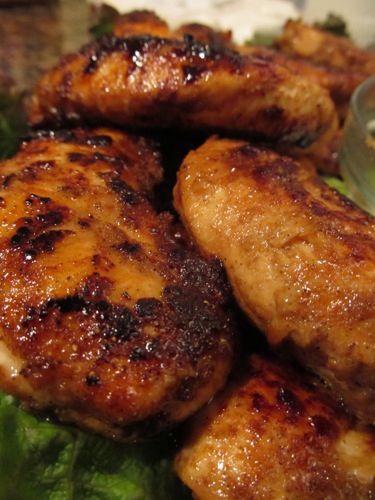 Continuing with savoury Peanut Butter Day dishes, Neal, one half of The GF Chefs serves up Chicken Satay with Peanut Sauce. Ginger chicken and peanut sauce meld together in a wonderful dance. What a fun way to play with flavour :).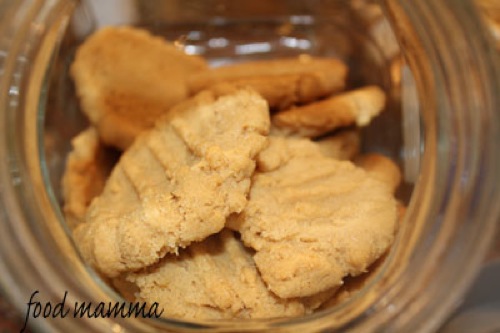 After that, it's time for Fareen's wonderfully simple Peanut Butter Cookies. On her lovely site Food Mamma, she also celebrated Peanut Butter Day. It's another 4 ingredient recipe. So good.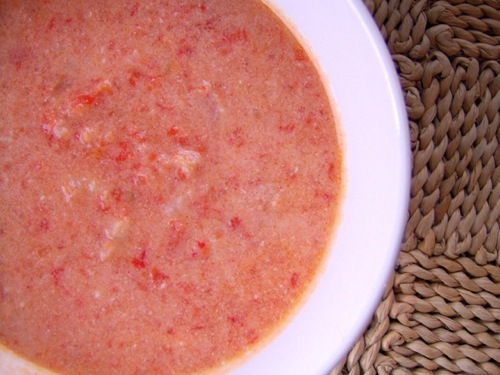 Soup Month was clearly a star, as it should be in these cold months! Mrs. Ed of Mrs. Ed's Research and Recipes continued this comforting theme with her Creamy Shrimp Bisque. With red peppers, tomatoes, carrots, shrimp and the soft creaminess from yoghurt, it looks awesome.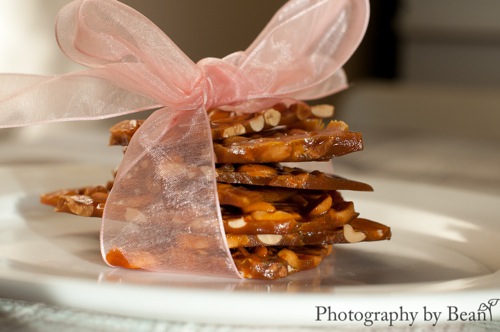 For Peanut Brittle Day, Bean of Without Adornment made just that – Peanut Brittle! Made with Agave nectar and Coconut Oil, her version is a little bit healthier, too.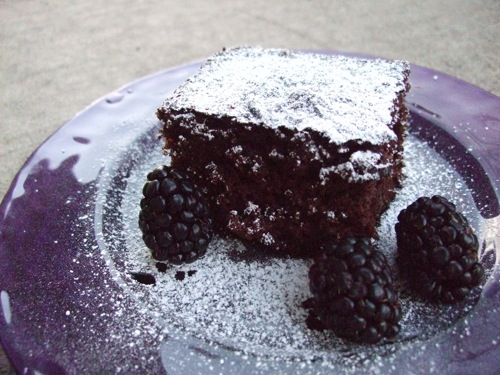 Chocolate Cake Day. I'm pretty sure all of us should celebrate this. Trish, from the superb site Gluten-Free in SLC agreed. Her version is a Deep Dark Chocolate Cake.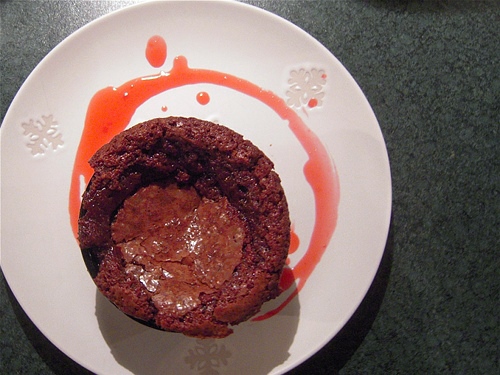 Larissa, who writes Wheat Free Meat Free with her sister Kalinda, also celebrated Chocolate Cake Day. Chocolate Lava Cake with Coulis aux Framboises. Lava cake always hits the spot, and raspberry sauce just throws this over the top! Yum.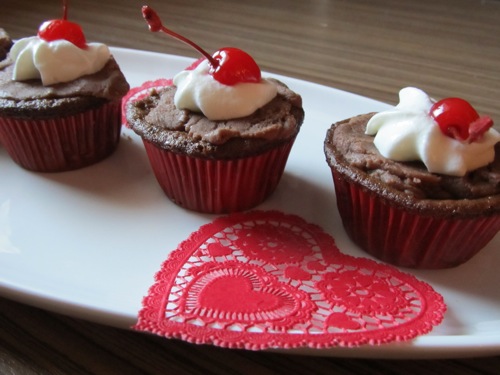 Micah, the second half of The GF Chefs was also on the Chocolate Cake Day bandwagon. She decided to take the cupcake route, with her Coca Cola Cake Cupcakes. Aren't they darling?
—
Chelle, from Life at Right Angles had yet another spin on this sensational Chocolate Cake Day, with her Nutritious Brownies! No photo, but the word brownie says it all :).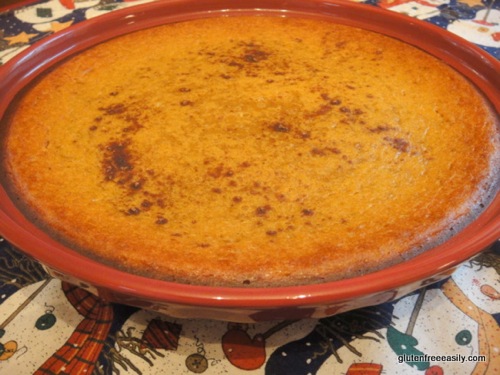 Pie. Crustless Pie, even! Shirley of Gluten-Free Easily, who happens to be famous for her crustless pies celebrated Pie Day with this Dairy-Free Crustless Pumpkin Pie!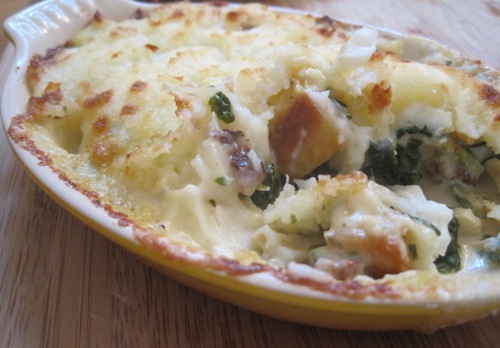 Wendy at Celiacs in the House, who may have been my most avid participant, updating us through the month as she played with all sorts of holidays, finished off January with this Fisherman's Pie for Pie Day.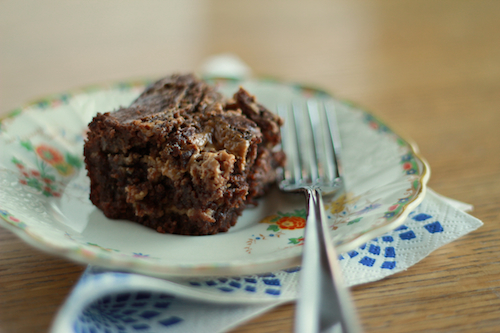 Oh goodness. I got through all of that, but it's so late that I almost forgot to include myself! Anyways, I celebrated Peanut Butter Day, like the whole bunch of others up there. I made Peanut Butter Brownies. Absolutely delightful.
With all of that, we're done. It may have been a tad bit jumbled, and I hope all of the links are pointing in the right directions (let me know if you find a wayward one!), but I had so much fun hosting this. Thank you so very much Naomi, for giving me this opportunity, and thank you to all of you awe-inspiring people who participated. Next month, Naomi herself will be hosting with a theme of Love Potions and Charmed Foods!
January, you've been good to me. Starting February first, lots of excitement comes that I can't wait to tell you all about!
Did you have fun celebrating January's food holidays? Any that you'll be filing away for next year?
xoxo
Lauren
PS – All photos courtesy of their respective owners. Links are below each photo, in the text, if you managed to miss that!