Cornbread.  It's one of those things wrapped heavily in memories for me.  It's the epitome of christmas morning.  I swear that heaven is baked into that bread.  Cut while still warm, the steam creates a halo above each slice.  Top it with a pat of butter and some real maple syrup, it transports me.  It becomes christmas morning again, when we would gather around the table as promptly as possible, anticipating that first bite.  We would have our first piece, then fight for the rest.  Eating it slowly enough to savour but quick enough to ensure another piece.  I waited for that meal all year.  With eggs, bacon, sausages and fruit also on the table, the cornbread would always be the first to disappear.  First, my grandma would make it.  Then, as I got older, mom or dad would.  Then, I got to make it.  Now, I make it gluten-free.
Looking back, I don't remember having it much more than on Christmas morning. I don't know why that was the case. I think it's perfect for any time of year. A beautiful accompaniment to chili, a delightful quickbread for just about any meal. We're going to be having it more. Christmas morning? Yes. But it's also wonderful for a lazy day. Saturday morning, Sunday afternoon. It's too good to leave it for just once a year.
This recipe? It's adapted from the one we always made in my wheat-eating days, from the back of the cornmeal's bag. It's the recipe that screams home and family to me. Not to mention, it has a lovely crumb, with that wonderful quality that cornmeal always brings. Yum!
Gluten-Free Cornbread
Ingredients
3/4 cup fine-ground cornmeal (4.90 oz / 140 g)
1 1/4 cups milk
1/3 cup millet flour (1.95 oz / 55 g)
1/4 cup sweet rice flour (1.10 oz / 31 g)
1/4 cup tapioca starch/flour (1.45 oz / 41 g)
1 tsp xanthan gum
1/3 cup sugar (2.30 oz / 66 g)
1 tbsp baking powder
1/2 tsp salt
1 egg
1/4 cup unsalted butter, melted and cooled
Steps
Preheat oven to 400 degrees Fahrenheit. Grease a 9 inch round cake pan or an 8 by 8 inch square pan.
Whisk together cornmeal and milk in a medium-sized bowl. Let sit for 10 minutes.
Whisk together flours, xanthan gum, sugar, baking powder and salt in a large bowl, until aerated and uniform in colour.
Add egg and butter to cornmeal mixture. Add wet ingredients to dry and stir until just combined.
Bake for 20 minutes, until golden and a toothpick inserted into the center comes out clean.
Notes:
– My mom has doubled the recipe and baked it in a 9 by 13 inch pan, and it worked wonderfully. When doubled, it does take a little bit longer to bake, but not much. It's also thicker, just so you know!
– You can also switch out the butter for vegetable oil, if you prefer.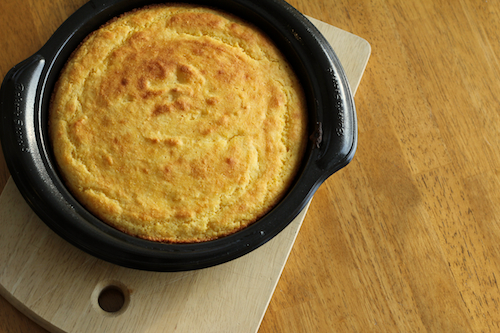 At this point, we're all hovering. That smell cornmeal lends to baked goods gently filling the whole house and calling us like sirens to the bread.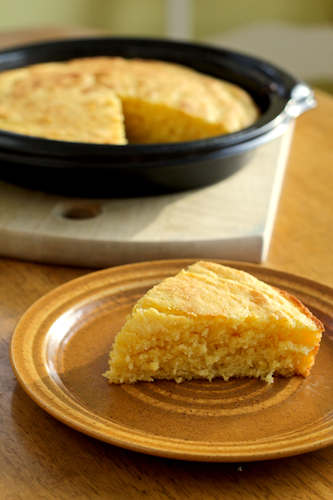 Letting it cool just enough is a tricky thing. I like it warm enough to melt the butter, but cool enough for the flavours to develop (and for the second piece still to be warm).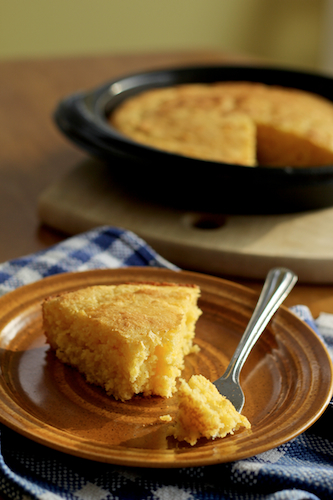 Stealing bites is a necessary part of photographing food. Not that you had any doubts.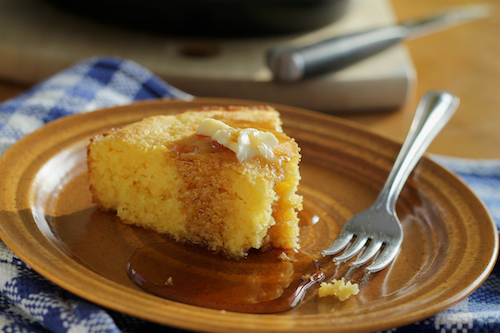 Some butter, maple syrup and I'm all ready for a wonderful brunch. Though, pop a wedge alongside some chili and I surely won't complain either!
I hope all of you are having a wonderful weekend. In case you missed it, I'm hosting Go Ahead Honey, It's Gluten-Free this month, and I would love for you to participate (there are so many wonderful food holidays this month – Tomorrow is Bittersweet Chocolate Day, in fact)!
xoxo
Lauren