They say that necessity is the mother of invention. In the case of this cake, it couldn't be truer. We had a huge bag of gorgeously ripe plums, begging to spill their juices. Mom and I were going to a food blogger potluck the next day, so I had to make something that night. We were also out of eggs. But no matter, I flipped through a couple of cookbooks until I found a recipe to change and manipulate beyond recognition. I love times like those. Everything slows down, I get into a groove and the recipe just flows. I go with my gut. It becomes comfortable yet unsure at the same time. Sure, things can go wrong, but after years of doing this, I have a fairly good idea of what works. If I get it wrong or something happens, at least I get to learn something! With this cake I didn't have to worry though.
It came together easily. It tasted heavenly. Moist, to say the least. Everyone seemed to enjoy it at the potluck (where a lot of good food lay). In addition to a pan of cake, the recipe makes an extra little bit to taste right now. In other words? Perfect potluck material.
This potluck was delightful. The rain held out just until 3 or so, when the last of us grabbed what we had brought and darted out of there. The rain came in thick drops, trying to spoil any leftover food (I kept it safe). Vincci from Ceci n'est pas un food blog organized the whole thing, and a whole bunch of us came: Julie from Dinner with Julie, Pierre from Kitchen Scraps, Chelsey from The Crazy Kitchen, Jennifer from Chocolate & Ginger and Wendy from Clearly the Place to Eat.
Plum Quinoa Cake
Inspired by Quinoa 365. Created by Lauren of Celiac Teen.
Ingredients
1/2 cup (1 stick) butter (salted, or add salt to dry ingredients), softened
1/2 cup + 2 tbsp sugar
1 cup kefir (or buttermilk)
1/2 cup applesauce
1 tsp vanilla
1 cup quinoa flour (4.35 oz)
1/2 cup millet flour (2.90 oz)
1/4 cup tapioca starch/flour (1.10 oz)
1/4 cup sweet rice flour (1.15 oz)
1 3/4 tsp xanthan gum
2 1/2 tsp baking powder
1 1/2 tsp baking soda
2 cups plums, pitted and cut into 1 1/2 cm pieces. I needed 8 plums.
1/2 cup brown sugar
1 tsp cinnamon
2 tbsp butter, melted
Steps
Preheat your oven to 375 degrees fahrenheit and grease an 8 by 8 inch square pan. Also grease either a 4-inch round pan or 2 to 3 cupcake pans (silicone liners work great for this).
Cream together the softened butter and sugar in a large bowl, until light and fluffy. It will take a couple of minutes with your mixer (but you could also do it by hand). Stir in the kefir, applesauce and vanilla. It may appear curdled, but that's okay. Just try to break the butter pieces up a bit. That's how it's supposed to look.
Whisk together quinoa, millet, tapioca, sweet rice, xanthan gum, baking powder and baking soda. Toss plums in flour, making sure to coat.
Dump the flour and plums into the wet ingredients and stir until it all comes together. Make sure it is fully incorporated. Place batter in pans, making sure the batter is all the same height throughout each pan.
In a small bowl, stir together the brown sugar, cinnamon and butter. Sprinkle this over top of your batter.
Bake small ones for 30 to 35 minutes and the large one for 35 to 40 minutes, or until a toothpick inserted into the centre comes out clean. Let cool in pan, on a rack, completely before serving. Enjoy!
Note:  This also works with peaches.  Just swap out the 2 cups of plums for 2 cups of peaches, cut into the same size.  Yum.
—
This post is linked to Gluten-Free Wednesdays and the First Anniversary of Slightly Indulgent Tuesdays.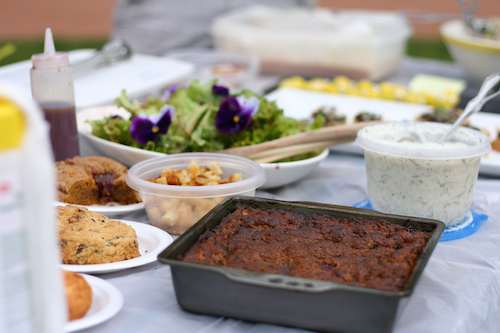 We were all oohing and ahhing over the food. And the light! Those sometimes-threatening clouds diffused the light perfectly.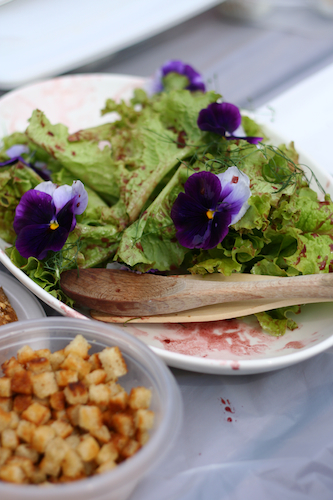 Pierre made this salad, and thoughtfully placed the croutons on the side, so I could enjoy it too!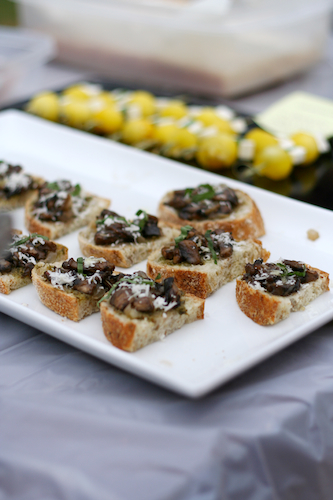 I couldn't have these (and a handful of other things), but you see those golden watermelon-feta-basil skewers in the back? I went back for seconds of those. Yum.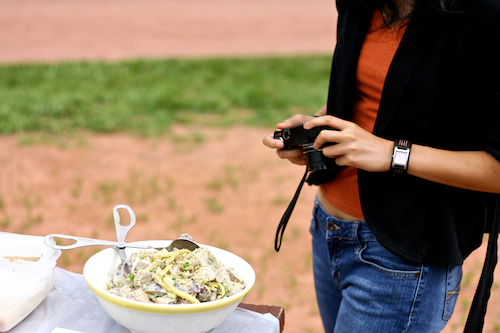 Don't get me started on this potato salad. I need to search out a boatload of garlic scapes just to make it, again and again. Possibly the best potato salad I've ever had. Go make some.  But, hanging out with Julie makes it all the better, so do that too.  As you may have noticed, Vincci just finished taking her photo of that salad.  We all did it.  Cameras clicking, forks tapping, conversation flowing.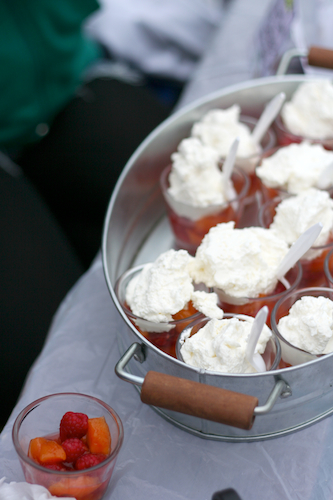 These little treasures were from Chelsey. The freshest fruits marinated in champagne with a heavenly syrup and oodles of cream on top.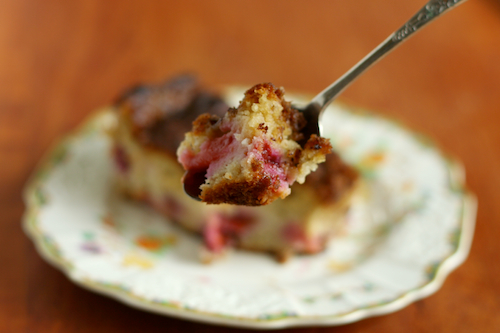 Here. Have some of my cake. It's simpler than pie (but I love pie too!).
There is nothing like making delicious treats from items at the peak of their season. These plums (and peaches

) were bursting with flavour and juice, which made this all the more wonderful. It also helps you if you're stuck and have a handful of just-about-over-ripe plums or peaches that you won't be able to eat before the fruit flies get 'em. Here is a solution. Galettes are great too. Enjoy this season, because soon enough, we'll be grabbing our winter coats and standing in boots. Or at least I will. Maybe you're just about to get spring. If so, cherish that. The growth will be magic, I know it.
xoxo
Lauren