I don't know about where you are, but fall is in the air here. Leaves are redistributing across lawns, ever so slowly. They're developing brilliant yellow and deep auburn hues before beginning their final plummet to the ground. Some are clinging to their greens the way in which a 3 year old clings to their blanket. Others are starting to accept their fate, but most are at least attempting to make it to Thanksgiving. We'll see.
With leaves changing, the weather is obviously getting cooler. It's getting chilly. Some afternoons, you can manage without a jacket, but most require a sweater, or at least one that's handy. With cooler weather, my family starts to ask for treats like this. Treats that are comforting and stomach-pleasing. Treats that are simple, packed with memories and are sure to warm us up, even if they're not heated. This was exactly what we were looking for. Dates, maple, orange, happy stomachs all around. It hit all of the right notes and was just what we wanted in a date square. I hope that you'll like it too.
This recipe is somewhat unique (in my collection, at least), as it's free of any gum. No, I'm not talking about the sticky, sugary stuff that's bright pink and loves to stick itself to the underside of desks (can you imagine baking that in every cake? I shudder at the thought). I'm talking about the powder. The magic stuff that makes so many gluten-free treats work. This one, it's a touch crumbly. But you know what? The dates hold it all together and make it absolutely wonderful. It's exactly what I wanted.
Maple Date Squares
Ingredients
350 g pitted dates, chopped
1/2 cup maple syrup
3/4 cup water
1/2 tsp vanilla extract (maple extract would be lovely too!)
1 cup certified gluten-free oats (100 g / 3.55 oz)
1 cup quinoa flakes (82 g / 2.90 oz)
1/4 cup sweet rice flour (35 g / 1.25 oz)
1/4 cup tapioca starch/flour (33 g / 1.15 oz)
1/2 cup millet flour (87 g / 3.10 oz)
1/4 tsp salt
1/2 tsp baking powder
1/2 tsp cinnamon
1 tsp orange zest
6 tbsp butter, softened
1/2 cup + 2 tbsp maple syrup
Steps
Preheat oven to 400 degrees Fahrenheit and grease an 8 by 8 inch pan.
In a saucepan, place the dates, maple syrup (just the first 1/2 cup), and water. Place over medium heat and let simmer, stirring occasionally, until the mixture is thick and the dates are soft. It'll take about 7-10 minutes. Remove from heat and stir in your extract.
In a large bowl, whisk together the oats, quinoa flakes, flours, salt, baking powder and cinnamon. Add the orange zest, making sure it doesn't clump.
In a medium-sized bowl, beat together the butter and maple syrup. When fairly well combined (it won't emulsify or anything, just until the bits of butter are quite small and the maple syrup is becoming incorporated), pour into the dry ingredients and beat together. Once the batter is mixed well, press half of it into your prepared pan. Spread the date mixture over the first layer. With wet hands (keep a bowl of water handy), cover the date mixture with the remaining batter*. Sprinkle it on top, ensuring to cover the entire pan.
Bake for 30 to 35 minutes, until golden brown. Enjoy!
*Note: To create the top layer, I take a bit of the batter in my (wet) hands and form it into a flat piece then place series of those on top of the dates. Doing this makes sure that I'm not pressing on the date mixture and ending up with one half that has twice the amount of dates as the other. Then, I just take the last bit to sprinkle on top. Using wet hands prevents the dough from sticking to them as well as making it much easier to work with.  Doing it this way also creates a more uniform layer so that one side doesn't bake faster than another.
This post is linked to Slightly Indulgent Tuesdays and Gluten-Free Wednesdays.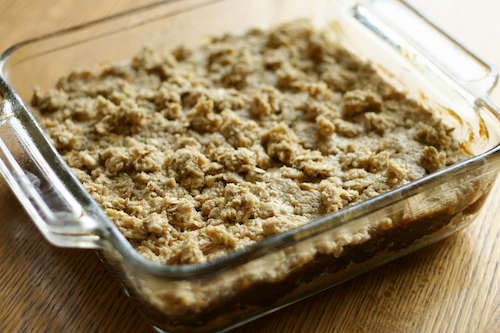 See? This was how it was before baking. Lots of flat portions, then little dollops of the remainder sprinkled on top.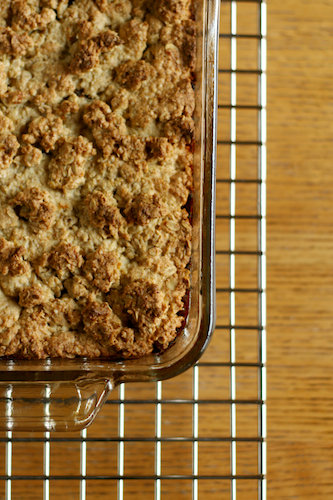 I loved the deep golden colour. Not too dark, but just cooked the way I wanted it.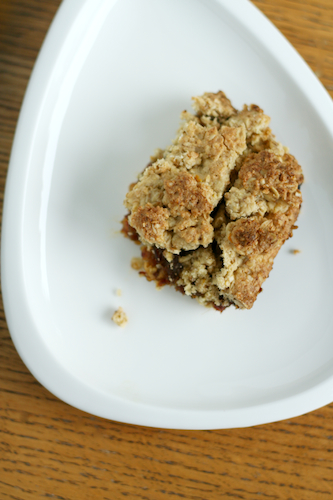 Oh yes. A cautious split, to give the most rustic feel. There's a freedom to leaving out the gum. Most need it, but this was perfectly happy without.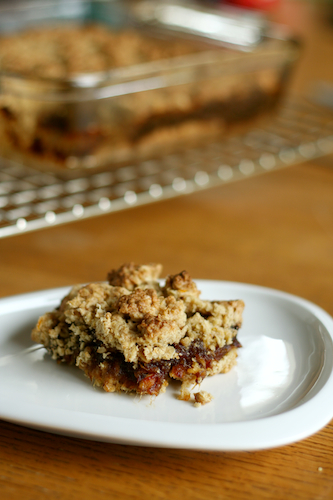 Okay, now I'm hungry. Excuse me while I go grab an apple (we're fresh out of these!).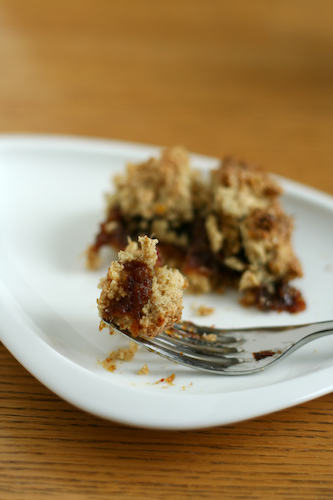 If I still had this bite, I'd savour it. Enjoy some for me?
Things have been fairly busy as of late, from food-filled events to school getting underway. It's been great though. Always lovely to get back into the swing of things :). I hope you're having a fantastic September!
xoxo
Lauren