When I found out that my friend Elissa was hosting this month's sugar high fridays (created by Jennifer of The Domestic Goddess), I couldn't pass it up. The moment I read "brown butter" as the theme, my mind was swimming with ideas and possibilities. Sure, I could do a cake or pie, but I wanted to try something new. To make something that felt good and was simple yet magnificent. With many memories of panna cotta on vacation, I really wanted to try this gentle yet elegant dessert. So there it was, brown butter panna cotta.
The only question that came next was how to make it. I had never made a panna cotta before. I can't believe I'm typing those words, because it's dead simple. Seriously, anyone can make this. Whether you use my version or someone else's, you can whip it up in no time, with minimal effort. The hardest part is waiting for it to be ready (or maybe the brown butter). For this version, with brown butter, all you need is Elise. It works beautifully. Just keep a close eye, read over the comments (such as being sure to use a light-coloured pan) if you're nervous, and go for it.
Once the brown butter is done, the panna cotta is finished and it starts to cool in the fridge, a beautiful thing happens. Not only do the ingredients come together to form this soft creamy experience, but the clarified butter rises to the top. It's telling you which parts are for eating now and which are for another time. Don't touch it though. When it's all done, has been cooled thoroughly and is just about to be eaten, you can peel it off. Scooping with a knife or fork also does the trick. Just be sure to leave all of that sensuous panna cotta alone. You don't want to miss a bite of that. Or at least I don't.
Before going on this vacation, I don't think a spoonful of panna cotta had ever graced my lips. After my first bite, I knew there was no going back. We may not buy cream all that often, but I will walk to the store myself to get some for this wonderful treat. The best part is how well it works with flavours. From the flawless and complex vanilla to a vehicle for any fruit you can dream of, I've found a new indulgence. The best (or worst) part is the simplicity. Any day, any time, you can have this for dessert. A few moments hours earlier (before you leave for work or school perhaps), and this guy will be all ready when you get home. Unmold and you're set.
Brown Butter Panna Cotta
inspired by David Lebovitz's panna cotta recipe.
Ingredients
1 3/4 cups heavy cream
1/4 cup brown butter (freshly made, in liquid form)
1/4 cup sugar
1/4 tsp vanilla extract
3 tbsp skim milk
1 packet powdered gelatin (7 grams or 1/4 ounces)
Steps
In a saucepan, heat the heavy cream and sugar over medium low heat. Whisk occasionally until sugar is almost dissolved. Add in brown butter and continue to whisk until incorporated. Once sugar is dissolved and the liquid is quite warm, remove from heat and stir in vanilla.
Lightly oil 4 to 5 custard cups.
Place the milk in a medium sized bowl and sprinkle the gelatin on top. Let sit for 5 to 10 minutes.
Pour the very warm liquid over the gelatin and stir until all gelatin has dissolved entirely. Pour the mixture into the prepared custard cups (the amount you need will depend on their size and shape). Chill for at least 2 hours.
When ready to serve, remove the top layer of gel that has formed at the top of the custard cup. Toss or save for other use.
Run a sharp knife along the edge of the cup and unmold onto a plate. Serve and enjoy!
This post is linked to
Slightly Indulgent Tuesdays
.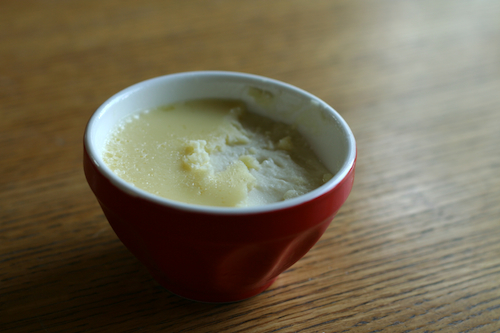 This is that layer you want to remove.  Just peel it off, and you're all ready to unmold and enjoy!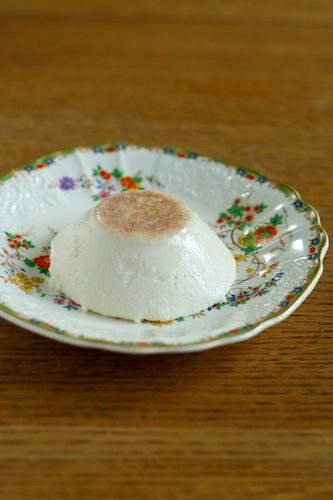 Depending on the size of custard cup you use, you can turn it out onto lovely old plates.  Even a saucer that has been in the family for generations :).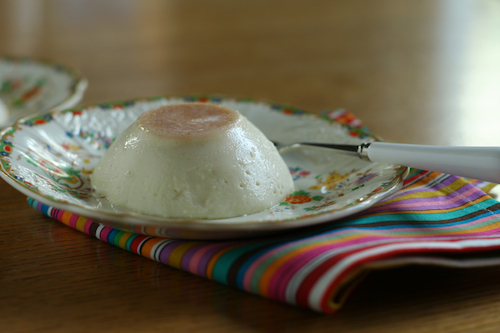 Ahh… just what you need.  The aroma of the brown butter is to die for.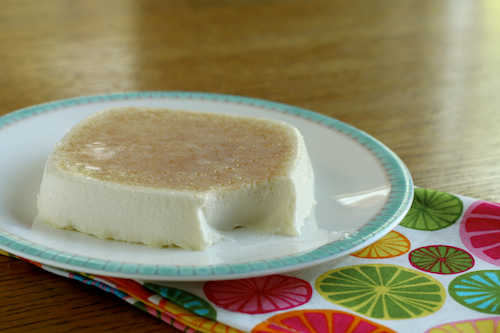 Any shape works!  You can eat it all by yourself, or share with a friend.  It's just as good either way!
So there you have it. A simple, delicious dessert that anyone can make. I know that this will not be the last time I play with it! Not to mention the brown butter. That, I will use time and time again. Such a delicious, nutty, heavenly thing.
xoxo
Lauren